Some of the world's top performers visit the Land of Enchantment, often beginning or ending their tours here. It's a place where artists come to spend some down time between tour dates, often lingering for a few days to relax or record before moving on to the next city.
Some of the top name acts on earth are making their way through New Mexico including DMX,  Sammy Hagar, Little Joe y La Familia, Kenny Wayne Shepherd, Jimmy Vaughn, Michael McDonald, Loverboy, Kansas, Frankie Valli & the Four Seasons,  Slipknot, John Mellancamp, Tower of Power, War, Sugarland, Forigner, Flo Rida, Pitbull, The Brothers Osborne, Boyz II Men ,En Vogue, Korn with Alice in Chains, Little Big Town, Gary Clark Jr, Steve Miller, Marty Stuart, John Prine, Tab Benoit, The Hollywood Vampires, Kiss, Slayer, Styx, REO Speedwagon, Iron Maiden, Bela Fleck,  Peter Frampton and many more. New acts are being added everyday.
If you're a fan(atic), following your favorite band on tour, there is no better place to do it than the New Mexico. We have great venues, ranging from the historic to the modern and every one of them an intimate experience. Accommodations are plentiful and the weather is great. Why go to a sold out stadium show and pay a fortune for cheap seats a half mile away when you an get up close and personal with your favorite band here in a 2000-5000 seat venue? Tickets are almost always available, airfares are low and the views are spectacular. 
Sammy Hagar & the Circle
Saturday, April 27th, 2019 8:00 PM Legends Theater @ Route 66 Casino, Albuquerque
For almost forty years, Sammy Hagar has been one of rock music's most dynamic and prolific artists. From breaking into the industry with the seminal hard rock band Montrose to his multiplatinum solo career to his ride as the front man of Van Halen, the "Red Rocker" has set the tone for some of the greatest rock anthems ever written with songs like "I Can't Drive 55," "Right Now," and "Why Can't This Be Love." He's earned the highest respect of the music industry with a Grammy Award and induction into the Rock and Roll Hall of Fame alongside Van Halen and is currently on his fourth platinum run with the super group Chickenfoot. Along his journey, Hagar has also become adedicated philanthropist, a New York Times best-selling author and auspicious entrepreneur.
Aside from making his mark as a hit songwriter and lead vocalist, Hagar has played with a succession of genius guitar players; from Ronnie Montrose and Neal Schon to Eddie Van Halen and Joe Satriani from his current group, Chickenfoot, which also features former Van Halen bassist Michael Anthony and Red Hot Chili Peppers drummer Chad Smith.
Since launching his flagship Cabo Wabo Cantina in Cabo San Lucas, Mexico in 1990, Hagar has turned a lifelong passion for great food, music and spirits into a thriving and iconic lifestyle. Sammy's foray into the world of spirits began as a personal quest to find a tequila worthy of the Cabo Wabo name. 10 years later, he'd built Cabo Wabo Tequila into the second-best selling premium tequila in the United States.
2011 saw the release of his highly anticipated autobiography, "Red: My Uncensored Life in Rock," which reached #1 on the New York Times Best Seller List. He continues to tour the world with his bands Chickenfoot and Sammy and the Wabos, donating back to the local food banks in every tour city they play. His #1 priority; however, is being a great husband to wife Kari and father to his kids.
Frankie Valli & the Four Seasons
Sunday, April 28th, 2019 7:30 PM Sandia Resort & Casino, Albuquerque
Oh, what a story. Frankie Valli, who came to fame in 1962 as the lead singer of the Four Seasons, is hotter than ever in the 21st century. Thanks to the volcanic success of the Tony-winning musical Jersey Boys, which chronicles the life and times of Frankie and his legendary group, such classic songs as "Big Girls Don't Cry," "Walk Like a Man," "Rag Doll," and "Can't Take My Eyes Off You" are all the rage all over again. As the play enters its third sold-out year on Broadway, and two touring companies of Jersey Boys travel around the U.S., the real Frankie Valli is packing concert halls coast to coast, from the Rose Theater, home of Jazz at Lincoln Center in New York City, to L.A.'s Kodak Theater, home of the Academy Awards.
While the majority of the 71 chart hits of Frankie Valli and the Four Seasons came during the 1960s, the music didn't just disappear. He has toured almost continuously since 1962, and his songs have been omnipresent in such movies as The Deer Hunter, Dirty Dancing, Mrs. Doubtfire, Conspiracy Theory and The Wanderers. As many as 200 artists have done cover versions of Frankie's "Can't Take My Eyes Off You," from Nancy Wilson's jazz treatment to Lauryn Hill's hip-hop makeover.
Frankie Valli became an "overnight" sensation with a No. 1 record. The sound of "Sherry" was unlike anything else on the airwaves. Determined not to be a one-hit wonder two more No 1 hits were released: "Big Girls Don't Cry" and "Walk Like a Man." The fateful year of 1964 brought the British invasion, but that didn't stall the Four Seasons. The group released one smash after another: "Dawn (Go Away)," "Ronnie," "Rag Doll," "Save It For Me," "Big Man in Town" and, in early 1965, "Bye Bye Baby (Baby, Goodbye)."
The group then produced three straight giant hits: "Let's Hang On," "Working My Way Back to You" and "Opus 17 (Don't You Worry 'Bout Me)." "Can't Take My Eyes Off You." Released in 1967, it went to No. 2 in Billboard and No. 1 in Cashbox. With the popularity of the original record and all the cover versions, "Can't Take My Eyes Off You" has become one of the top ten most-played songs in the history of BMI, one of the two major companies that collect royalties for songwriters.
In 1975 Frankie came roaring back with "My Eyes Adored You," which reached No. 1, "Swearin' to God" and a cover of "Our Day Will Come." That burst of success spurred Gaudio to put together a new Four Seasons, led by Frankie of course. With his future wife Judy Parker, Gaudio wrote "Who Loves You" and "December 1963 (Oh, What a Night)," two of the biggest hits in the Seasons' history. The new hot streak culminated in 1978, when Frankie's solo performance of "Grease," featured not once but twice in the movie soundtrack, reached the inevitable No. 1 ranking in Billboard.
From 1962 to 1978, Frankie Valli and the Four Seasons sold more than 100 million records, even before the invention of the compact disc prompted Seasons collectors to buy the hits all over again. For decades after their heyday, Frankie and the Seasons continued to be a top concert draw, and radio constantly played their classics, not to mention the new remixes that kept popping up on the charts. In 1990 Frankie and the other original Seasons were inducted into the Rock and Roll Hall of Fame, only five years after the Hall opened for business.
But who could imagine that the first 45 years would be only the beginning—that Frankie Valli would celebrate 2007 with a new album and a heavy sold-out concert schedule? No other pop star has ever received the kind of new lease on life that Jersey Boys has given Frankie Valli. In addition to the three current productions of Jersey Boys, plans have been laid to take the play to London, Las Vegas and Toronto for open-ended runs. And producers are clamoring to bring the musical to Australia, Singapore, China and even Dubai—yes, the Dubai that's part of the United Arab Emirates. Every major Hollywood studio has asked about making a Jersey Boys movie.
For as far into the future as anyone can see, Jersey Boys will introduce the music of Frankie Valli to new generations. Romancing The '60s is a most welcome and long-awaited addition to that legacy. The man himself shows no signs of slowing down. As his character says at the end of Jersey Boys: "Like that bunny on TV with the battery, I just keep going and going and going." For as long as he wants to sing, people will want to listen.
John Mellancamp
Tuesday, April, 30th, 2019, 8:00 PM Kiva Auditorium, Albuquerque
His professional music career began in earnest in 1976 when MCA Records released his first album, The Chestnut Street Incident. His manager dubbed him Johnny Cougar out of his belief that nobody would buy a record by anybody named Mellencamp. John protested but was overruled and eventually, of course, reclaimed his birth name as his public name.
After releasing a few albums, he broke out in 1979 with his first hit, "I Need A Lover" In 1982 his fifth album American Fool was the year's best-selling album on the strength of two huge hits, "Hurts So Good," and the number 1 single "Jack & Diane," The albums that followed in the 80's, Uh-Huh, Scarecrow, Lonesome Jubilee, and Big Daddy, were released under the name John Cougar Mellencamp. Hit singles during this period included "Crumblin Down," "The Authority Song," "Small Town," "Rain On The Scarecrow," "Lonely Ol Night," ""R.O.C.K. In The U.S.A.," "Paper In Fire," "Check It Out," "Cherry Bomb," "Pop Singer," and "Jackie Brown."
Mellencamp took the music on the road with a band that many considered the best in the business, playing approximately 1,000 shows around the globe during the decade. In 1985, John's concern for the plight of the American farmer, which had been voiced in the Scarecrow album, brought him together with Willie Nelson and Neil Young in launching Farm Aid. It became an annual event and has helped make people aware of the issues farmers face and how they affect on the entire nation.
He received the 2001 Billboard Century award in recognition of all that he had accomplished over the course of his career and was honored with the Woody Guthrie Award in 2004. Previously, he was awarded a Grammy and had been nominated a total of 11 times. In 2007 the ASCAP Foundation honored John Mellencamp with its Champion Award in recognition of his outstanding use of music in service to humanity. John received ASCAP's highest honor, The Founders Award, for his exceptional contributions to music and was inducted into the prestigious Songwriters Hall of Fame on June 14, 2018.
A career landmark occurred on March 10, 2008, when John was inducted into the Rock And Roll Hall Of Fame by Billy Joel at the annual induction ceremony in New York City.
John's full-length album, Sad Clowns & Hillbillies, featuring Carlene Carter, is his 23rd over the course of a remarkable career. The album released on April 28, 2017 followed by an upcoming summer tour in major cities across the country. Sad Clowns & Hillbillies returns Mellencamp to the musical eclecticism that is, itself, a reflection of his wide-ranging musings on life and showcases a poet who has wisely used the years between youth and the present day to become an absolute master of songwriting and interpretation. That passion and experience resonates most beautifully in this showcase of his music. John also wrote the title song for the upcoming film, The Yellow Birds, an American war film directed by Alexandre Moors and based on the novel The Yellow Birds by Kevin Powers. The film stars Tye Sheridan, Jack Huston, Alden Ehrenreich, Jennifer Aniston, and Toni Collette.
On February 1, 2018, John's self-narrated musical odyssey, Plain Spoken: From The Chicago Theatre premiered on Netflix, and was released May 11th on DVD+CD, Blu-Ray+CD, & Digital Formats. The cinematic film presents John, with his full band, performing at the landmark Chicago Theater on October 25, 2016.
John continues to focus on another facet of his artistic expression: painting. His style has progressed over the years as evidenced by several gallery shows and published portfolios, and in recent years he has increased his output by completing over 100 new works. He had his second solo exhibition this past Spring in New York and has a current exhibit at the famed Butler Museum in Youngstown, Ohio from September 20th through January 19, 2019. His highly successful Rock and Roll Hall of Fame exhibit ran for nearly two years and is now at the Woodie Guthrie Museum in Tulsa, Oklahoma from September 1st through January 5, 2019.
John has said many times in interviews that you will never meet anyone luckier than John Mellencamp. He is grateful for the support of those who have enjoyed his work and career over the years. If he has any advice to offer, it is to be tenacious: John's found that far too many people quit too soon in the face of early disappointment. While his own early efforts may have been faltering, he stayed with it–and that tenacity has been rewarded with the successes that continue to the present.
Slayer with Lamb of God, Aman Amarch and Cannibal Corpse
Friday, May 3rd, 2019 7:00 PM Isleta Amphitheater, Albuquerque
Slayer fans, you've all heard – Slayer were on their farewell tour in 2018, but by popular demand, metal's most notorious band have extended the slog into 2019 – meaning you STILL have a chance to see them!! That's right, you could be there at one of the LAST EVER shows of the founding fathers of thrash metal.
Founded by bassist/vocalist Tom Araya and guitarists Kerry King and Jeff Hanneman in 1981, Slayer's high-speed, high-octane music set them alongside Metallica, Anthrax and Megadeth as one of the Big Four bands that brought about the heavy metal genre. Slayer in particular are credited by many with the invention of thrash metal – their fast and furious style was the inspiration not just for other thrash bands, but for the creation of all new genres including black metal and death metal.
According to MTV, Slayer's "downtuned rhythms, infectious guitar licks, graphically violent lyrics and grisly artwork set the standard for dozens of emerging thrash bands," many of whom have directly stated Slayer as an influence – some of these include Bullet For My Valentine, Slipknot, Cannibal Corpse, Gojira, Hatebreed, Lamb Of God, Behemoth and more!!
Little Joe y La Familia
Friday, May 3rd, 2019 8:00 PM Isleta resort & Casino, Albuquerque
During a more than fifty-year performing and recording history, Little Joe y La Familia has become one of the top Tejano bands. Over the decades, the group has developed a unique style, imbuing its sound with norteño, country, blues, and rock-and-roll music. Established in 1959 by José María de León Hernández, the band was initially known as Little Joe and the Latinaires.
Barely into his teens, Little Joe began to play guitar and sing with his cousin's band, David Coronado and the Latinaires. In the 1960s Little Joe signed recording contracts with several Tejano labels, first with Corona in San Antonio and later with Valmon in Austin and Zarape in Dallas. Little Joe also started his own label, Buena Suerte, which he used to release the band's Spanish-language recordings, and he used Good Luck Records for English-language recordings. He also established Leona Records and entered into a distribution contract with Freddy Records of Corpus Christi.
In the mid-1960s the Latinaires began their rise to popularity with their first album, Por un Amor. Soon afterwards, the band's Amor bonito also became a hit album. Having achieved a measure of success, the Latinaires recruited Tony "Ham" Guerrero, a talented and musically-trained trumpeter, to join the band. With Guerrero's addition, the Latinaires began to evolve, ultimately becoming one of the "best-selling" Tejano orquestas.
​During the 1970s Little Joe y La Familia became the leading band of La Onda Chicana ("Chicano Wave") period of Tejano music. La Onda Chicana was ushered in with the Chicano movement, a time during which the Tejano orquesta musical tradition reached its pinnacle by combining "once and for all the ranchero and jaitón as well as the Latin and American, into a seamless, bimusical sound." The high admiration in which the band was held drew top musicians to its ranks. Among them were Joe Gallardo, Luis Gazca, Joe "Mad Dog" Velásquez, Joe Medina, and Gilbert Sedeño.
The Smithsonian Institute and the John F. Kennedy Center for the Performing Arts have hosted the band during National Hispanic Heritage Week. In 1997 Little Joe received the Governors Award from the Texas branch of NARAS (National Academy of Recording Arts and Sciences) for his contributions to the legacy of Texas music. He received the Smithsonian's Lifetime Legend Award in 2001. Little Joe y La Familia was recognized with a 1991 Grammy for Best Mexican-American Album for Diez y Seis de Septiembre and a 2008 Tejano Album of the Year Grammy for Before the Next Teardrop Falls. The band also received other Grammy nominations in 1988, 1993, 1999, and 2003. Their Recuerdos (2010) won a Best Tejano Album Grammy in 2011.
Tower of Power, War & Al Hurricane Jr.
Saturday, May 4th, 2019 7:30 PM Sandia Resort & Casino
What is Hip? Oakland, California music legends Tower of Power – the most dynamic and distinctive band of survivors in Soul Music – is roaring into its unprecedented 50th anniversary with a tour and a dynamic new disc of all new material, a labor of love titled Soul Side of Town.
Along with veteran members Castillo, Kupka, Garibaldi and Prestia, T.O.P. consists of guitarist Jerry Cortez, Hammond B3 organist/keyboardist Roger Smith, 1st tenor saxophonist Tom Politzer, and trumpeters Adolfo Acosta and Sal Cracchiolo. Soul Side of Town is also blessed with not one but two lead singers: outgoing Ray Greene (now in Santana) and incoming Marcus Scott (boldly introduced on several selections, including "Hanging with My Baby"). The 10-piece Tower of Power band is prepared to throw down next year with a celebratory tour that will include sweet spots around the globe.
Since its formation in Oakland, California in 1968, Tower of Power has forged a reputation as a crack band of high achieving musicians fluent in all realms of Soul, Rock and Pop music., T.O.P. has 24 previous releases in its burgeoning catalog. Along with T.O.P.'s classic recordings, the 5-piece Tower of Power Horns  became much in demand for studio sessions and live gigs. Among the hundreds of artists they have blessed with their presence are Rufus featuring Chaka Khan, Graham Central Station, Elton John, Little Feat, Billy Preston, John Lee Hooker, Coke Escovedo, Jose Feliciano, Al Kooper, Sammy Hagar, Rod Stewart, Peter Frampton, Jermaine Jackson, Harvey Mason, Lenny White, The Brothers Johnson, The Meters, Lee Oskar, Dionne Warwick, Melissa Manchester, Bobby Caldwell, Heart, Rick James, Santana, Smokey Robinson, Huey Lewis & The News, Toto, Paul Shaffer, Bonnie Raitt, Aaron Neville, Spyro Gyra, Terence Trent D'Arby, Luther Vandross, Candy Dulfer, Aerosmith, Phish, John Hiatt, Neil Diamond, P.Diddy, Bill Wyman, Eiko Shuri…and TV's The Simpsons (Sing The Blues).
Most importantly, when almost all other R&B bands abandoned their horn sections as the sound of Soul music morphed into more stripped-down techno and synthesizer strains in the `80s, Tower of Power near single-handedly carried the torch for full-on 10-piece bands, often even including a conguero/percussionist. Faithful fans flocked to their concerts and purchased their new albums that kept the real soul vibe alive for decades. Indeed, the horn section is so pivotal to Tower of Power that unlike most band stage setups that have horns in the back, T.O.P.'s renowned and respected horn section is right up-front with the lead singer.
The year was 1969, a
nd the name WAR at a time when peace was the slogan in an anti-Vietnam America was an anomaly. Original Band Members included; Lonnie Jordan/singer/keyboardist, Howard Scott/guitars/ vocal, Lee Oskar/harmonica, B.B. Dickerson/bass vocals, Harold Brown/drums/ vocals, the late Thomas "Papa Dee" Allen/congas/timbales, and Charles Miller /saxophonist/flutist.
WAR, the original street band, was brought together by veteran record producer Jerry Goldstein and rock legend Eric Burdon. WAR from the beginning was a concept & musical laboratory. As Burdon's back band, it was the vehicle for Goldstein (as producer/songwriter) and Burdon (as lead singer) to experiment with the blending of many musical styles and influences.
WAR would wind-up being honored with 17 gold, platinum or multi-platinum awards which include the triple platinum The World Is A Ghetto, double platinum Why Can't We Be Friends? and Greatest Hits, platinum Deliver The Word, WAR Live, All Day Music, Best Of WAR and…more and Platinum Jazz, and gold Eric Burdon Declares WAR, Galaxy, and The Music Band.
The band's popularity has grown steadily ever since, as a result of the commitment to being road WARriors combined with great increases television appearances, record sales, use of their music in film, television and commercials, samples and covers by other recording artists. A big shot in the arm to WAR's presence on the touring scene was the release of 1994's Peace Sign, an album well received by critics and fans. WAR now tours over 150 dates a year to audiences ranging from tens of thousands to intimate clubs.
WAR's global popularity is a tribute to the timelessness of its music and message. Perhaps, nothing epitomizes this truth greater than the fact that WAR has twice been honored by its hometown of Los Angeles, over twenty years apart, for its music making positive contributions to the betterment of the community. "The world is still a ghetto", says Lonnie Jordan, echoing the title of the early album and song. "There will always be a reason to play our songs. When you come back to reality, you pull down WAR, because WAR is reality. We have a lot of second-generation fans and they're seeing the same things their parents saw. They're hearing the same messages. We're like Levi's," says Jordan, "and there's nothing nostalgic about Levi's. In fact, they're not really good and funky until they've been worn awhile."
The evolution of WAR began in 1969…and WAR has been evolving ever since.
The Piano Guys
Saturday, May 4th, 2019 8:00 PM Kiva Auditorium, Albuquerque
What do you get when you mix up a marketing genius that does video, a studio engineer that writes music, a pianist that had a successful solo career, and a cellist that does pretty much everything? The Piano Guys: a miraculous meeting of "guys" with the same intrinsic purpose – to make a positive impact in the lives of people all over the world through music videos.
It all started in a piano store in a little Southern Utah town called Saint George. Paul Anderson, the store's owner, was looking for a new, unconventional way to market pianos. The name of the piano store? The Piano Guys. He set out to engage potential customers with music videos that were entertaining and that showcased the pianos he had in his store – envisioning "viral videos" doing his marketing for him.
In walked Jon Schmidt. Literally. Jon had built a career in solo piano performance and had a concert in the St. George area. He asked Paul if he could practice on one of the store's pianos in preparation for his gig that night. Paul explained his idea to Jon and asked if he would be willing to be in a video promoting both the store and Jon's music. It was a win-win. J
Enter Steven Sharp Nelson. When Steve was 15 years old he met Jon when they had shared the stage at a concert in which they were both performing. Steve started joining Jon at more and more of his concerts. This rapidly grew into a great friendship and a complementary stage chemistry that had audiences in stitches and in tears in two songs or less. Steve was a multi-instrumentalist that had pioneered a new approach to the cello and to songwriting. And his ADHD-fueled creative mind contained a queue of song and video ideas waiting to be produced.
Then came Al van der Beek. Al showed up on Steve's doorstep to help when Steve was moving in just down the street. Al had heard Steve was a musician and he invited his new neighbor to his home where he housed a decked-out studio. Steve and Al began writing tunes together and discovered a supernatural songwriting partnership. Al's studio and his engineering skills were to become the most important music-writing tool for The Piano Guys, except of course for Al himself, whose innate ability for songwriting had an essential sleek edge to it.
Hollywood Vampires  f/ Alice Cooper, Johnny Depp & Joe Perry
Thursday, May 16th, 2019 7:30 PM Sandia Resort & Casino, Albuquerque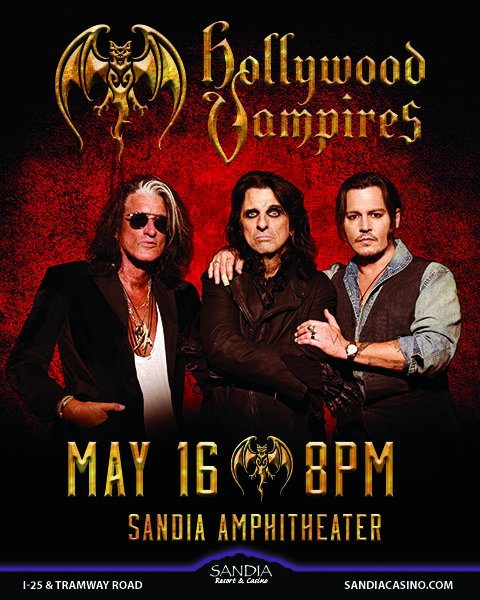 Here's a group of strange bedfellows…in more ways than one. The Hollywood Vampires— featuring Alice Cooper, Joe Perry, and Johnny Depp—  previously performed at Rock in Rio and the 2016 Grammy Awards in addition to U.S. and EU/UK tours last year.
In 1969, on the Sunset Strip at the legendary club, the Rainbow Bar & Grill, the Hollywood Vampires were born in the upstairs bar. It was a gathering place for the rock stars living in or passing through L.A. "To join the club, one simply had to out drink all of the members," says Alice Cooper, a founding member of the original Vampires.
Cooper and good friend Johnny Depp got together and decided the spirit of The Hollywood Vampires should live again —minus the drinking. Cooper and Depp were joined by Joe Perry, who is an old friend of both, and the recording began: a tribute to the original Hollywood Vampires. An environment was born for great artists to hang, laugh and play together.
As Yahoo Music said, "The word 'supergroup' gets thrown around a lot these days, but truly, it doesn't get much super-er than Hollywood Vampires…"
Completing The Hollywood Vampires live lineup will be mainstay guitarist Tommy Henriksen (Alice Cooper), along with rock star musician friends Glen Sobel (Alice Cooper) on drums, Chris Wyse (The Cult) on bass, and Buck Johnson (Aerosmith) on keyboard and vocals.
Loverboy Workin' for the Weekend Tour
Thursday, May 16th, 2019 7:30 PM Buffalo Thunder Resort & Casino, Santa Fe
For more than 30 years, LOVERBOY has been "Working for the Weekend" (and on weekends), delighting audiences around the world since forming in 1978, when vocalist Mike Reno was introduced to guitar hot shot Paul Dean – both veterans of several bands on the Canadian scene – at Calgary's Refinery Night Club.
After being rejected by all the major U.S. record companies, LOVERBOY signed with Columbia Records Canada, entering the studio with producer Bruce Fairbairn and engineer Bob Rock to record their self-titled debut album, which went on to sell more than 700k records in Canada. Columbia U.S. released the album in Nov. 1980, which went on to sell more than 2 million albums in the States and four million worldwide.
Soon the band found themselves playing on mega tours with Journey, Bob Seeger, Cheap Trick, ZZ Top, Kansas and Def Leppard, to name a few. They quickly became MTV darlings, being one of the first bands ever featured on the music channel.
With their trademark red leather pants, bandannas, big rock sound and high-energy live shows, LOVERBOY has sold more than 10 million albums, earning four multi-platinum plaques, including the four-million-selling Get Lucky, and a trio of double-platinum releases in their self-titled 1980 debut, 1983's Keep It Up and 1985's Lovin' Every Minute of It. Their string of hits includes, in addition to the anthem "Working for the Weekend," such arena rock staples as "Lovin' Every Minute of It," "This Could Be the Night," "Hot Girls in Love," "The Kid is Hot Tonite," "Notorious", "Turn Me Loose," "When It's Over," "Heaven In Your Eyes" and "Queen of the Broken Hearts."
Perhaps the band's most famous song is "Working for the Weekend," which has fueled a generation's dreams of toiling every day for the chance to celebrate come Friday night. Dean realizes it has taken on a whole new meaning these days.
Gary Clark Jr.
Saturday, May 18th, 2019 7:30 PM Sandai Resort & Casino, Albuquerque
Gary Clark Jr. is a mind-blowing guitarist, a dazzling songwriter and engagingly soulful singer.
With his debut album Blak And Blu he has just become the first artist ever recognized by the Recording Academy with Grammy Award nominations in both the rock and R&B categories for the same album in the same year, winning the latter.
But that barely scratches the surface. The album's a rocket ride from the Mississippi Delta of a century ago to multiple points still out beyond the horizon. Rock and R&B sure, but blues, soul, pop, psychedelia, punk and hip-hop are also in Clark's expansive musical embrace and insatiable hunger for inspiration, which he's internalized into music all his own. And his two acoustic blues performances on the soundtrack album for the acclaimed movie 12 Years a Slave show the distinct talent and personality he brings to his music.
Rolling Stone dubbed Clark "The King of the Summer Festivals" as he captivated audiences from Coachella to Glastonbury, Lollapalooza to the New Orleans Jazz & Heritage Festival, from Metallica's Orion Festival to Jay-Z's Made in America, and of course his hometown Austin City Limits Festival, where he his band set a daytime attendance record. He's dominated late night and daytime TV with multiple appearances on Leno, Letterman, Kimmel, Conan, Fallon, Arsenio Hall, Queen Latifah, Today, CBS This Morning and so on. Guitar Player magazine made him the first emerging artist to grace its cover in more than 15 years. Rolling Stone proclaimed him no less than "The Chosen One."
Artrageous
May 24th, 2019, 7:30 PM Buffalo Thunder Resort, Santa Fe
IMAGINE an artist creating a masterpiece before your eyes in mere moments. With a palette that also mixes captivating vocals, intricate choreography, and exciting audience interaction – Artrageous takes you on a unique visual journey packed with wild inspiration, creativity and fun!
The Artrageous troupe of artists, musicians, singers, and dancers pay tribute to a variety of art forms, pop icons and musical genres culminating in a gallery of fabulous finished paintings. The result? A one of a kind crossover experience!
Artrageous is a troupe of 12 artists, singers, dancers and musicians hailing from the high desert of New Mexico. Their high energy performance is a combination of fine art, live music, singing, dancing, humor, and interaction in a frenzy of movement and color with a message of the arts being an integral and valuable part of human existence. A theater arts community since the 80's, Artrageous brings their passion for the arts to each theater leaving their audiences of all ages smiling and singing and dancing along.
Artrageous has been fortunate to perform for theater goers and celebrities and their artworks are in private and public galleries around the world.
Costumed Artrageous troupe members greet patrons in the theater encouraging them to choose a souvenir finger light ring and participate in fun art activities where they win prizes and create their own original works of art on a troupe member. The troupe passes out large squares of bubble wrap and the audience is instructed to hold on to it and await further instructions. Artrageous actors teach members of the audience dance moves they will use later and pick brave volunteers to join the troupe on stage for special numbers in the show.
Never before have so many live arts been presented on one stage. Artists, using hands, brushes and other objects, create visual art pieces making lines and shapes on giant canvas' while the audience is intrigued to guess what each painting will become. Lines and brush strokes become portraits of famous icons in a matter of moments. All the while, live musicians are performing popular musical styles from pop to country to Artrageous original music with Artrageous' powerful vocalists creating smooth harmonies.
The grand finale integrates live music, vocalists, and a trio of live art works leaving the audience on their feet dancing, singing and clapping along.
Forigner 
Thursday, June 6th, 2019 8:00 PM Sandia Resort Amphitheater, Albuquerque
On September 13th, 2017 Foreigner's catalog sales were celebrated in Business Insider magazine as hitting the Top 40 among the Best Selling Music Artists of All Time. The Beatles were justifiably #1, but Foreigner came in ahead of Britney Spears, Bob Dylan, Phil Collins, Prince, Queen, Bon Jovi and Def Leppard.
With ten multi-platinum albums and sixteen Top 30 hits, Foreigner is universally hailed as one of the most popular rock acts in the world with a formidable musical arsenal that continues to propel sold-out tours and album sales, now exceeding 75 million.
Responsible for some of rock and roll's most enduring anthems including Juke Box Hero, Cold As Ice, Hot Blooded, Waiting For A Girl Like You, Feels Like The First Time, Urgent, Head Games, Say You Will, Dirty White Boy, Long, Long Way From Home and the worldwide #1 hit, I Want To Know What Love Is, Foreigner continues to rock the charts more than 40 years into the game with massive airplay and continued Billboard Top 200 album success. Foreigner also features strongly in every category in Billboard's Greatest of All Time listing. Catalog sales often eclipse those of Led Zeppelin, AC/DC, the Rolling Stones, the Who, Def Leppard, Van Halen, Aerosmith and most of their Classic Rock peers.
2017 marked the celebration of Foreigner's 40th anniversary. It commenced with a European tour that included Foreigner performing orchestral versions of the hits with the 21st Century Symphony Orchestra in Lucerne, Switzerland. The Warner Music Group released a double CD set '40', which includes 40 songs recorded between 1977 and 2017. The album features two tracks recorded especially for this release, 'Give My Life For Love' and a new version of 'I Don't Want To Live Without You.' The album spent nine weeks in the Billboard Top 200 chart. The US anniversary headline tour played 40 shows across the United States where the band was supported by Cheap Trick and Jason Bonham's Led Zeppelin Experience.
Little Big Town-Summer Fever
Friday, June 14th, 2019 7:30 PM Sandia Resort & Casino, Albuquerque
Little Big Town—consisting of members Karen Fairchild, Kimberly Schlapman, Phillip Sweet, and Jimi Westbrook–entered the music scene over 18 years ago with hits like "Boondocks," "Bring It On Home," "Good As Gone" and "Little White Church." Albums Tornado and Pain Killer delivered massive success with #1 singles "Pontoon," "Tornado," "Day Drinking," and the history-making, best-selling country single of 2015, "Girl Crush." Little Big Town recently received their third career Grammy Award for Best Country Duo/Group Performance for their multi-week #1, platinum-selling hit, "Better Man" off their chart-topping album The Breaker. Their latest album debuted #1 on the Billboard Country Albums chart and Top 5 on the Billboard 200 All Genre chart. In the past 7 years they have won over 20 awards, including GRAMMY, CMA, ACM, People's Choice awards, and also an Emmy.
Bela Fleck & the Flecktones
Saturday, June 22nd, 2019, 8:00 PM Taos Mesa Brewing Amphitheater, Taos
Groundbreaking banjoist/composer/bandleader Béla Fleck has reconvened the original Béla Fleck & The Flecktones, the extraordinary initial line-up of his incredible combo. Pianist/harmonica player Howard Levy is back in the fold alongside Fleck, bassist Victor Wooten, and percussionist/ Drumitarist Roy "Futureman" Wooten. Far from being a wistful trip back in time, the Grammy Award-winning quartet has been creating some of the most forward thinking music of their long, storied career. While all manners of genres come into play—from classical and jazz to bluegrass and African music to electric blues and Eastern European folk dances—the result is an impossible-to-pigeonhole sound all their own, a meeting of musical minds that remains, as ever, utterly indescribable. Simply put, it is The Flecktones, the music made only when these four individuals come together.
"There's a special thing that happens when the four of us get together and play," notes Levy. "We all have the same attitude of trying to do things that we haven't done before and coincidentally, no one else has either." One thing was certain, however. The "original" Flecktones were resolute that their reunion would not be rooted in nostalgia. The goal from the get-go was to drive the music forward to places where it might've progressed had things gone differently.
Flo Rida 
Friday, June 28th, 2019 8:00 PM Sandia Resort Amphitheater, Albuquerque
Feel-good party rapper Flo Rida was one of the best-selling artists of the 2000s, notching a handful of international hit singles and Billboard chart-toppers. Unsurprisingly a native Floridian, the MC toured as a teenager with 2 Live Crew's Fresh Kid Ice and began popping up on high-profile mixtapes by 2006 (most notably on DJ Khaled's "Bitch I'm from Dade County," where he joined Rick Ross, Trick Daddy, Trina, and Dre of Cool & Dre). Signed to the Atlantic-distributed Poe Boy that year, he recorded Mail on Sunday, which was released in March of 2008. "Low," featuring T-Pain, was the album's lead single; it reached the top of the Billboard Hot 100. A year later he returned with the album R.O.O.T.S. (Route of Overcoming the Struggle), featuring the massive club hit "Round," which introduced the world to Kesha. Only 1 Flo, Pt. 1 appeared in 2010, with some tracks produced by dance music stars like Axwell, Benny Blanco, and David Guetta. On his 2012 release, Wild Ones, productions from Dr. Luke, Avicii, and Axwell continued along this dance direction. The album offered up three big hits: "Whistle," "Good Feeling," and "Wild Ones," featuring Sia. Three years later, Flo Rida reappeared with his fourth EP, My House, which included the eponymous hit single. A series of singles followed, including "Hello Friday" with Jason Derulo, "At Night" with Liz Elias and Akon, "Zillionaire," "Cake" featuring 99 Percent, and "Dancer."
REO Speedwagon
Saturday, June 29th, 2019 8:00 PM Legends Theater, Route 66 Resort & Casino, Albuquerque
Formed in 1967, signed in 1971, and fronted by iconic vocalist Kevin Cronin since 1972, REO Speedwagon is a band where the main constant over the decades is a never-ending desire to give their all to their fans, year in and year out.
Formed loosely in the late '60s at college in Champaign, IL, REO (named after the precursor to the light truck) rode to gigs in station wagons, hopping from small gigs to even tinier gigs, just to get their name out. It worked, as fans quickly realized there was much more going on here than your average college party band.
By the early '70s, the band's unrelenting drive, as well as non-stop touring and recording, jump-started the burgeoning rock movement in the Midwest. It carved a path that was eventually followed by STYX, Kansas, Cheap Trick and more. Platinum albums and freeform FM radio staples such as "Ridin' The Storm Out" followed, setting the stage for 1980's explosive Hi Infidelity (received the Recording Industry Association of America®'s 10X Diamond Award for surpassing sales of 10 million units in the U.S.). REO rode the top of the charts with a RIAA-certified 22 million albums sold in the U.S. and 40 million around the globe, with a string of gold and platinum records and international hit singles.
In 1994, when many rock bands of their era had either broken up, or were feeling like their days were numbered, the REO team came up with a co-headline tour concept that breathed new life into the world of touring. The "Can't Stop Rockin'" amphitheater tour featuring Fleetwood Mac, REO, and Pat Benatar was a huge success and blazed the trail for the very popular co-headline tours that are seen nationwide today.
Today, fully established with songs on the radio in every city and town they ever set foot in, REO Speedwagon still has that Midwest work ethic. The band has gone on stage and in the studio to work– dozens of albums, thousands of concerts, and countless radio spins. Their eyes have always been on the future and on the road – not a year has gone by where REO Speedwagon didn't perform live, thrilling fans with hit filled sets.
In the summer of 2018 REO Speedwagon and Chicago joined forces for a co-headlining tour of North America. The two hit-making bands rocked 30 cities along the run.
Pitbull 
Wednesday, July 3rd, 2019 8:00 PM Sandia Resort Amphitheater, Albuquerque
With his trademark shout of "Dale!" and reggaeton-infused party pop, bilingual rapper and producer Pitbull made a steady ascent through the Miami hip-hop scene before dominating the mainstream charts in the late 2000s and 2010s with dancefloor-filling hits, including U.S. Top Ten singles "I Know You Want Me (Calle Ocho)," "Give Me Everything," "Timber," "Feel This Moment," and "Time of Our Lives." In 2016, he won his first Grammy Award for his Spanish-language LP, Dale.
Rebelution, an album filled with slick club cuts included the hits "I Know You Want Me (Calle Ocho)" and "Hotel Room Service." Featuring the hit single "Bon Bon," his all-Spanish-language album Armando followed in 2010. In 2011, his Planet Pit album arrived, featuring the singles "Hey Baby (Drop It to the Floor)" and "Give Me Everything." Both the singles collection Original Hits and I Am Armando — a "reloaded" version of Armando — arrived in 2012 along with his seventh studio effort, Global Warming. The latter album featured the hits "Back in Time" and "Feel This Moment," and when a deluxe reissue appeared in 2013, the single "Timber," with special guest Kesha, was added to the track list.In early 2014, Pitbull released the single "Wild Wild Love," which featured vocals from the girl group G.R.L. and debuted at number 30 on the Billboard pop chart.
A few months later, he announced the release of an eighth studio album, Globalization, which appeared near the end of 2014 and featured Chris Brown, Sean Paul, Dr. Luke, and other guests. No less than four singles reached the Top 40, including "Wild Wild Love," "Fireball," "Time of Our Lives," and "Fun." Dale, his second Spanish-language album, followed in 2015, the same year that he launched his satellite radio station, Pitbull's Globalization, on the Sirius XM network. The album was extremely successful, scooping up the Grammy Award for Best Latin Rock, Urban or Alternative Album at the 58th Annual Grammy Awards. It was Pitbull's first Grammy Award win, and the album unsurprisingly reached number one on Billboard's Top Latin Albums chart.
The following year saw a return to the English language for the rapper with his tenth studio album, Climate Change. It featured high-profile collaborators like Robin Thicke, Joe Perry, Flo Rida, Enrique Iglesias, Jennifer Lopez, Jason Derulo, Stephen Marley, and Leona Lewis. The single "Messin' Around," featuring Iglesias, hit the pop charts leading up to the album's release in March 2017. Later that year, Pitbull issued his second compilation of solo hits from 2009's Rebelution to 2014's Globalization on the aptly titled Greatest Hits. The collection featured two new songs: "Jungle" with Stereotypes, E-40, and Abraham Mateo and "Locas" with longtime collaborator Lil Jon.
In 2018, Pitbull contributed a pair of tracks to the Gotti soundtrack: "So Sorry" and "Amore" with Leona Lewis. That year, he also recruited Theron Theron for "Free Free Free" and appeared on Claudia Leitte's "Carnaval," Enrique Iglesias' "Move to Miami," and Arash's "Goalie Goalie."
The Brothers Osborne 
Friday, July 5th, 2019 8:00 PM, Sandia Resort Amphitheater, Albuquerque
Years before they climbed the country charts with songs like "Stay a Little Longer" and "Rum," the Brothers Osborne grew up in Deale, Maryland, a small fishing town on the Atlantic seaboard. It was a cozy place, filled with blue-collar workers who made their living on the water. During the weekends, many of those workers would head over to the Osborne household, where a series of loose, all-night jam sessions filled the Maryland air with the sounds of Bob Seger, Hank Williams, Tom Petty and George Jones.
Like its title suggests, Pawn Shop offers a little bit of everything. There's bluesy slide guitar, country duets, southern rock solos, harmonies, and plenty of groove. The hooks are big, the guitars are loud, and the songs — every last one of them co-written by the Osbornes, who reached out to award-winning songwriters like Shane McAnally and Ross Copperman for help — introduce a duo whose music bridges the gap between the mainstream and the alternative world. Some songs were written at home in Nashville, while others came together on the road, where the guys spent several years headlining their own club shows, touring the country with Darius Rucker, and playing some of the biggest arenas in America with fellow rule-breaker Eric Church.
That unique path has already led the band toward the upper half of the country charts. "Rum" got them there first, mixing the feel-good sunshine of a beach tune with a far more realistic storyline. There's no actual beach in "Rum," after all. Instead, Brothers Osborne turn the song into a tribute to the simple pleasures that their Maryland hometown offers: friends, good weather, and the occasional drink. They even filmed the song's music video in Deale, filling the clip with footage of friends, relatives, and locals.
Brothers Osborne, who co-produced the album with Jay Joyce (the award-winning producer behind Little Big Town's Painkiller, Eric Church's The Outsiders, and Carrie Underwood's Storyteller), recorded most of Pawn Shopduring breaks in their busy touring schedule, using members of their own touring band rather than session musicians from the Nashville community. The result is an album that's stamped with the unmistakable mark of aband. It doesn't sound like two singers, flanked by anonymous players. Instead, it sounds like a group of road warriors who've spent years sharing bus seats and hotel rooms, creating the sort of chemistry that can't be faked.Pawn Shop is both raw and real, and Brothers Osborne — who, years after those household jam sessions in Deale, now have a handful of nationwide tours under their belts, songs on the charts, and a career on the rise — are no longer a family secret.
Mariachi Spectacular
Saturday, July 13th, 2019 7:00 PM Sandia Resort Amphitheater, Albuquerque
The annual Mariachi Spectacular concert lives up to its name by presenting world renowned groups showcasing a variety of styles within the mariachi tradition. Performances are passionate, heart rendering interpretations of mariachi classic songs. Conference students as well as the general public experience mariachi music at its best. This concert provides extended learning for students in the delivery and presence of the tradition that brings us together!
This year's concert feature performances by Aida Cuevas, Mariachi Juvenil Tecalitlan, Mariachi Nuevo Mujer 2000, Familia Escamila – Floreadores and Ballet Folklorico Paso del Norte.
Boyz II Men and En Vogue
Friday, July 19th, 2019 7:00 PM Sandia Resort Amphitheater, Albuquerque
Boyz II Men remains one of the most truly iconic R&B groups in music history. The group redefined popular R&B and continues to create timeless hits that appeal to fans across all generations. The band has penned and performed some of the most celebrated classics of the past two decades. The group's 4 Grammy Awards are just the tip of the iceberg: throughout their 25-year career, Boyz II Men have also won a whopping 9 American Music Awards, 9 Soul Train Awards, 3 Billboard Awards, and a 2011 MOBO Award for Outstanding Contribution to Music, a star on the Hollywood Walk of Fame, as well and a Casino Entertainment Award for their acclaimed residency at the Mirage Resort and Casino in Las Vegas, which has been ongoing since 2013.
The trio holds the distinction of being the best-selling R&B group of all time, with an astounding 64 million albums sold. And the reason is abundantly clear: for the past two decades Boyz II Men have given fans a rich catalogue of hits filled with smooth harmonies and enduring themes. And for Boyz II Men the hits just keep on coming—the group continues to craft new albums and bring their legendary act to stages across the world.
Boyz II Men's hits include: "End of the Road," "I'll Make Love to You," "One Sweet Day," "Motownphilly" and many others. And their recent albums have earned them major critical acclaim as well. Their Decca label debut, Motown: A Journey Through Hitsville USA  earned them two Grammy Nominations. In 2016, Boyz II Men marked their 25th anniversary. Most recently, the group has released a Doo-Wop album called "Under The Streetlight".
Timeless! That's what comes to mind the moment the resonant voices of En Vogue pour through the airwaves. With their new single, Rocket, steadily pushing its way onto radio playlists across the country, the ladies are poised for more chart-topping success with the global release of their "Electric Café" album on Entertainment One Music.
En Vogue, current members Cindy Herron-Braggs, Terry Ellis and Rhona Bennett are recognized as one of the top 5 highest selling American
female music groups in history, En Vogue has sold over 20 million albums to date. Their effortless transition into the digital age, complemented by their effortless chic, has garnered the group over 30 million streams and 26 million plus YouTube views on their Top 6 hit singles alone; smashes such as Hold On, Free Your Mind, Never Gonna Get It, Giving Him Something He Can Feel, Don't Let Go, and Whatta Man (feat. Salt N Pepa).
In April 2018, the group released "Electric Café," which features collaborations with some of today's most sought-after producers and artists, including Ne-Yo and Raphael Saadiq. The Hip-Hop laced Have a Seat ft. Snoop Dogg and the group's original production duo, Denzil Foster and Thomas McElroy, tapped back into En Vogue's signature sound with Déjà vu and Blue Skies.
Known for their show stopping performances, En Vogue stays in demand. 2018 kicks off with a European tour hitting Dublin, Ireland followed by shows throughout the United Kingdom, Holland and Germany.
Kansas
Saturday, July 20th, 2019 8:00 PM Isleta Resort & Casino, Albuquerque
With a legendary career spanning more than four decades, KANSAS has firmly established itself as one of America's iconic of classic rock bands. This "garage band" from Topeka released their debut album in 1974 after being discovered by Wally Gold, who worked for Don Kirshner, and have gone on to sell more than 30 million albums worldwide.
Composing a catalogue that includes fifteen studio albums and five live albums, KANSAS has produced eight gold albums, three sextuple-Platinum albums (Leftoverture, Point of Know Return, Best of KANSAS), one platinum live album (Two for the Show), and two one million-selling gold singles, Carry On Wayward Son and Dust in the Wind. KANSAS appeared on the Billboard charts for over 200 weeks throughout the '70s and '80s and played to sold-out arenas and stadiums throughout North America, Europe and Japan. Carry On Wayward Son continues to be one of the top five most played songs on classic rock radio, and Dust In the Wind has been played on the radio more than three million times!
Inspired by their 35th Anniversary DVD There's Know Place Like Home KANSAS conducted their Collegiate Symphony Tour from 2010-2012 performing their hits accompanied by various college and university symphonies throughout the United States to help raise funds and awareness for collegiate music programs. In 2011, this tour led to a special collaboration with the US Army Orchestra culminating in the Carry On Concert honoring America's veterans on Veteran's Day 11/11/11 at DAR Constitution Hall in Washington, DC.
Coinciding with the celebration of their 40th anniversary in 2015, KANSAS was inducted into both the Kansas Hall of Fame and the Georgia Music Hall of Fame as recognition for their achievements from both their native state and adopted home state.
2016 marked the release of "The Prelude Implicit," KANSAS's fifteenth studio album. The wide-ranging progressive rock album was released on InsideOut Music, and marked the band's first studio album release in 16 years.
Throughout 2016-2017, the band celebrated both the release of "The Prelude Implicit" and the anniversary of breakout album "Leftoverture" with the highly successful KANSAS: Leftoverture 40thAnniversary Tour. That tour was released in 2017 as a live album, "Leftoverture Live & Beyond."
In the fall of 2018, KANSAS embarks on the Point of Know Return Anniversary Tour in select markets. This tour will not only culminate in the multi-platinum album Point of Know Return performed in its entirety, but will also feature classic hits, deep cuts, and fan favorites..
The band, which is currently comprised of original drummer Phil Ehart, bassist/vocalist Billy Greer, keyboardist David Manion, vocalist/keyboardist Ronnie Platt, violinist/guitarist David Ragsdale, guitarist Zak Rizvi, and original guitarist Richard Williams. KANSAS continues to perform in front of large and enthusiastic audiences around the world.
Along with constant touring, KANSAS continues to remain a fixture of Classic Rock radio. The band has reached a whole new audience through their unmistakable presence on the popular video games Rock Band and Guitar Hero, and through their songs' inclusion in various television shows such as 'Supernatural,' and 'South Park,' and with films 'Old School,' and 'Anchorman.'
Jason Aldean & Kane Brown
Thursday, July 25th, 2019 7:30 PM Isleat Amphitheater
Three-time and reigning ACM "Entertainer of the Year" Jason Aldean is only the second Country act in history to score four consecutive chart-toppers on the all-genre Billboard 200 albums chart with his current album REARVIEW TOWN, with six of his previous LPs having achieved Platinum certification or better. His record-breaking eighth studio album includes his current Top 5 and climbing hit "Girl Like You" along with the two back-to-back multi-week chart toppers "You Make it Easy" and "Drowns The Whiskey." The path paved by his wide-open sure-footed approach has defined the genre's 21st century including more than 17 million total album sales, 21 No. One singles and countless recognition from the GRAMMYs, ACMs, CMAs, BBMAs, People's Choice Awards and more. Proving to be a "natural born entertainer who consistently delivers his best" (CMT) Aldean "has got this thing down pat" (UPROXX) as "he sells out stadiums and continues to bring his singles to the top of the radio charts" (Forbes). The "musically muscular, big-tent entertainer" (The Atlantic) will deliver a mix of new hits and fan favorites during his 2019 RIDE ALL NIGHT TOUR launching May 3rd with back to back nights in Uncasville, CT, with special guests Kane Brown, Carly Pearce and Dee Jay Silver. For more information and for a full list of upcoming tour dates, visit www.jasonaldean.com.
Sugarland 
Friday, August 2nd, 2019 8:00 PM Sandia Resort Amphitheater, Albuquerque
To hear Jennifer Nettles tell it, it's a brand new day in Sugarland. Despite winning multiple Grammy, CMA and ACM awards—and selling more than 8 million records—the country-music duo of Nettles and Kristian Bush is embracing a creative rebirth, a musical awakening that permeates their adventurous fourth album, The Incredible Machine.
And what they've created is a dynamic masterwork. Co-written and co-produced in full by Jennifer and Kristian, The Incredible Machine is a soaring album elevated by sky-high choruses, ringing guitars, and pulsing drums that recall the beating of the album's titular engine, the human heart. Kristian describes it as a collection of anthems—and there may be no greater understatement. If the duo was searching for the grander side of country on their last record, the double platinum Love on the Inside, they've obviously found it on The Incredible Machine. From the fanfare of the album's opener "All We Are" to Jennifer's sublime piano-ballad closer "Shine the Light," this is an album built for stadiums.
In fact, the pair found shared inspiration in the iconic music and films of the 1980s, their growing-up years. "We allowed ourselves to play with our influences," Jennifer admits. As such, the coming-of-age movies by director John Hughes and songs by Blondie, Peter Gabriel, The Pretenders and even The Clash all helped fire up the Machine. "When we were writing, we asked what if John Hughes were making movies now…. Who would be on the soundtrack?" Kristian says, going on to connect the dots between rebellious country and rebellious rock.
They also flock to Jennifer's knack for finding the voice of everywoman—or even everyman. One of Sugarland's many gifts is their ability to write lyrics that transcend gender, like in their 2004 breakout hit "Baby Girl." On The Incredible Machine, the proof is in the acoustic "Little Miss," a profile of a woman who tries to handle everything, all by herself.
And the band is confident that fans, old and new alike, will have a similar experience as they discover the gears and cogs of The Incredible Machine—a country record, a pop record, an anthem record, a ballad record, but above all, an authentic record.
STYX
Saturday, August 3rd, 2019 8:00 PM Legends Theater, Route 66 Resort & Casino, Albuquerque
Tommy Shaw Acoustic and electric guitars, mandolin, vocals James "JY" Young Electric guitar and vocals Chuck Panozzo Bass guitar Todd Sucherman Drums, percussion, Waterphone Lawrence Gowan Piano, Hammond B3 organ, synthesizers, vocals Ricky Phillips Bass guitar, vocals
The six men comprising STYX have committed to rocking the Paradise together with audiences far and wide by averaging over 100 shows a year every year since (yes) 1999, and each one of them is committed to making the next show better than the last. Founded in Chicago in 1972, STYX has the unique distinction of being the first band in rock history to have four consecutive certified multimillion-selling albums in a row: 1977's The Grand Illusion, 1978's Pieces of Eight, 1979's Cornerstone, and 1981's Paradise Theatre.
STYX draws from over four decades of barnburning chart hits, joyous singalongs, and hard-driving deep cuts. Like a symphony that builds to a satisfying crescendo, a STYX set covers a wide range of stylistic cornerstones. From the progressively sweeping splendor that is "The Grand Illusion" to the hunker-down fortitude of all that is the "Blue Collar Man," from the majestic spiritual love for a special "Lady" to the poignant rumination on the fleeting nature of fame in "Miss America," from an individual yearning for true connection as a "Man in the Wilderness" to a soul-deep quest to achieve what's at the heart of one's personal vision in "Crystal Ball," from the regal reach-for-the-stars bravado of "Come Sail Away" to the grainy all-in gallop of that rugged "Renegade" who had it made, STYX draws on an unlimited cache of ways to immerse one's mind and body in their signature sound.
 Knotfest Road Show f/ Slipknot, Volbeat, Gojira & Behemoth
Saturday, August 3rd, 2019 5:30 PM Isleta Amphitheater, Albuquerque
SLIPKNOT are at once popular and critically recognized, despite their unflinching and uncompromising pursuit of their art. Emerging twenty years ago from Des Moines Iowa, the band's 1999 eponymous debut album is widely regarded as a modern day classic and was honored by Metal Hammer magazine as the 'Best Debut of the Last 25 Years.' The release quickly racked up double RIAA platinum certification in the US, with many of SLIPKNOT's subsequent releases achieving platinum status around the globe. To date, the band have been nominated for 10 Grammy Awards (winning in 2006 for 'Before I Forget'), as well as scoring 13 Platinum and 44 Gold record certifications around the world, 30 million unit sales and over 2.5 billion YouTube views to date. SLIPKNOT's fanbase is as unwavering as it is ubiquitous – the band's last studio album, 2014's '.5: The Gray Chapter' debuted Top 5 in the Official Album Charts of 19 countries around the world, including the US (#1), UK (#2), Japan (#1), Australia (#1), Russia (#1) & Germany (#2).
VOLBEAT emerged from Copenhagen in 2001. Since then, they've tirelessly clawed their way to hard rock's upper echelon with endless touring and a string of six beloved full-length albums. Their 2010 album Beyond Hell/Above Heaven, which features hit singles "A Warrior's Call" and "Heaven Nor Hell," received RIAA Gold Certification. 2013's Outlaw Gentlemen & Shady Ladies bowed at #9 on the Billboard Top 200 upon release marking the highest U.S. chart entry for a Danish Act since 1997 until the band's 2016 album Seal The Deal & Let's Boogie topped it by debuting at #4. Most recently the band released Let's Boogie! Live From Telia Parken, which commemorates and immortalizes VOLBEAT becoming the first Danish band to headline and sell out their hometown venue, Denmark's Telia Parken, with over 48,250 people in attendance. The 26-track album and concert film includes live versions of VOLBEAT's chart-topping hits and features special guests on the album including (in order of appearance) Mille Petrozza, Johan Olsen, Mark "Barney" Greenway, Lars Ulrich, boxer Mikkel Kessler and Danko Jones.
GOJIRA, comprised of brothers Joe Duplantier [vocals, guitar] and Mario Duplantier [drums], Christian Andreu [guitar], and Jean-Michel Labadie [bass], have challenged themselves and heavy music since forming in 1996. The band's most recent release, MAGMA, shook the world in 2016, staking its claim amongst the year's best albums and earning Gojira their first ever Grammy nominations for 'Best Metal Performance' and 'Best Rock Album.' MAGMA took the #1 spot on Billboard's 'Hard Rock Albums' chart upon debut, making Gojira the first French band to hold the #1 spot on the chart in its twelve year existence. A true global phenomenon, MAGMA marked the highest chart debuts of Gojira's career landing them Top 25 on the 'Billboard 200,' with career high chart positions around the globe including; Top 10's in France, Canada, Switzerland, Austria, Finland, and Norway, with Top 15 debuts in Australia and Germany. MAGMA received Metal Hammer's coveted "Album of the Year" title, while also landing on Rolling Stone's "Top 20 Metal Albums of 2016," Consequence of Sound's "Top 50 Albums of 2016" / "Top 10 Metal Albums of 2016" lists, and Pop Matters' "Best Metal of 2016" recap. Additionally, "Stranded," the lead single off of MAGMA, was named one of Stereogum's "100 Favorite Songs Of 2016."
Over the last two years, Behemoth have transformed themselves in to just that. Leading the charge within the extreme metal world on the back of their brand-new release 'I Loved You At Your Darkest,' we have seen Behemoth and their Legions grow in unanticipated numbers. Having just completed their most successful European and North American headline tours to date, Behemoth now bring their sacrilegious swarm back to open the biggest metal tour of the year. Behemoth began in 1991 through founding member and band leader, Nergal in his home town of Gdansk, Poland. After many years of hard work and tenacity, Behemoth began to create their own traction releasing the extremely successful releases, 'Demigod' and 'Evangelion.' Since, the momentum has steadily built up to their break-through record, 'The Satanist' which gave Behemoth worldwide recognition, no longer confided to underground sub-genres. 'I Loved You At Your Darkest' takes us to date and another step in the evolution of Behemoth.
Lynyrd Skynyrd-Last of the Street Survivors
Friday, August 9th, 2019 8:00 PM Isleta Amphitheater, Albuqueque
The legacy began some 41 years ago in Jacksonville, Florida, and halted for a decade by the 1977 plane crash that killed three band members, including Ronnie Van Zant and Steve Gaines. Since then, the band tragically lost Allen Collins, Billy Powell, Leon Wilkeson and Hughie Thomasson, yet Lynyrd Skynyrd rocks on with original member Gary Rossington joined by Johnny Van Zant, Rickey Medlocke, Mark "Sparky" Matejka, Michael Cartellone, Johnny Colt, Peter Keys, Dale Krantz Rossington and Carol Chase.
The rock and roll powerhouse continually tours, this summer heading out on their second run with Bad Company. 2014 marks the 8th year for their annual Simple Man Cruise, a four day voyage filled with the best music in Southern Rock including an outdoor beach show featuring Lynyrd Skynyrd for the first time in the cruise's history.
And so Skynyrd stands, "still unbroken." "People may say, 'they need the money,' well I don't think any of us need the money," Van Zant says. "It's just that we love the music, it's bigger than the money, it's not even about that any more. We have to make a living, sure, but it's about the legacy of Lynyrd Skynyrd, and what it stands for, what the fans are all about. There's nothing like getting out there playing a great show with Skynyrd and seeing people love this music."
With a catalog of over 60 albums, sales beyond 30 million worldwide and their beloved classic American rock anthem "Sweet Home Alabama" having over two million downloaded ringtones, Rock & Roll Hall of Famers Lynyrd Skynyrd remains a cultural icon that appeals to all generations.
Steve Miller Band with Marty Stuart
Sunday, August 11th, 2019 7:30 PM Sandia Resort & Casino, Albuquerque
Steve Miller has been an enlivening presence on the American music scene for more than half a century. To begin with, he was a mainstay of the San Francisco music scene that upended American culture in the late '60s. Then, in the '70s, Miller crafted a brand of pure pop that was smart, polished, exciting and irresistible – and that dominated radio in a way that few artists have ever managed. Hit followed hit in what seemed like an endless flow: "The Joker," "Take the Money and Run," "Rock'n Me," "Fly Like an Eagle," "Jet Airliner" and "Jungle Love," among them. To this day, those songs are instantly recognizable when they stream on the radio – and impossible not to sing along with. Their hooks are the very definition of indelible.
Running through Miller's distinctive catalog is a combination of virtuosity and song craft. And that's no accident. His parents were jazz aficionados, not to mention close friends of Les Paul and Mary Ford, so, as a budding guitarist, Miller absorbed valuable lessons from that musical tradition. When the family moved to Texas, Miller deepened his education in the blues with family friend T-Bone Walker. Miller then moved to Chicago, where he played with Muddy Waters, Howlin' Wolf, Buddy Guy, Junior Wells, James Cotton and Paul Butterfield. That range of sources informs his music to this day.
In recent years, Miller has fully immersed himself in the blues. He continues to find creative outlets for the full panoply of his musical passions. On his successful tours with the Steve Miller Band, he complements the commercial peaks of his extensive catalogue with lesser-known songs that expand his fans' awareness of the range of his work.
In the course of his long, full career, Miller has sold tens of millions of records and his music has been streamed well over 2 billion times. With each listen the beauty and immediacy of his work, whether at its most playful or most serious, is palpable.
Marty Stuart got his start in Johnny Cash's back-up band in 1979. He soon enjoyed solo success as well as hits performing with other country
musicians, including Travis Tritt and Willie Nelson. He has received multiple Grammy Awards for his work.
Around this time, Stuart married Cash's daughter Cindy, but he parted ways with his father-in-law in 1985 in order to focus on his own career. Exploring the sounds of rockabilly, he found some success with the 1986 album Marty Stuart and scored his first hit with the song "Arlene." Stuart also worked on his stage persona, choosing to wear fancy western-style suits on stage and to tease his hair. In his personal life, he began to make changes, too. He and his wife Cindy divorced in 1988.
Returning with 1989's Hillbilly Rock, Stuart reached the top 10 of the country music charts with the album's title track. He again won over country music fans with 1991's Tempted, which featured "Burn Me Down" and "Little Things." Partnering with Travis Tritt, Stuart won his first Grammy Award for Best Country Vocal Collaboration for "The Whiskey Ain't Workin'" in 1992. The pair toured together and scored another big hit with their "This One Is Going to Hurt (For a Long, Long Time)" that same year.
In 1993, Stuart won another Grammy Award—this time for Best Country Instrumental Performance. He joined forces with Chet Atkins, Vince Gill, and several other country stars for the song "Red Wing." His next solo album Love and Luck (1994) proved to be a commercial disappointment, but he remained a popular country star. Stuart hosted the first of many Marty Party television specials that year.
Busy as ever, Stuart recorded duets with Steve Earle, Willie Nelson, B. B. King, and Travis Tritt. He also worked behind the scenes, serving as producer for songs by George Ducas, Pam Tillis, and Jerry and Tammy Sullivan. Stuart worked on film soundtracks for a diverse range of movies from the Steven Seagal action flick Fire Down Below (1997) to the Western drama All The Pretty Horses (2000). For All The Pretty Horses, he received a Golden Globe nomination.
In 1999 Stuart released The Pilgrim, a concept album that told the story of a man, brokenhearted and suicidal, who sets off on a journey. Country stars such as Emmylou Harris, Earl Scruggs and Pam Tillis contributed to the project. While it earned some positive reviews, it failed to catch on with music buyers.
In 2000, Stuart formed his own backup band called the Fabulous Superlatives. He recorded several albums with them, including 2003's Country Music and 2006's Live at the Ryman. The group has also toured with the likes of Merle Haggard and the Old Crow Medicine Show.
Chris Young: Raised on Country with Chris Janson and LoCash
Thursday, August 15th, 2019 7:00 PM Isleta Amphitheater, Albuquerque
Chris Young has accomplished more by 29 than some artists do in a lifetime. Already a Grammy-nominated recording artist, he's also a dynamic live performer consistently in demand, an international ambassador for his genre, a talented songwriter with six Number Ones to his name – by the way, he wrote four of them – and a handsome charmer to boot. Now, with the release of his fourth album, A.M., the man known for his classic baritone and melt-your-heart ballads knows how to have a good time, too.
Blessed with parents who encouraged his art, Young soon found his way into musical theater, jazz training, and six years of classical voice, which honed his emerging baritone into something truly special. In his early teens, Young convinced his mom to drive him into Nashville so he could sit in with bands and work with local songwriters; by 16, he'd formed a band with some older guys from Middle Tennessee State University, and they started playing George Strait and Garth Brooks covers in whatever clubs would have them.
He would chart five consecutive Number One singles, co-writing four of them, and receiving plenty of Grammy, ACM, and CMA nominations along the way. With A.M., this self-professed "studio nerd" is ready to launch phase two of a plan he cooked up years ago with longtime
producer James Stroud.
More than anything, A.M. is defiantly, definitely country. And for anyone who knows the real Chris Young, the party anthems on A.M. won't come as that much of a surprise. Though he's made his name on mature, sensitive, heartfelt hits like "Tomorrow," "You," and "Voices," he is, at heart, just like any other 29 –year-old guy.
Platinum-selling multi-instrumentalist and singer/songwriter Chris Janson and country music songwriting duo LoCash join the tour. Chris' first music video release "Drunk Girl" was nominated 2019 ACM Video Of The Year. LOCASH duo of Preston Brust and Chris Lucas have enjoyed hit singles, sold-out concert appearances here and abroad, and have tasted the top of the chart as two of Nashville's quickest-rising songwriters. Albuquerque bassist and songwriter Zach Fowler serves as music director for the band.
UB40
Saturday, August 24th, 2019 8:00 PM Legends Theater @ Route 66 Casino
UB40 is forty. The band began its 40th Anniversary tour last June. The story of UB40, and how this group of young friends from Birmingham transcended their working-class origins to become the world's most successful reggae band is not the stuff of fairytales as might be imagined. By the summer of 1978, UB40 began rehearsing in a local basement.
By the time Chrissie Hynde invited them to tour with the Pretenders during the summer of 1980 and their debut single "King b/w Food For Thought" had sailed into the UK Top 5, all the essential elements of UB40 were already in place. Their line-up will remain unchanged for almost thirty years, and they will continue playing a mix of original material and inspired choice of reggae covers in a style that's instantly accessible with its bright melodies and sweeping horn arrangements
The band became evangelists of a kind, introducing classic reggae songs and artists to new audiences from around the world as they embarked on three best-selling installments of Labour Of Love, the band's first No. 1 album . Lead single "Red Red Wine" also went straight to No. 1. In fact it stayed in the British charts for two years, thereby giving UB40 their first truly worldwide hit and, eventually, their first American No.1.
UB40 again teamed up with Chrissie Hynde, who joined them on "Breakfast In Bed." The result was another Top 10 hit, taken from the 1988 album "UB40."At the onset of the nineties, Robert Palmer duetted with them on their next UK Top 10 hit, "I'll Be Your Baby Tonight," and 808 State charted with a remix of "One In Ten."
The opening of 2018 saw UB40 return to Europe, for a tour which took them through Holland, Belgium and France. 2018 was also the start of UB40's 40th anniversary celebrations, which they kicked-off in June with a sold-out concert at the Royal Albert Hall.
UB40's new album 'For The Many' dropped in February 2019.
Heart Love Alive Tour with Joan Jett & the Blackhearts 
Sunday, August 25th, 2019 7:00 PM Isleta Amphitheater, Albuquerque
History favors strong women.
When women stand up for themselves, show up, and speak out, change occurs time and time again, whether in politics, culture, entertainment, or music. There might be no women stronger–and louder–than the legendary ladies of HEART. Formed by sisters ANN and NANCY WILSON, the Rock and Roll Hall of Fame®-inducted group not only pioneered the female-fronted rock band, for all intents and purposes, but they also soundtracked four decades and counting. Throughout this time, the band sold over 35 million records, garnered four GRAMMY® Award nominations, landed ten Top 10 albums, received a star on the Hollywood Walk of Fame, and achieved "the longest span of top-10 albums on the Billboard charts by a female-led band."
By 1975, they had recorded their seminal debut Dreamboat Annie. Bordering rock and heavy metal fastened with folk songcraft, the platinum breakthrough spent 100 weeks on the charts and spawned a string of smashes such as "Magic Man," "Dreamboat Annie (Fantasy Child)," and "Crazy On You." Signature hit "Barracuda" bared its teeth on the triple-platinum 1977 epic Little Queen. As the musicians sold out shows worldwide and continued their multiplatinum reign on Magazine, Dog & Butterfly, and Greatest Hits Live, they recorded the definitive self-titled Heart in 1985–ten years removed from Dreamboat Annie. Vaulting to superstar status, Heart bowed at #1 on the Billboard Top 200, went quintuple-platinum, earned a GRAMMY® Award nomination, and yielded "If Looks Could Kill," "What About Love," "Never," and "These Dreams," which captured the #1 spot on the Billboard Hot 100, which features NANCY on lead vocals.
A new era has commenced in 2019. ANN and NANCY welcome a bevy of female powerhouses to join them on their biggest package tour to date–the "Love Alive" Summer Tour. HEART headlines a bill that includes Joan Jett & The Blackhearts, Sheryl Crow, Brandi Carlile, Elle King, and Lucie Silvas and rolls through major markets everywhere.
As frontwoman for The Runaways, Joan Jett
became a female pioneer in the male-dominated world of rock music. She is also a songwriter and producer. One of the top women in rock, Joan Jett had a string of hits during the 1980s and 1990s. Jett started her musical career as a teenager, forming her first serious band, the Runaways, at the age of 15. The final line-up included Jett on guitar and vocals; Sandy West on drums; Cherie Currie on lead vocals; Jackie Fox on bass guitar; and Lita Ford on guitar. The band was ahead of its time in many ways, with its hard-rock sound emerging during an era when disco music was king.
In 1976 the Runaways released their first self-titled album, which failed to impress critics and music buyers alike. Still, the song "Cherry Bomb," with its rebellious and raw edge, which Jett wrote with friend Kim Fowley, became a punk hit. The following year, the Runaways released their sophomore effort, Queens of Noise, which featured such tracks as "Born to Be Bad" and "Neon Angels." While the album performed poorly in the U.S., the Runaways received a warm welcome in Japan, scoring three gold records there.
Deciding to pursue a solo career, Jett spent some time in England working with Paul Cook and Steve Jones, both former members of the legendary punk band the Sex Pistols.  At first, Jett and Laguna printed and distributed the record themselves, selling copies at Jett's shows. The record then was picked up by Boardwalk Records and re-released as Bad Reputation. Her rock-pop sound, however, didn't quite catch on. Not one to give up, Joan Jett and the Blackhearts put together another album. I Love Rock 'n' Roll became a huge hit, driven in large part to the title track, which hit the top of the pop charts in early 1982. She had two more hit singles that year with her version of Tommy James' "Crimson and Clover" and Gary Glitter's "Do You Wanna Touch Me (Oh Yeah)."
In recent years, Jett has had her music featured in several films and TV series, including The Runaways, Baby Mama and Shrek. Still, Jett continues to tour extensively and plays a variety of gigs. "I love playing fairs. I think they're great, because you get out and you see America. We always have wonderful, very boisterous crowds. You see families; you see lots of kids. And it's great," she said.
Jett has also taken an active part in signing bands to her record label. "We made Blackheart Records what we wanted it to be," Jett said. "It's a place where girls can feel comfortable to be—both in a work environment and on an artistic level." Current acts with Blackheart Records include Girl in a Coma and the Dollyrots.
In the film world, Jett played an important role in the biopic The Runaways, a film based on Cherie Currie's biography Neon Angel: The Cherie Currie Story. She served as an executive producer on the project, and assisted actress Kristen Stewart with her portrayal of Jett. Jett gave the actress audio tapes from when she was 14 years old, which were meant to help Stewart capture Jett's distinct accent.
Korn with Alice in Chains
Tuesday, August 27th, 2019 6:30 PM Isleta Amphitheater, Albuquerque
Since forming in 1993, the iconic hard rock band KORN have sold nearly 40 million albums, toured the world dozens of times, and set records in the process that will likely never be surpassed. Originally from Bakersfield, CA, vocalist Jonathan Davis, guitarists James "Munky" Shaffer and Brian "Head" Welch, and Reginald "Fieldy" Arvizu on bass ushered in the new wave of metal music in the '90s with their self-titled debut in 1994 and 1996's Life is Peachy, but have ridden that wave to even greater success and higher artistic water marks. The band have battled personal demons and addictions but have found their way through to the other side. And now, highlighted by the force of drummer Ray Luzier, a return to a dual-guitar dynamic and some of Davis's most inspired moments of self-reflection and expression, the new album The Serenity of Suffering finds KORN harnessing all the anger, power, and trademark balance of darkness and light that made their name all those years ago.
Alice in Chains both epitomized the solemn, heavy Seattle sound of the 1990s and stood apart from the grunge hordes. What separated Alice in Chains from their alt-rock brethren was how their roots lay in heavy metal, not punk. Guitarist Jerry Cantrell and vocalist Layne Staley both played in metal bands prior to the formation of Alice in Chains in 1987 and they released the band's debut, Facelift, in 1990, well before Nirvana's Nevermind pushed the underground into the mainstream. Despite their connections to metal, Alice in Chains thrived in the glory days of grunge. After the group scored rock radio and MTV hits with "Man in the Box" and "Would?" in the early days of grunge, Alice in Chains became one of the first alt-rock bands of the '90s to delve into acoustic-based music, scoring hits with the comparatively softer "No Excuses" and "I Stay Away."
Arriving at the peak of 1992's grunge explosion, the dark and gloomy Dirt made Alice in Chains' career. By December, the album earned a platinum certification — it would go platinum once again in 1993 and 1995, with a fourth and final certification arriving in 2000 — and it stayed on the charts thanks to "Angry Chair" and the Top Ten mainstream rock hits "Rooster" and "Down in a Hole."
The revived Alice in Chains recorded a comeback album in 2008 with co-producer Nick Raskulinecz, which appeared in September 2009 as Black Gives Way to Blue. Debuting at five on the Billboard charts, Black Gives Way to Blue wound up going gold while racking up two Grammy nominations, reestablishing Alice in Chains as a force in mainstream and modern rock. The group toured into 2010 and then in 2011 set to work on another album with Raskulinecz. Entitled The Devil Put Dinosaurs Here, the album debuted at two upon its release in May 2013. Alice in Chains toured The Devil Put Dinosaurs Here into 2014, then spent the next two years on the road. In 2017, the group started work on another new album with Raskulinecz. Recorded primarily in Seattle, the resulting Rainier Fog appeared in August 2018.
Kiss: End of the road World Tour
Wednesday, September 11th, 2019 7:30 PM Isleta Amphitheater, Albuquerque
As America's #1 Gold Record Award winning group of all time, and that's in every category, KISS can easily be named one of rock's most influential bands. The Rock N Roll Hall of Famers have released 44 albums and sold more than 100 million albums worldwide. Honored by their peers, KISS received the illustrious ASCAP Founders Award in 2015.
Over 40 years of record-breaking global tours have brought KISS to their fans. Additionally, once a year the "KISS Army" becomes the "KISS Navy" as fans from across the globe board the KISS Kruise (this year will be their 6th voyage).
High-profile appearances have included the Super Bowl, the Winter Olympics, Rockin' The Corps concert, a FOX alliance with KISS appearing in multiple episodes of Family Guy, plus two special guest performances on American Idol finales. KISS has been featured in major advertising and marketing campaigns for John Varvatos, Google Play, Hello Kitty— even appearing in a Dr. Pepper Super Bowl commercial and advertising campaign in support of their Hottest Show On Earth tour.
KISS is dedicated to numerous Veterans Organizations including: The Wounded Warriors Project, The USO, The U.S. Chamber of Commerce "Hire A Hero" program, The Legacy Organization in Australia, Help For Heroes United Kingdom and The Dr. Pepper Snapple Groups Wounded Warriors Support Foundations.
The KISS legacy continues to grow generation after generation, transcending age, race and creed. The unparalleled devotion and loyalty of the KISS Army to the "Hottest Band in the World" is a striking testament to the band's unbreakable bond with its fans.
Florida Georgia Line-Can't Say I Ain't Country Tour
Saturday, September 14th, 2019 7:00 PM Isleta Amphitheater
Keepin' it country, Florida Georgia Line are headed to Isleta Amphitheater on the Can't Say I Ain't Country Tour! The tour supports their hot new album of the same name, which sees the duo stepping away from their signature "bro-country" production and stripping things back to a more classic sound, and will feature Dan and Shay & Morgan Wallen in support!
Upon graduating from Belmont University, where they met in 2008, Tyler Hubbard and Brian Kelley decided to embark on a music career, giving themselves two years to succeed. The guitar and vocal duo formed Florida Georgia Line, originally a covers outfit, and signed with Nickleback producer Joey Moi's label Big Loud Mountain Records in 2011. The following year they released "Cruise", their debut single, which was a huge hit for the pair, breaking two major sales records. The song was downloaded over seven million times, which made it the first ever Diamond-certified country song and, until Sam Hunt's "Body Like a Back Road" claimed the title in 2017, it was the best-selling digital country song of all time, holding its number one position for 24 weeks. The duo is credited with originating the "bro-country" genre. Can't Say I Ain't Country, their fourth studio album, is released in 2019.
Iron Maiden
Thursday,September 19th, 2019, Isleta Amphitheater, Albuquerque
Iron Maiden fans, rejoice!! After a ferociously well-received run in Europe, The Legacy Of The Beast tour is coming to North America – headed to the to Isleta Amphitheater, Albuquerque, on Thursday 19th September 2019!!
Iron Maiden live performances are always something spectacular, but this tour, modelled after the Iron Maiden mobile game "The Legacy Of The Beast," promises to be something truly extraordinary. Iron Maiden fans can hardly wait, after hearing reports of what the new show is all about, to see it with their own eyes!!
"We're excited to return to North America and share the 'Legacy Of The Beast' tour with all our friends there!" Bruce Dickinson said in a press release, and went on to talk about the elaborate technical nature of the show itself. "We've got all kinds of crazy things going on, including a replica Spitfire plane dominating the stage during 'Aces High', tons of pyro, a giant Icarus, muskets, claymores and some truly marvellous flame-throwers which I have a hell of a lot of fun with, as you will see! And, of course, we have Eddie, as you've never seen him before, and absolutely loads of other surprises."
It's a wild thing to say, but we think it just mignt be true – that this is going to be the biggest and best Iron Maiden tour EVER!! Whatever you do, you've got to be in that crowd – so get your tickets ASAP, while you still have the chance!!
Peter Frampton-The Final Farewell Tour
Tuesday, September 24th, 2019 7:30 PM Sandia Resort, Albuquerque
Peter Frampton remains one of the most celebrated artists in rock history. At age 16, he was lead singer and guitarist for British band The Herd. At 18, he co-founded one of the first supergroups, seminal rock act Humble Pie. His session work includes collaborations with such legendary artists as George Harrison, Harry Nilsson, David Bowie, Jerry Lee Lewis, Ringo Starr, John Entwistle, Mike McCready and Matt Cameron (Pearl Jam), among many others.
Frampton has appeared as himself in television shows "The Simpsons" and "Family Guy." He also served as technical advisor on Cameron Crowe's 2000 film Almost Famous as well as appearing in it and writing songs for the soundtrack. In 2007 he won the Grammy Award for "Best Pop Instrumental Album" for Fingerprints and in 2014 was inducted into the Musicians Hall of Fame.
Frampton has toured with the likes of David Bowie, Stevie Nicks, Greg Allman, Ringo Starr, Lynyrd Skynyrd, Cheap Trick, Steve Miller Band, Bill Wyman's Rhythm Kings, and many others. Additionally, he took Peter Frampton's Guitar Circus on the road for two years with special guests B.B. King, Buddy Guy, Vince Gill, Larry Carlton, Robert Randolph, Don Felder (formerly of The Eagles), Dean DeLeo (Stone Temple Pilots), Kenny Wayne Shepherd, Sonny Landreth, Robert Cray and Roger McGuinn (the BYRDS).
He recently celebrated the 42nd anniversary of his fifth solo album, Frampton Comes Alive!, which remains one of the top-selling live records of all time, with over 17 million copies sold worldwide.