Some of the world's top performers visit the Land of Enchantment, often beginning or ending their tours here. It's a place where artists come to spend some down time between tour dates, often lingering for a few days to relax or record before moving on to the next city.
Some of the top name acts on earth are making their way through New Mexico including  Skid Row, For KIng & Country,  Lakeside w/ Cherrelle,  Ryan Bingham, Jack McCuthceon, Lana del Rey, Billy Childs,  The Italian Tenors, Ozomatli, Judy Collins, Rascal Flatts, Hozier, John Michael Montgomery, Kris Kristofferson, Melissa Etheridge, Natalie Grant, Danny Gokey, Reckles Kelly, Iris Dement, Phil Vassar & Lonestar, The Swingles, Manheim Steamroller, Toby Mack and many more. New acts are being added everyday.
If you're a fan(atic), following your favorite band on tour, there is no better place to do it than the New Mexico. We have great venues, ranging from the historic to the modern and every one of them an intimate experience. Accommodations are plentiful and the weather is great. Why go to a sold out stadium show and pay a fortune for cheap seats a half mile away when you an get up close and personal with your favorite band here in a 2000-5000 seat venue? Tickets are almost always available, airfares are low and the views are spectacular. 
Las Cruces Country Music Festival
Friday- Sunday, October 11th-13th, 2019, Las Cruces
Blues Skies. Country Stars. Put your party boots on and get ready to kick-it at the Las Cruces Country Music Festival featuring three days of food, fun and country music guaranteed to rock your soul. Now in its seventh year, the festival features heritage and up-and-coming country acts straight from Nashville.
The 7th Annual Las Cruces Country Music Festival returns to the City of Crosses for another legendary weekend of country fun this October 11, 12, & 13 and the star-studded lineup is here.
The Festival kicks off on Friday, October 11 with Main Stage acts: Big & Rich with Cowboy Troy, Casey Donahew, and Frank Ray. The Friday night trio has accounted for dozens of country hits and awards including Big & Rich's "Save A Horse (Ride a Cowboy)", "Lost in This Moment", "Wild West Show", "That's Why I Pray", "Holy Water" and many more.
Donahew's hits include "White Trash Story," "Double Wide Dream," and "One Star Flag" among many others. Former Las Cruces Police Officer and recent national USA television REAL Country contestant Frank Ray is coming home to Las Cruces. Ray's Texas Country chart hits have included "Every Time You Run" and "The Drive".
On Saturday night, the festivities continue with country stars Gretchen Wilson, Ronnie Milsap, and Jessie G. Gretchen Wilson, a Grammy Award-winning recipient, has charted country hits like "Redneck Woman", "Here for the Party", "All Jacked Up" and several others. Six-time Grammy Awards winner and Country Music Hall of Fame inductee Ronnie Milsap had success in the 1970s and 1980s and is recognized as an influential "crossover" artist incorporating sounds of R&B, pop, and rock into his country music. Milsap has had an impressive thirty-one #1 hits on Country radio from 1973 to 1989.
Milsap's hits include "It Was Almost Like a Song", "Lost in the Fifties Tonight", "Stranger in my House", and an ode to the area from where he hails "Smokey Mountain Range" among others.
Sunday will feature regional artists, as well as a performance by the First Female Artist to perform with Mariachis on the Grand Ole Opry, Stephanie Urbina Jones and the Honky Tonk Mariachis. Stephanie Urbina Jones's country-meets mariachi-meets-Latin hits have included "I Wanna Dance with You", "Walking After Midnight" and "He Reminds Me of Texas". Urbina Jones has also received wide acclaim for a phenomenal rendition of Dolly Parton's hit "Jolene".
Over on the Second Stage, local and regional favorites will keep the music going in between acts. In addition to all the great music, the Festival will feature activities for the entire family including food and drinks, vendors, and a free kids' area.
The three-day-long country music celebration developed and produced by Visit Las Cruces and the City of Las Cruces features live country music on two stages. Celebrating its seventh year, the Festival has established itself as one of Las Cruces and New Mexico's premier events. Notable past acts have included Dwight Yoakam, Travis Tritt, Kacey Musgraves, Kenny Rogers, Lee Ann Womack, Randy Houser, Frankie Ballard, Sawyer Brown, Eli Young Band, Nitty Gritty Dirt Band, Rick Trevino, Dustin Lynch, The Swon Brothers, Charlie Daniels Band, Casey James, Little Texas, Bri Bagwell, Cassadee Pope, Brennin and James Wesley among others.
The festival will be held at the Hadley Sports Complex for the second year in a row. Gates open at 5 pm on Friday, 4 pm on Saturday and 11 am on Sunday.
Tickets are on sale online at www.LasCrucesCountryMusic.com and in person at Visit Las Cruces. Single day passes for Friday or Saturday are $40, Sunday single day passes are $10, and Weekend Passes are $80. Kids 12 and under get in free with general admission. VIP passes are $150, which include a Thursday night VIP party and VIP seating on Friday and Saturday night. Kids 3 and under get in free with VIP passes. Prices will go up at the gate, so get your tickets early.
Members of the military, senior citizens, City employees, and students are offered a $5 off discount on day passes, and $10 off weekend passes when they purchase tickets at the Visit Las Cruces office at 336 S. Main Street. Limit one per person with valid IDs. Acts subject to change.
Oh Solo Wainwright: An Evening with Rufus Wainwright with Robert Ellis
Friday, October 11th, 2019 7:30 PM Lensic Performing Arts 211 West San Francisco St, Santa Fe
Rufus Wainwright, one of the great male vocalists, composers, and songwriters of his generation, has released eight studio albums, three DVDs, and three live albums. He has collaborated with artists ranging from Elton John, David Byrne, Robbie Williams, Mark Ronson, Joni Mitchell and Burt Bacharach. His album Rufus Does Judy, recorded at Carnegie Hall in 2006, was nominated for a Grammy.
Rufus celebrated the 400th anniversary of Shakespeare's death with the release of his album Take All My Loves: 9 Shakespeare Sonnets on Deutsche Grammophon worldwide in 2016.
His acclaimed first opera, Prima Donna, premiered at the Manchester International Festival in July 2009 and has since been presented in London, Toronto and BAM in New York. In 2015, Deutsche Grammophon released a studio recording of the opera recorded with the BBC Symphony Orchestra. Now fully established as a composer of operas, Rufus was commissioned by the Canadian Opera Company to write his second opera, based on the story of the Roman Emperor Hadrian and Antinous. That opera, Hadrian, premiered in Toronto in 2018.
Because Robert Ellis and his band were fluent in honky tonk and capable of burning through dozens of George Jones standards on any given night, he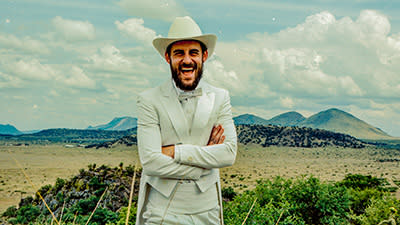 could have found his boots set in concrete. He has instead over the course of now four albums done his best to set wide parameters for his musical expression, befitting a guy from a state nearly 800 miles from one end to the other.
Had we paid more attention, we might've seen the Texas Piano Man coming with his white tuxedo and bouquet of yellow roses to hand out to fans. Maybe we made some assumptions about him. After all, Robert Ellis traveled the world for a few years, playing songs and pouring sweat each night into the unforgiving fabric of a lapis-colored western suit with Titan rockets embellishing the sleeves and a space suit-clad Buzz Aldrin standing on the flaps. If rhinestones were truly stars, the stages wouldn't have needed lights.
Something inside wanted out. Or as one of his bandmates put it: Ellis had to create a character in order to finally be himself on stage.
Sawyer Brown Band
Friday, October 11th, 2019 8:00 PM Inn of the Mountain Gods, Mescalero
Founded in 1981, the band is celebrating its 30th anniversary this year, having played more than 4,000 shows over the course of those years, logging mileage well into the seven figures. And as the band clearly shows in its new CD, "Travelin' Band," the wheels are still turning and an ever-open road stretches out ahead.
Sawyer Brown is made up of guitarist Bobby Randall, drummer Joe Smyth, bassist Jim Scholten, keyboardist Gregg "Hobie" Hubbard and guitarist/lead singer Mark Miller. The group was originally part of country-pop singer Don King's band. After King stopped touring in 1981, they choose to stay together, naming themselves after the Nashville street where they rehearsed.
They spent the next two years performing on the road, and eventually landed an audition for the popular talent show Star Search. Sawyer Brown won the grand prize of $100,000 and went on to sign a recording contract in 1984.
Over the band's impressive 30-year career, Sawyer Brown has recorded numerous hit songs, including "Some Girls Do," "All These Years," "The Walk," "Six Days on the Road," "Thank God for You," "Dirt Road," and many more.
Rocktoberfest with Skidrow 
Saturday, October 12th, 2019 9:30 PM Sandia Resort & Casino Ballroom, Albuquerque
The first rebellion started in 1986.  New Jersey kids, punk and metal attitude, determined to conquer the world. All for one, banded together with single-minded purpose. The battlefield was the stage, the songs their arsenal in an us-against-them musical coup d'état.
​Top Ten singles. Gold and multi-platinum sales. No. 1 on the Billboard album chart. The world was theirs, the rebellion won, until there was nothing left to fight for — so they fought each other. Following an ill-advised South American tour in 1996, the band was finished.
But the core camaraderie never died. Now, Skid Row is gearing up to record the final installment of the United World Rebellion trilogy. Recording new songs means capturing the signature Skid Row energy. Classic dual-guitar teams are a key component of great songs — K.K. Downing and Glenn Tipton. Scott Gorham and Brian Robertson. Dave Murray and Adrian Smith. Add Snake and Scotti Hill to that list.​
That sound is rambunctious exuberance. They got older, but Skid Row never really grew up. United World Rebellion – Chapter Three is still the youth gone wild, their musical spark still burning gasoline. ​And so the rebellion continues.
The Isley Brothers-60th Anniversary Tour
Saturday, October 12th, 2019 8:00 PM Islet Resort, Albuquerque
From the Fifties onward, the Isley Brothers have been a musical institution whose prolific career has explored the musical intersection of gospel, R&B, rock, soul, funk and disco.
The period of 1959 to 1962 was a creatively fruitful one for the Isleys that yielded such staples of the rock and soul canon as "Respectable" (later a hit for the Outsiders), "Nobody But Me" (re-cut in a Top 10 version by the Human Beinz) and "Twist and Shout" (an enduring R&B classic recorded by the Beatles and played by countless cover bands). Throughout the Sixties, the Isleys recorded for a variety of labels, including RCA, Atlantic, Scepter/Wand, United Artists, their own T-Neck and Motown's Tamla subsidiary. Their brief stay at the latter yielded the melodic soul classic "This Old Heart of Mine," written and produced by the Motown production team of Holland-Dozier-Holland. As a historical footnote, a pre-psychedelic Jimi Hendrix played guitar for the Isley Brothers in 1964, and his style can be heard in the playing of younger brother Ernie Isley, who joined the group at the end of the decade.
Throughout the Seventies, the Isley Brothers' rock-disco fusion—driven by a propulsive beat, Ernie Isley's snaky funk guitar lines and the smooth, sinuous vocal blend of the three elder Isleys—generated considerable crossover appeal. The Isleys took the novel approach of giving a hardcore R&B treatment to rock songs such as Seals and Crofts' "Summer Breeze" and Stephen Stills' "Love the One You're With." The group also connected with originals such as the unrelenting, funky "Fight the Power," "The Pride," "Take Me to the Next Phase" and "I Wanna Be With You"—all of them Number One R&B hits. On the quieter side, the Isleys recorded a number of sexy, seductive ballads such as "Don't Say Goodnight (It's Time for Love)" and "Between the Sheets."
The mid-Eighties brought changes to the Isley Brothers' platinum empire. The younger band members struck out on their own as Isley-Jasper-Isley in 1984. Two years later, O'Kelly suffered a fatal heart attack. Remaining members Ronald and Rudolph Isley continued as a duo. In 1990 Ronald Isley returned to the charts with a Top 10 remake of "This Old Heart of Mine," sung as a duet with Rod Stewart.
In 1991 Ernie Isley and Marvin Isley reunited and recorded the album Tracks of Life, which was released in 1992. That same year, the Isley Brothers were inducted into the Rock and Roll Hall of Fame by Little Richard. In 1996 they recorded Mission to Please, which became the group's first million-selling album in thirteen years. In 2001 Ronald and Ernie recorded Eternal, which sold 2 million copies.
On June 6, 2010, Marvin Isley died of complications from his diabetes. Ronald and Ernie have continued to perform together.
Mari Boine 
Tuesday, October 15th, 2019 7:30 PM The Lensic Theater, Santa Fe
Mari Boine is an award-winning Norwegian Sámi musician, known for having added jazz and rock to the traditional singing of her native people. Mari sings in a traditional folk style, using the 'yoik' voice, together with a wide range of accompanying instruments and percussion.
Her highly rhythmic songs are rooted in the shamanistic musical traditions of the Sámi of northern Scandinavia. She takes the wordless, yodeling-like vocal style (yoik) and infuses jazz, rock, and other ethnic elements, creating a musical mix that cuts to your soul.
Imagine the ice and snow of the Arctic landscape, the bitter cold of the Northern wind, the hint of compelling blue under a crystallized lake. Close your eyes. Then listen. Really listen. You'll feel a voice before you even hear it. It's like none other. It's a voice that brings the landscape alive with a mesmerizing purity; a voice that represents a thousand years of ancestral connection to an unyielding frozen space.
This is Mari Boine.
Boine's music represents a thousand years of ancestral connection to the unyielding frozen space of the Arctic.
Jesus Christ Superstar 50th Anniversary Tour
October 17th-20th, 2019 Popejoy Hall @ UNM, Albuquerque
Jesus Christ Superstar is an iconic musical phenomenon with a world-wide fan base. In celebration of its 50th Anniversary, a new mesmerizing production comes to North America. Originally staged by London's Regent's Park Open Air Theatre and helmed by the acclaimed director Timothy Sheader (Crazy for You, Into the Woods) and award winning choreographer Drew McOnie (King Kong, Strictly Ballroom), this production won the 2017 Olivier Award for Best Musical Revival garnering unprecedented reviews and accolades. Appealing to both theater audiences and concert music fans, this production pays tribute to the historic 1971 Billboard Album of the Year while creating a modern, theatrical world that is uniquely fresh and inspiring.
With music and lyrics by Emmy, Grammy, Oscar and Tony winners Andrew Lloyd Webber and Tim Rice, Jesus Christ Superstar is set against the backdrop of an extraordinary series of events during the final weeks in the life of Jesus Christ as seen through the eyes of Judas. Reflecting the rock roots that defined a generation, the legendary score includes "I Don't Know How to Love Him," "Gethsemane" and "Superstar."
For King & Country
Saturday, October 19th, 2019 7:00 PM Tingley Coliseum, Albuquerque
Two-time GRAMMY award-winning duo for KING & COUNTRY makes a powerful statement with their much-anticipated third album, Burn the Ships, an epic, sweeping musical landscape that explores themes of new beginnings, forgiveness, hope, and love.
The album's soaring debut and GRAMMY® nominated single, "joy," which features a 100-person choir and a hypnotic wave of rhythm and electronic sounds, hit No. 1 and has been streamed more than 18 million times. The lyrics cut through the cacophony of societal noise to remind us about what is important: "Oh, hear my prayer tonight. 'Cause this is do or die. The time has come to make a choice. I choose joy."
The inspiring pop masterpiece also represents the exciting adventure into unchartered territory for brothers Joel and Luke Smallbone, who were propelled into superstardom with the release of their critically acclaimed sophomore album, RUN WILD. LIVE FREE. LOVE STRONG., which debuted at No. 1 on iTunes and was certified gold. In addition to winning two GRAMMYs and four Dove Awards, the duo performed internationally on a hugely successful 60-date arena tour.
Joel and Luke, who have become American citizens, learned about hope, love and support from their tight-knit family. Their parents raised seven children in Sydney, Australia, before moving to Nashville in 1991. Music became the family business. Their charismatic father was a music promoter and sister Rebecca St. James became a successful Christian music artist, so the duo's teen years were spent working as part of her road crew.
When Luke was 19 and Joel was 21, they formed a band and began writing and recording the body of work that would become for KING & COUNTRY. They released their debut album, Crave, in 2012 and won New Artist of the Year at the 2013 Dove Awards, where they received six nominations.
Perhaps it's no surprise that the duo felt compelled to embark on this musical pilgrimage because they have been two of our most prescient storytellers in recent years, addressing issues even before they became part of the national conversation. It's as if they know what we need to hear exactly when we need to hear it. For instance, their 2016 No. 1 hit "Priceless", which also inspired the Smallbones' human-trafficking themed movie by the same name, celebrates a woman's worth. Several years before the #MeToo phenomenon, the Smallbones sparked a movement highlighting a woman's value that continues to grow and evolve today.
They began writing and recording songs about hope and love several years ago for Burn The Ships, messages that are vital during these tumultuous times. Their music provides answers, comfort and affirmation, while offering a constant reminder that we aren't alone, even in our darkest times.
Lakeside with Cherrelle 
Saturday, October 19th, 2019 8:00 PM Sandia Resort & Casino Ballroom, Albuquerque
In 1969, Dayton, Ohio native Stephen Shockley formed the Young Underground after exiting the Monterreys. Vocalist Mark Woods, who was a member of the local band the Nomads, joined up with Shockley to form a more mature-sounding Young Underground. The group initially had a record deal with Curtom Records as a result of winning a talent contest in Chicago. However, Curtom folded shortly thereafter. While in Chicago the group renamed itself Lakeside Express, after the Lakeside Express Newspaper in Chicago.
In 1974 the emerging Lakeside Express and another group by the name of Liquid Funk, which featured Dallas native Fred Alexander, Jr. on drums, arrived in Los Angeles around the same time. For the next couple of years the bands performed at events around the greater L.A. area, occasionally crossing paths. The members of Liquid Funk returned to Dallas, but Alexander remained in L.A. Lakeside, who by now had dropped the Express from their name, was seeking additional personnel to solidify their band. After two auditions, Alexander was welcomed into the group.
Lakeside inked a deal with Motown, but found no success. Consequently, they released a ballad on ABC Records, but that label went under. The good fortune they were seeking turned out to be at Dick Griffey's Solar Records. The group signed a deal with Griffey, and released their first Top Ten hit on Solar Records, "It's All the Way Live," which peaked at number four on the Billboard R&B charts.
Lakeside released a host of songs that scaled the R&B charts, but didn't threaten the position of any other artists. However, in 1980 they went storming up the charts again with their smash number one single, "Fantastic Voyage," which was produced by the self-contained band. They followed the success of "Fantastic Voyage" with another Top Ten R&B single, a remake of the Paul McCartney and John Lennon classic "I Want to Hold Your Hand." The group continued their success with the Billboard Top Ten singles "Raid," "Outrageous," and a string of R&B party songs and ballads.
Ryan Bingham 
Sunday, October 20th, 2019 7:30 PM The Lensic Theater, Santa Fe
The acclaimed singer/Songwriter from Hobbs, New Mexico makes his long overdue return to the Lensic stage.
After receiving critical raves for his first two studio releases on Lost Highway Records, 2007's Mescalito and 2009's Roadhouse Sun, Bingham went on to collaborate with Grammy-winning producer T Bone Burnett on the soundtrack for the film Crazy Heart, shot here in Santa Fe. Bingham co-wrote and performing the film's award-winning theme song "The Weary Kind," earning Bingham an Academy Award, Golden Globe Award, and Critics' Choice Award, as well as a Grammy Award for "Best Song Written for a Motion Picture, Television or Other Visual Media". The Americana Music Association also honored Bingham with the organization's top award in 2010 as "Artist of the Year". Opening Act: Jamestown Revival
An Afternoon with John McCutcheon 
Sunday, October 27th, 2019 3:00 PM The Lensic Theater, Santa Fe
Come spend an afternoon enjoying the many talents of Grammy-nominated John McCutcheon: beloved folk singer, activist and author, gifted storyteller and master instrumentalist. John will be sharing his own brilliant work from more than three dozen albums. The most recent of these is a tribute celebrating the 100th anniversary of Pete Seeger's birth entitled 'To Everyone In All The World: A Celebration of Pete Seeger'.
"John McCutcheon is not only one of the best musicians in the USA, but also a great singer, songwriter, and song leader. And not just incidentally, he is committed to helping hard-working people everywhere to organize and push this world in a better direction." –Pete Seeger
Concert fundraiser hosted by Fayette Street Academy, helping to provide high quality alternative education to children in Santa Fe for 40 years.
Hozier-Wasteland Baby Tour
Wednesday, October 30th, 2019 7:00 PM Kiva Auditorium, Albuquerque
In 2013, Andrew Hozier-Byrne sat down at the piano in his parents' home near Dublin to work on a song called "Take Me to Church." Hozier-Byrne was a struggling musician, often seen at open mics around town. In front of him was a notebook full of lyrics, some of which expressed his frustration with organized religion — and particularly the Catholic Church's history of mistreating gays and covering up child sexual abuse.
Today, the vocals he laid down at that session are the key ingredient in a global smash. "Take Me to Church" would eventually top charts around the world (and hit Number Two in the U.S.), win raves from Taylor Swift and Adele, and earn the previously unknown Irish singer high-profile gigs on Saturday Night Live and the Victoria's Secret Fashion Show. "I always thought of myself as a very, very obscure artist," says Hozier.
A soaring ballad that mashes together blues, gospel, folk and soul, "Take Me to Church" sounds like little else on Top 40 radio in 2015. Hozier credits this to the fact that he grew up in a vastly different environment from most hitmakers.
Hozier taught himself guitar and sang in his school choir. He was admitted to Dublin's prestigious Trinity College to study music but dropped out, figuring his time would be better spent writing songs. Progress was slow and he eventually moved back home, where he had his breakthrough moment with "Take Me to Church." His rough attic demo got the attention of the indie label Rubywords, who teamed him up with producer Rob Kirwan, best known for working on U2's Zooropa, Pop and All That You Can't Leave Behind.
Bandstand
Friday, November 1st, 2019 7:30 PM Popjoy Hall @ UNM, Albuquerque
From three-time Tony® winner and Hamilton choreographer, Andy Blankenbuehler, comes an inspiring new American musical that explodes with infectious music and high-octane, heart-stopping dancing.
It's 1945, and six soldiers return from war to a changed nation. When NBC announces a national competition to find the nation's next great musical superstars, they form a band unlike any the nation has ever seen. Along the way, they discover the power of music to face the impossible, find their voice, and finally feel like they have a place to call home.
"The show defies you not to be moved." (Time Out New York).
Santa Fe Pro Musica presents Mozart & Hayden
Saturday, November 2nd and Sunday, November 3rd, 2019 The Lensic Theater, Santa Fe
Anne-Marie McDermott, piano and conductor
Thomas O'Connor, conductor
HAYDN Symphony No. 90 in C Major, Hob. I/90
MOZART Piano Concerto No. 14 in E-Flat Major, K. 449
MOZART Piano Concerto No. 22 in E-Flat Major, K. 482
Dynamic pianist Anne-Marie McDermott leads the orchestra from the keyboard in two different piano concertos by Mozart, K. 449 and K. 482. The concert opens with Haydn's joyous Symphony No. 90.
MEET THE MUSIC
Join us for FREE pre-concert talks by Thomas O'Connor and the season's guest artists one hour before each Lensic concert
Judy Collins
Sunday, November 3rd, 2019 7:00 PM National Hispanic Cultural Center, 1701 4th St, Albuquerque
Judy Collins has inspired audiences with sublime vocals, boldly vulnerable songwriting, personal life triumphs, and a firm commitment to social activism. In the 1960s, she evoked both the idealism and steely determination of a generation united against social and environmental injustices. Five decades later, her luminescent presence shines brightly as new generations bask in the glow of her iconic 50-album body of work, and heed inspiration from her spiritual discipline to thrive in the music industry for half a century.
The award-winning singer-songwriter is esteemed for her imaginative interpretations of traditional and contemporary folk standards and her own poetically poignant original compositions. Her stunning rendition of Joni Mitchell's "Both Sides Now" from her landmark 1967 album, Wildflowers, has been entered into the Grammy Hall of Fame. Judy's dreamy and sweetly intimate version of "Send in the Clowns," a ballad written by Stephen Sondheim for the Broadway musical "A Little Night Music," won "Song of the Year" at the 1975 Grammy Awards. She's garnered several top-ten hits and gold- and platinum-selling albums. Recently, contemporary and classic artists such as Rufus Wainwright, Shawn Colvin, Dolly Parton, Joan Baez, and Leonard Cohen honored her legacy with the album Born to the Breed: A Tribute to Judy Collins.
Judy Collins, now 80, is as creatively vigorous as ever, writing, touring worldwide, and nurturing fresh talent. She is a modern day Renaissance woman who is also an accomplished painter, filmmaker, record label head, musical mentor, and an in-demand keynote speaker for mental health and suicide prevention. She continues to create music of hope and healing that lights up the world and speaks to the heart.
Lana Del Rey 
Sunday, November 3rd, 2019 Kiva Auditorium, Albuquerque
Lana Del Rey will bring her "Norman Fucking Rockwell" tour to Albuquerque at the Kiva Auditorium on November 3rd.
Lana Del Rey,  has achieved global pop stardom by embracing retro Americana and melodramatic angst. Raised in Lake Placid, New York, she struck viral fame in 2011 with her nostalgic homemade clip for "Video Games," a hazy love song that amplified her low 1950s-inspired croon and melancholic grandeur. Lana Del Rey's major label debut, Born to Die, arrived the following year, sparking debate about the singer's authenticity due to its overproduced sound and seemingly calculated Hollywood image. She returned, still enigmatic, in 2014 with the Dan Auerbach–produced Ultraviolence, then paired with A$AP Rocky and Stevie Nicks in 2017 on her most honest album to date, Lust for Life.
The third leg consists of 11-dates which will kick off in the Duke City at the Kiva Auditorium, and make stops in Denver, Chicago before wrapping in Nashville, Tennessee. Del Rey's latest studio album, "Norman Fucking Rockwell," was released in August.
Billy Childs Quartet
Friday, November 8th, 2019 7:30 PM The Lensic Theater, Santa Fe
To say that jazz titan Billy Childs is wildly talented would be a grave understatement. Childs began studying piano in early childhood; by age six he was performing publicly and by 16 attending Colburn conservatory. He has since gone on to win a Guggenheim Fellowship, a Doris Duke Performing Artist Award, and five Grammy awards — two for composition, two for arrangement, and one for his 2018 album Rebirth. Celebrated as one of the most diversely prolific and inventive pianists, composers, and arrangers at work today, this polymath has collaborated with an honor roll of artists, including Wynton Marsalis, Wayne Shorter, Sting, Chick Corea, Kronos Quartet, Yo-Yo Ma, and Renée Fleming. Childs comes to Santa Fe ably supported by his "combustible" (Downbeat) quartet for an evening of "ultra-sophisticated, gracefully crafted jazz" (The Guardian).
John Michael Montgomery
Friday, November 8th, 2019 8:00 PM Inn of the Mountain Gods, Mescalero
John Michael Montgomery has turned an uncanny ability to relate to fans into one of country music's most storied careers. Behind the string of hit records, the roomful of awards and the critical and fan accolades that have defined his phenomenal success lies a connection that goes beyond his undeniable talent and his proven knack for picking hits. Now you can see him live at Inn of the Mountain Gods on Friday, November 8.
Born in Danville, Kentucky, his lifelong love of music came from his parents. While other families had chairs and sofas in their living room, John Michael's family had amplifiers and drum kits. The family band played on weekends throughout the area, and he and his brother Eddie eagerly soaked up everything they could learn about music and performing.
In the early '90s, John Michael received his first record deal and started recording hit songs such as "Rope The Moon," "If You've Got Love," "No Man's Land," "Cowboy Love," "As Long As I Live," "Friends" and "How Was I To Know." These songs helped establish him as one of the elite country acts of the era. Over the course of his carrier, he has received numerous awards, including four ACM Awards, three CMA Awards, one American Music Award, four Billboard Awards, two Grammy nominations and was named the Artist Of the Year by American Songwriter Magazine.
With over 16 million albums sold and 15 #1 singles, his songs continue to top the charts. Some of his greatest hits include: "I Swear," "I Love the Way You Love Me," "I Can Love You Like That," "Letters From Home," "The Little Girl," "Be My Baby Tonight" and more.
For more information, visit www.johnmichael.com.
Melissa Etheridge 
Saturday, November 9th, 2019 8:00 PM Isleta Resort Casino, Albuquerque
Melissa Etheridge is one of rock music's great female icons. Her critically acclaimed eponymous debut album was certified double platinum. Etheridge's popularity built around such memorable songs as "Bring Me Some Water," "No Souvenirs" and "Ain't It Heavy" for which she won her first Grammy for Best Female Rock Vocal. Etheridge hit her commercial and artistic stride with her fourth album, Yes I Am, featuring the massive hits "I'm the Only One" and "Come to My Window," a searing song of longing that brought her a second Grammy. The six times platinum album spent more than two and a half years on the album chart. Etheridge is also an Oscar winner for Best Original Song in 2007. In 2011 Melissa made her Broadway debut as St. Jimmy in Green Day's rock opera, American Idiot, where she replaced Billie Joe Armstrong for one week, and received a star on the Hollywood Walk of Fame. Etheridge is scheduled to release MEmphis Rock and Soul, a new album honoring Stax Records, in fall of 2016. She recently completed recording at Royal Studios in Memphis on what will be her first album since 2014's critically lauded This Is M.E.
On June 20, 2016, Etheridge released a song called "Pulse." The singer wrote the song in reaction to the mass shootings that took place in Orlando on June 12, 2016. As she told Rolling Stone, "We want to try to make sense. We want to try to heal. We want to bring some meaning, some purpose. We also want to put it down forever in history. That's how I'm coping." All proceeds from the sale of "Pulse" will benefit Equality Florida, the states largest LGBT civil rights organization.
The Four Italian Tenors perform "Viva Italia!"
Sunday, November 10th, 2019 7:30 PM Popjoy Hall, Albuquerque
Italy's next generation of world-class tenors perform a tribute to its four greatest: Enrico Caruso, Mario Lanza, Luciano Pavarotti, and Andrea Bocelli. Direct from Italy, the young tenors perform a program of instantly-recognizable and well-loved arias and Neapolitan songs. The Four Italian Tenors, Alessandro D'Acrissa, Federico Serra, Federico Parisi, and Roberto Cresca, thrill audiences with their own voices even as they honor the masters. Hear this new generation of world class tenors explore these classic works with style and passion.
Ozomatli 
Thursday, November 14th, 2019 7:30 PM Kiva Auditorium, Albuquerque
Since its inception in 1995, innovation and creativity have defined Ozomatli. Hailing from Los Angeles, the group found a way to represent the city's eclectic culture through music that appeals to the local community and the world beyond. Ozomatli's success is exemplified in an impressive variety of genres from classic to modern Latino, urban, hip-hop and other world styles. The "Dioses del Baile," or "Gods of Dance," have created one of the most exciting, captivating and flat-out fun live shows touring today. They continue to harness their musical instincts by conceiving new concepts and forging new sounds that keep fans on their toes and the world dancing.
The band is currently in the studio working on their latest recording: Ozo-fied Volume 1: A Century of Mexican Classics, an album of classic Mexican hits reimagined with a reggae feel. This record will pay homage to the band's Latin roots, allowing them to personalize songs that defined their youth and in turn, become part of Latin and Pop music lore. Produced by drum & bass reggae legends, Sly & Robbie (Bob Dylan, The Rolling Stones, Peter Tosh, Jimmy Cliff, Madonna, No Doubt) and featuring various high profile guest vocalists, the album recreates the magic of classic Latin hits with a reggae dancehall vibe that only Ozomatli could make feel as natural as waves rolling in the Caribbean sands.
Prior to paying respects to the classic Latin catalogue, Ozomatli was creating its own repertoire adored by fans and critics alike. The band catapulted to the top of the live music scene with its first eponymously titled album. The impact of the then 10-piece band's album was felt throughout the music world, and earned them the opportunity to open for Carlos Santana on his Supernatural tour. Following the success of its first album and touring with Santana and Mana, Ozomatli released its sophomore album, Embrace the Chaos, which garnered a Grammy award for Best Latin Rock/Alternative Album. The follow up album, Street Signs, won both the same award and the Latin Grammy Award for Best Alternative Music Album in 2005.
Ozomatli takes firm stances on various social justice issues. Their work focuses on giving voice to Latino culture, opportunity to children, fighting for workers' rights, and promoting global unity and peace amongst people, cultures and nations. Ozomatli were named Cultural Ambassadors for the U.S. State Department in 2006, was the first musical group to speak at the TED Conference in San Francisco, and performed for President and First Lady Obama at the Congressional Hispanic Caucus Institute's 32nd Annual Award Gala.
In addition to politics and social issues, Ozomatli emphasizes the importance of family and children. Ozomatli has strived to make music to be shared through the generations and have even recorded music specifically targeted towards children and families. Their 2012 release, Ozomatli Presents OzoKidz, features all original children's music that captures the innovation and liveliness that Ozo fans have become accustomed to, while educating children on the values of nature and knowledge. The band continues to perform the album at special OzoKidz concerts, where parents and children alike dance and play along on OzoKidz kazoos.
With Ozo-fied Volume 1: A Century of Mexican Classics, Ozomatli continues creating music for entire families and communities. By recreating these classic Latin songs, Ozo redefines their meaning and reimagines their beauty for generations to come. As Ozomatli percussionist and MC, Justin Poree, puts it, "Anyone who is eight or 80 will recognize "Sabor a Mi" or "Besame Mucho." The band has been sprinkling some of the songs into their recent live shows, and the crowds have not been able to hold back from coming together to sing along with "Como La Flor" or "Tragos Amargos." These rhythmically and melodically rich songs bridge the generational gap, captivate all who listen, and beautifully mesh a variety of rich cultures.
Kris Kristofferson & The Strangers
Saturday, November 23, 2019 @ 7:00 pm  Kiva Auditorium at the Albuquerque Convention Center, 401 2nd Street NW, Albuquerque
Kris Kristofferson has been making things happen his entire life. Born in Texas and raised in a military family, he was a Golden Gloves boxer who studied creative writing at Pomona College in California. The Phi Beta Kappa graduate earned a Rhodes scholarship to study literature at Oxford, where he boxed, played rugby and continued to write songs. After graduating from Oxford, Kristofferson served in the army as an Airborne Ranger helicopter pilot and achieved the rank of Captain. In 1965, Kristofferson turned down an assignment to teach at West Point and, inspired by songwriters like Willie Nelson and Johnny Cash, moved to Nashville to pursue his music.
"When I was in the army, I was one of the few people outside of his personal friends who knew about Willie Nelson," Kristofferson recalls. "I listened to a disc jockey who happened to be a Willie fan. He would play Willie's songs and talk about him all the time. By the time I got to Nashville, he was a superhero to me. For guys like me, Johnny Cash and Willie Nelson were two gods we worshipped. Then Willie and I got to be best friends. I came from a position of idolizing him to finding out he's the funniest son of a bitch you could be around."
After struggling in Music City for several years, Kristofferson achieved remarkable success as a country songwriter at the start of the 1970s. His songs "Me and Bobby McGee," "Help Me Make It Through the Night," "Sunday Morning Coming Down," and "For the Good Times," all chart-topping hits, helped redefine country songwriting. By 1987, it was estimated that more than 450 artists had recorded Kristofferson's compositions.
His renown as a songwriter triggered Kristofferson's successful career as a performer and that, in turn, brought him to the attention of Hollywood, leading to his flourishing career as a film actor. Kristofferson has acted in more than 70 films. In 1977 He won a Golden Globe for Best Actor in "A Star Is Born." He's appeared in cult favorites including the "Blade" trilogy, "Lone Star," "A Soldier's Daughter Never Cries," "Alice Doesn't Live Here Anymore," "Blume In Love," "Cisco Pike," and "Pat Garrett and Billy the Kid." Recent films include "Fast Food Nation," "Dreamer: Inspired By A True Story," "The Jacket," "Silver City," "He's Just Not That In To You," and "Dolphin Tale."
Heralded as an artist's artist, the three-time GRAMMY winner has recorded 29 albums, including three with pals Willie Nelson, Johnny Cash and Waylon Jennings as part of the Highwaymen. Kristofferson has spent three decades performing concerts all over the world, in most recent years in a solo acoustic setting, which puts the focus on the songs. "There's an honesty in the sparseness. It feels like direct communication to the listener," he says. "I still have more fun when I'm with the band, but being alone is freer, somehow. It's like being an old blues guy, just completely stripped away."
Many would have hung their hat by now. Instead, Kristofferson barely has paused for breath. He's released several recent high watermarks including the increasingly intimate A Moment of Forever (1995), The Austin Sessions (1999) and This Old Road (2006), and he produced some of his finest work with the deeply personal Closer to the Bone (2009) and Feeling Mortal (2013). Kristofferson has reached living legend status, but that hasn't changed or hindered his creativity. His current CD, The Cedar Creek Sessions, was recorded live at Austin's Cedar Creek Recording Studio in June 2014. Released in time for Kristofferson's 80th birthday in 2016, the double-CD set is a snapshot of the legendary songwriter in the twilight of his life.
In addition to many other awards, Kristofferson is a member of the Country Music Hall of Fame, winner of the prestigious Johnny Mercer Award from the Songwriter Hall of Fame, and was honored with the American Veteran's Association's "Veteran of the Year Award" in 2002. For Kristofferson's 70th birthday in 2006, his friends and admirers gifted him with a tribute CD, The Pilgrim: A Celebration of Kris Kristofferson. Stars including Willie Nelson, Russell Crowe, Emmylou Harris, Gretchen Wilson, Rosanne Cash, and Brian McKnight recorded 17 of Kristofferson's compositions for the tribute. In 2007, Kristofferson was honored with the Johnny Cash Visionary Award from Country Music Television and in 2009 BMI lauded Kristofferson with the Icon Award. He received the Frances Preston Music Industry Award from the T.J. Martell Foundation in March, 2012. In 2014, Kristofferson was honored with a GRAMMY Lifetime Achievement Award and the PEN Song Lyrics of Literary Excellence Award.
Paquita La Del Barrio
Saturday, November 30th, 2019 8:00 PM Inn of the mountain Gods, Mescalero
Francisca Viveros Barradas, known as Paquita la del Barrio, is an acclaimed Mexican ranchera singer, songwriter and actress. Be there as she hits the stage on Saturday, November 30 at Inn of the Mountain Gods!
Born on April 2, 1947 in Alto Lucero, Veracruz, she started her singing career in Mexico City in 1970. Over the years, her songs have become jukebox staples in Mexican clubs and cantinas. Her songs take a stance against Mexico's sexist male culture, making her popular with female audiences. Her signature phrase is "¿me estás oyendo, inútil?" meaning "Are you listening to me, you good-for-nothing?", and was the name of her 2007 tour.
She gets her inspiration for her songs from her life experiences. At the age of 15, she married a 42-year-old-man and they had two children together. She later discovered he was married to another woman and had another family in a separate town.
Her songs often focus on themes of cheating or abusive men while promoting female empowerment for Latina women. Her top hits include: "Me Saludas A La Tuya," "Cheque En Blanco," "Rata De Dos Patas," "Tres Veces Te Engañe," "Taco Placero," "Borrate" and "Si Yo Fuera Varón."
Paquita la del Barrio has won many awards throughout her career, including the Premio Lo Nuestro for Best Performer of the Year in Miami, Florida and the Premio de la Gente in Los Angeles, California.
Natalie Grant & Danny Gokey Celebrate Christmas
Thursday, December 5th, 2019 7:00 PM Kiva Auditorium, 401 Second Street, Albuquerque
Seven-time GRAMMY nominated Natalie Grant is known for her powerful, soaring vocals, heart-gripping lyrics, passionate performances, and has remained one of the top-selling Christian & Gospel artists since, her 2005 breakout RIAA Gold certified album, "Awaken." She has since gone on to have nearly 4 million in career sales. The Gospel Music Association has named her Female Vocalist of the Year 5 times and she has had multiple number 1's on the Billboard singles and albums charts, including her most recent record titled, "Be One."
Although he largely stuck to gospel and soul music during his time on American Idol in 2009, Danny Gokey transformed himself into a charting country artist with his solo debut, My Best Days, the following year. The conversion was short-lived, however, and he embraced a soulful Christian pop beginning with his second album, 2014's Hope in Front of Me, which reached number one on the Billboard Christian chart. He topped the chart again with his fifth studio LP, the Grammy-nominated Rise, in 2017.
In October 2013, NavPress published Gokey's memoir, Hope in Front of Me: Find Purpose in Your Darkest Moments, which he co-authored with Ben Stroup. Committing thereafter to inspirational music, his sophomore album, Hope in Front of Me, arrived via BMG in 2014. Buoyed by the single "More Than You Think I Am," it debuted at number one on the Billboard Christian Albums chart. A year later, he delivered the number one holiday album Christmas Is Here, which he followed in 2016 with La Esperanza Frente a Mi, a Spanish-language version of Hope in Front of Me. Gokey returned with his fifth full-length studio album, Rise, in 2017. It included guest appearances from fellow American Idol alum Jordin Sparks and vocalist Kierra Sheard. The record debuted at number one on the Billboard Christian Albums chart and was nominated for a Grammy Award for Best Contemporary Christian Music Album.
"The Prayer," a collaborative single with Natalie Grant, appeared in 2018. Gokey followed it early the next year with the Christian Top Five single "Haven't Seen It Yet." An album by the same name saw release by Sparrow in April 2019. It reached number two on the Christian chart.
Reckless Kelly 20th Anniversary Tour
Saturday, December 7th, 2019 7:00 PM Sunshine Theater, 120 Central Avenue SW, Albuquerque
Understanding the virtuosity of Reckless Kelly requires the perspective of where the band has been. Cody and Willy Braun grew up in the White Cloud Mountains of Idaho. They moved to Bend, Oregon, and then migrated to that great musical fountainhead, Austin, Texas.
The band's co-founders and frontmen toured the country as part of their father's band, Muzzie Braun and the Boys, as children. They performed on The Tonight Show twice. Their father taught his four sons a professional ethic – integrity, persistence, hard work and professionalism – honed over three generations. They overcame hardships, struggled for recognition, and learned the lessons of the trial and error that defined them.
"This" is Reckless Kelly. The heartland gave the band authenticity. Musical lives honed its skill. Adversity instilled its persistence. Moving to Austin gave it wings to fly. The band took its name from the legend of Ned Kelly, the Australian highwayman, and the three moved to Austin in the autumn of 1996, where they carved a niche of their own. Early on, Keen, a Texas legend himself, took them under his wing and became their first manager. They listened, watched and interacted with the creative dynamos of the outlaw country scene – Townes Van Zandt, Steve Earle, Billy Joe Shaver, Guy Clark and others – and joined them in a redefinition of what contemporary country music had become. Theirs was gritty, hard-edged, uncompromising and convincing. They turned country music real again.
For two decades, the band has toured coast to coast relentlessly. It has demonstrated its longevity in a world where trendy newcomers are proclaimed the Next Big Thing by spinning a couple pop hits. They disappear from the radar, doomed by the very fad that invented them. Not unlike the pioneers who preceded them on the western frontier where the Brauns were raised, they have forged their survival without compromise, combining hard work with a resolve that success is only satisfying when achieved by their own standards and definition.
The group's most recent studio album, Sunset Motel, is, like all its predecessors, distinctive in its own way while true to form. Self-produced and recorded in Austin's renowned Arlyn Studios (where Millican was made two decades ago) and mixed by Jim Scott (Rolling Stones, Dixie Chicks, Tom Petty, Sting, Roger Daltrey, Crowded House, et al.), it reflects Reckless Kelly's attention to craft and continuity.
Twenty years since its founding, Reckless Kelly continues to fight for wider recognition, secure in the knowledge that fans, critics and contemporaries will continue to sing its praises.
Reckless Kelly is, by the best possible definition, a great band. They're good guys, too. Their hearts dwell in the right places, and those are where the music follows.
Iris Dement 
Thursday, December 12th, 2019 7:30 PM Southe Broadway Cultural Center, 1025 Broadway Blvd. SE, Albuquerque
It was by pure chance that Iris DeMent opened the book of Russian poetry sitting on her piano bench to Anna Akhmatova's "Like A White Stone." She'd never heard of the poet before, and didn't even consider herself much of a poetry buff, but a friend had leant her the anthology and it only seemed polite that she skim it enough to have something interesting to say when she returned it. As she read, though, a curious sensation swept over her.
The melody just poured out of her almost instantly. She turned the page and it happened again, and again after that, and before she even fully understood it, she was already deep into writing what would become 'The Trackless Woods,' an album which sets Akhmatova's poetry to music for the first time ever.
'The Trackless Woods,' DeMent's sixth studio album, is unlike anything else in her illustrious career. Beginning with her 1992 debut, 'Infamous Angel,' which was hailed as "an essential album of the 1990's" by Rolling Stone, DeMent released a series of stellar records that established her as "one of the finest singer-songwriters in America" according to The Guardian. The music earned her multiple Grammy nominations, as well as the respect of peers like John Prine, Steve Earle, and Emmylou Harris, who all invited her to collaborate. Merle Haggard dubbed her "the best singer I've ever heard" and asked her to join his touring band, and David Byrne and Natalie Merchant famously covered her "Let The Mystery Be" as a duet on MTV Unplugged. DeMent returned in 2012 with her most recent album, 'Sing The Delta,' which prompted NPR to call her "one of the great voices in contemporary popular music" and The Boston Globe to hail the collection as "a work of rare, unvarnished grace and power."
Meanwhile, behind the scenes, DeMent and her husband were raising their adopted Russian daughter in their Iowa City home. When she looked back on her own childhood, though, DeMent sometimes felt like there was some intangible element that hadn't quite clicked yet.
Akhmatova's poetry proved to be that link and more, as it drew DeMent into a remarkable journey through Russian political and artistic history.
Akhmatova's struggles weren't unique for her time in Russia, but her poetry still managed to find beauty in a world of pain and ugliness, which DeMent believes is what makes her so deeply loved by the Russian people.
That stark pairing of piano and voice forms the heart and soul of all 18 tracks on the album, which were recorded live in DeMent's living room under the guidance of producer Richard Bennett and with a small backing band that drifts in and out of the arrangements. The music is firmly rooted in the American South, with timeless melodies that could easily be mistaken for long-forgotten hymnal entries or classic country tunes. "From An Airplane" rollicks with a honky-tonk vibe, while "Not With Deserters" is punctuated by a mournful slide guitar and rich harmonies, and "All Is Sold" ebbs and flows over lush pedal steel. That DeMent can make the work of a 20th century Russian poet sound like Sunday morning on a cotton plantation is a testament to her versatility and depth as an artist.
DeMent is quick to credit Akhmatova (and the translators whose work formed the album's lyrics, Babette Deutsch and Lyn Coffin) for the album's beauty and magic.
There's no getting around that the music is in DeMent, too. Twenty-three years after her debut, she's creating some of the most poignant music of her career, bridging two seemingly disparate worlds with every note.
Phil Vassar & Lonestar Holiday & Hots Tour
Friday, December 13th, 2019, 8:00 PM Isleata Resort & Casino, 11000 Broadway Blvd SE, Albuquerque
Following fans' overwhelming demand, Phil Vassar and Lonestar will co-headline a Christmas tour for the second year, announcing the 'Holiday & Hits' tour.  Throughout each show, audiences will have the chance to hear Christmas standards as well as the artists' hits, including their original Christmas single "Not So Silent Night."  Vassar and Lonestar will re-record their single with the help of some friends, donating all the proceeds to the Salvation Army.
Lonestar, comprised of Richie McDonald, Michael Britt, Keech Rainwater and Dean Sams, released their first Christmas album, This Christmas Time, in 2000. The ACM and CMA award-winning group recorded 11 songs for the Dan Huff produced project, which featured new material such as the title track co-written by Sams and the touching "Reason For The Season" co-written by McDonald.  Vassar, who has headlined Christmas tours since 2009, released his first Christmas album, Noel, in 2011. The ten-track collection, co-produced by Vassar and Dane Bryant, showcases four of the ACM award-winning and ASCAP Songwriter of the Year's original songs, including the humorous "Santa's Gone Hollywood" and "Big Ol' Texas Christmas," a duet with Asleep at the Wheel's Ray Benson. Previously, Vassar and Kellie Pickler headlined a sold-out holiday tour.
Phil Vassar is celebrating 20 years of chart-topping hits and is taking them on the road with his "Hitsteria Tour". His reign of signature songs include 10 No. 1 singles and 26 Top 40 hits, including Carlene, Just Another Day in Paradise, Six-Pack Summer, When I Love You, and many more. Vassar was racking up hits on the radio long before he even began his own recording career that has seen the release of six albums, two ASCAP Songwriter of the Year trophies, ACM's Top New Male Vocalist and sold-out shows across the country. Vassar's songwriting career blossomed in the mid-'90s when he landed a publishing contract with EMI and penned hits for Collin Raye (Little Red Rodeo), Alan Jackson (Right on the Money), Tim McGraw (For a Little While), Jo Dee Messina (Bye Bye, Alright), and Blackhawk (Postmarked Birmingham). He signed a record deal of his own with Arista in 1998 and was named ASCAP's Country Songwriter of the Year in 1999. Vassar continues to churn out incisive, soulful lyrics and infectious melodies that capture the heart and soul in the unique and special way that only he can.
The Swingles 
Thursday, December 19th, 2019 7:30 PM Popejoy Hall @ UNM, Albuquerque
For more than half a century, The Swingles have pushed the boundaries of vocal music. The seven young singers that make up today's London-based group are driven by the same innovative spirit that has defined the five-time Grammy® winners since they first made waves in the 1960s. At a time when a cappella music is more popular than ever, The Swingles are recognised as masters of their craft.
In 1963, American-born Ward Swingle first assembled a group of Parisian session singers to sing Bach's keyboard music. The resulting album, Jazz Sebastian Bach, launched the Swingle Singers to fame. Since then, they have won five Grammy® awards and made more than 50 recordings, with a repertoire that has grown to include a huge variety of music, including pop, jazz, folk, contemporary classical and new original songs. Recent releases include Folklore, inspired by traditional music from around the world; 50th anniversary album Deep End; and holiday collection Yule Songs vol. II.
The Swingles have appeared on numerous film and TV soundtracks, including Sex and the City, Wedding Crashers, Grey's Anatomy and Glee. In 2017, they co-wrote and performed a song for the end credits of Alexander Payne's film Downsizing. Their prolific output of music videos has also earned them millions of views online and new audiences around the world.
The group's versatility has led to collaborations with artists as diverse as the Modern Jazz Quartet, Jamie Cullum and Labrinth. Luciano Berio was one of the first composers to explore the sound of the Swingles' amplified voices in an orchestral setting with his groundbreaking Sinfonia, first performed in 1968. The group continue to perform the piece to great acclaim around the world, including recent performances at San Francisco's Davies Symphony Hall with Michael Tilson Thomas, London's Royal Festival Hall with Vladimir Jurowsky, and Milan's La Scala with John Axelrod.
In addition to a busy touring schedule that regularly takes them to North and South America, Europe and Asia, The Swingles present their own London A Cappella Festival at Kings Place each January in partnership with Ikon Arts Management. The festival is the first of its kind in the capital, welcoming the finest vocal talent from around the world.
Manheim Steamroller Christmas
Friday, December 27th, 2019 7:30 PM Santa Ana Star Center, 3001 Civic Center Circle, Rio Rancho
A visionary musician and businessman, Chip Davis is behind a remarkable body of work now spanning five decades. Since founding Mannheim Steamroller and American Gramaphone Records in 1974, Davis has written, arranged, and recorded over 35 albums, highlighted by the RIAA multi-platinum certified Mannheim Steamroller catalog. The best-selling Christmas music artist in history, Davis has achieved worldwide sales in excess of 40 million, with four multi-platinum, eight platinum, and 19 gold certifications in the US alone. Furthermore, Davis is the entrepreneur behind Mannheim Steamroller lifestyle product line, amateur astronomer, and dedicated philanthropist.
Chip formed the American Gramaphone record label in 1974 when no label would take on his music. Today, American Gramaphone is one of the most successful independent music franchises in history.
Mannheim Steamroller's music styling, dubbed "18th Century Classical Rock", is largely credited with establishing the genre of New Age music. The band's name came from Mannheim, Germany where Mozart lived. Mannheim Steamroller is the name for an 18th century musical technique known as the crescendo.
Mannheim has sold over 41 million albums, outselling artists such as Bruce Springsteen, Bon Jovi and Billy Joel, making them one of the top 50 best selling artists during the past two decades. Mannheim Steamroller is the #1 Christmas music artist of all times, selling over 31+ million albums. The second highest Christmas artist is Elvis Presley with 17 million albums.
2019 marks the 35th Anniversary of the Mannheim Steamroller Christmas Tour, making it the longest running consecutive tour in the music industry. The hugely successful tour now requires two traveling troupes, performing concerts in an average 90 cities annually. A third troupe highlights the holiday season at Universal Orlando Resort.
TobyMac Hits DeepTour 
Thursday, February 6th, 2020 7:00 PM Santa Ana Star Center 3001 Civic Center Circle, Rio Rancho
With over 11 million units in career sales and six GRAMMY® awards, TobyMac shows no signs of slowing down as he delivers a deeply personal record that celebrates the richness that comes from collaboration, diversity and vulnerability. Drawing directly from his faith in God and personal experience, This Is Not A Test is an essential reminder that we only have one shot at life.
Trusting his instincts and leaning into his faith spurred this veteran artist to make the most personal album of his career with The Elements.
Processing life as an artist, husband and father of five has continually fueled his work and made TobyMac one of the most successful innovators in any genre of music with 7 GRAMMY® Awards, 6 Gold Records from his solo career, an American Music award, twice named Artist of the year at the Dove awards, BMI songwriter of the year and numerous other accolades to his credit.
TobyMac admits that in the past he's been "the king of the features," as he usually includes multiple special guests on his albums, but The Elements is different. "I do truly love collaboration," he says, "but these songs are so personal, it was hard for me to imagine someone else singing the lyrics."
"Starts with Me" is one of those very personal offerings, and yet he knew it would be even stronger with another voice. He invited Aaron Cole to join in and each man shares their unique perspective on race and family legacy.
For everyone out there in the world braving the elements, TobyMac has served up a musical invitation to stand firm and let go of the worry that can beat a soul down. To find strength in faith and love in family.