Some of the world's top performers visit the Land of Enchantment, often beginning or ending their tours here. It's a place where artists come to spend some down time between tour dates, often lingering for a few days to relax or record before moving on to the next city.
Some of the top name acts on earth are making their way through New Mexico including Reverend Horton Heat, Chicago, Amy Grant, The Beach Boys, George Thourogood & the Destroyers, Il Divo, Death Cab for Cutie, Kenny Wayne Shepherd, Jimmy Vaughn, Mickey Gilly & Johnny Lee, Mavis Staples, Michael McDonald, Frankie Valli & the Four Seasons, Bob Seegar & the Silver Bullet Band, John Mellancamp, Kiss, Slayer, Styx, REO Speedwagon, Iron Maiden, Bela Fleck, Tinsley Ellis & Coco Montoya and many more. New acts are being added everyday.
If you're a fan(atic), following your favorite band on tour, there is no better place to do it than the New Mexico. We have great venues, ranging from the historic to the modern and every one of them an intimate experience. Accommodations are plentiful and the weather is great. Why go to a sold out stadium show and pay a fortune for cheap seats a half mile away when you an get up close and personal with your favorite band here in a 2000-5000 seat venue? Tickets are almost always available, airfares are low and the views are spectacular. 
The Reverend Horton Heat
Sunday, February 17th, 2019 6:00 PM Sister Bar, Albuquerque
The Reverend Horton Heat has a reputation as one of the hardest touring rock artists, year after year. Formed in 1985, THE REVEREND HORTON HEAT exploded on the scene by playing gigs around their hometown of Dallas, Texas, mixing elements of surf, country, punk, big band and rockabilly to create a genre that took the world by storm. Often imitated, never duplicated, the Rev has continued to garner the support of both the underground rockabilly/ psychobilly scene and mainstream critics. Throughout the band's million plus album selling career, their music has been featured in countless TV shows, movies and commercials, it's impossible to deny the powerful force that is THE REVEREND HORTON HEAT. They continue to electrify audiences time and time again with their incredible stage presence, rock 'n roll charisma and contagious energy.
Amy Grant
Saturday, February 23rd, 2019 7:00 PM Inn of the Mountain Gods, Mescalero, NM
Amy Grant has built a long, successful career on music that matters. Ever since she burst on the scene as a fresh-faced teenager bringing contemporary Christian music to the forefront of American culture, the Nashville native gained a reputation for creating potent songs that examined life's complexities with an open heart and keen eye. She became the first artist in Christian music to have a platinum record and went on to become a crossover sensation, her musical gifts transcending genre boundaries to make her a household name.
She's earned six Grammy Awards and numerous Gospel Music Association Dove Awards as well as three multi-platinum albums, six platinum albums and four gold albums. She's achieved 10 Top 40 pop singles and placed 17 hits on the Top 40 Adult Contemporary chart as well as scoring numerous hits on the contemporary Christian charts. A longtime and active Nashville resident,Grant is as well known for her philanthropy as her music. She and husband, Vince Gill, are tireless in their efforts to aid worthy causes.
There's nothing like life experience to provide a deeper, richer emotional palette for a songwriter to draw from when crafting new music. For Amy Grant, it's been 10 years since her last full studio album and it's been a decade marked by soul-shaking milestones. As she's always done, Grant has embraced both the triumphs and challenges, distilled them to their essence and poured the lessons learned into songs that ache with honesty and reverberate with gentle wisdom.
How Mercy Looks From Here is the soundtrack of a life well-lived. In telling those stories, Grant recruited an impressive array of friends and heroes, including James Taylor, Carole King, Sheryl Crow, Vince Gill, Eric Paslay, and Will Hoge. Working with producer Marshall Altman (Natasha Bedingfield, Matt Nathanson), Grant has delivered a vibrant collection of songs that are entertaining and substantive, and it wasn't by accident. Inspired by a conversation with her ailing mother, Grant approached this album as a woman on a mission.
The songs on How Mercy Looks From Here represent a season of growth, yet as personal as they are, they are also universal. Everyone can relate to love, loss and the passing of time. "At some point in life you realize that some things really matter and some things don't," Grants says. "Living matters. Celebrating life matters. Seeing the value in hard times matters. Relationships and people matter. Faith matters. I feel like that's where my head has been while writing and recording his project. I feel this is a very positive record. I hope it is life affirming. Life prepares us for the journey. You don't know what's ahead and that is one of the great things about getting older in a framework of faith. Faith is the one thing that stands the test of time."
Tinsley Ellis
Monday, February 25th, 2019 7:00 PM Tumbleroot Brewery, Santa Fe
Since his Alligator Records debut 30 years ago, Southern blues-rock guitar wizard, vocalist and songwriter Tinsley Ellis has become a bona fide worldwide guitar hero. The Chicago Sun-Times says, "It's hard to overstate the raw power of his music." His latest album, Winning Hand, features ten brilliantly performed, fervently sung tracks, ranging from blistering blues to heart-pounding rock to soulful ballads.
Armed with his signature molten licks, melodic riffs and rousing, intense solos, Ellis, as his legions of fans will attest, is among the blues world's best-loved and most well-travelled statesmen. He is revered for his guitar virtuosity, passionate vocals and memorable original songs. He is also known as a guitarist's guitarist, with famous friends including Derek Trucks, Warren Haynes, Oliver Wood, Jonny Lang and members of Widespread Panic calling on him to sit in and jam. "A musician never got famous staying home," he says.
Chicago
Monday, February 25th, 2019 7:00 PM Kiva Auditorium, Albuquerque
Chicago has toured continuously for more than 50 years, helping make the legendary "rock band with horns" one of America's most successful groups. Rhino spotlights that legacy with two stellar live collections, one that captures the band's early days, and the other recorded just last year.
Formed in 1967 in the band's namesake city, Chicago is one of the longest-running and best-selling groups of all time. It's the first American band to ever chart albums in Billboard's Pop Top 40 in six consecutive decades, the highest charting American band in Billboard's Hot 100 All-Time Top Artists and the #4 band on Billboard's All-Time Top Bands and Duos list. The group's extensive accomplishments include: two Grammy Awards®, multiple American Music Awards, 11 Number One singles, five consecutive Number One albums, and record sales in excess of 100,000,000, with 47 albums earning gold and platinum certification. Chicago was inducted into the Rock & Roll Hall of Fame in 2016, and Chicago's first album, Chicago Transit Authority, was inducted into the GRAMMY® Hall Of Fame in 2014. Robert Lamm and James Pankow became inductees of the Songwriters Hall of Fame in 2017. These legendary songwriters wrote mega-hits such as, "25 or 6 to 4," "Saturday In The Park," "Feelin' Stronger Every Day," "Make Me Smile," and many others.
Bob Seegar & the Silver Bullet Band-The Final Tour
Tuesday, March 5th, 2019, 7:30 PM, Tingley Coliseum
There is a signature richness and power to the music that Bob Seger has been making for four decades. Seger has always stayed true to his legendary sound, effortlessly marrying blues, country, and heartland soul into his trademark brand of Motor City rock 'n' roll.
Seger is a multi-talented artist, songwriter, producer, and bandleader whose indelible body of work has affirmed his place in the fabric of American song. Inducted to both the Rock & Roll Hall of Fame and the Songwriters Hall of Fame, Seger's reputation as an artist and songwriter has only grown. His work represents the honest best of what rock & roll can be — passionate, unpretentious, uplifting and true to itself and its audience.
Seger has sold over 53 million albums and has earned 13 platinum and 7 multi-platinum RIAA Certified sales awards, including such landmark albums as Beautiful Loser, Live Bullet, Night Moves, Stranger in Town, Against the Wind and Nine Tonight.
Seger paid his dues for many years trying to break out of the regional scene. He scored a national hit in 1968 with "Ramblin' Gamblin' Man," his Capitol Records debut. But it would be eight long years and nine more albums before he would return to the charts.  As a last-ditch effort Seger composed a group of songs which became his eighth album, Beautiful Loser. The album sold 80,000 copies. But it was the album Live Bullet that  finally brought Seger significant national attention, recorded live in Detroit in 1975 with the Silver Bullet Band. Riveting performances of "Travelin' Man/Beautiful Loser," "Heavy Music," "Katmandu," "Ramblin' Gamblin' Man," and "Turn the Page" combined those two elements on Live Bullet. The album broke and set the stage for Seger's meteoric rise with Night Moves.
Bob Seger's struggle for recognition may have been fought and won long ago, but the battle to convey his vision precisely as he experiences it within himself goes on unabated. He has expressed the frustrations, hopes and dreams not simply of people like himself, but that he himself has felt. When he sings, you believe it. Not giving up until he's satisfied that he's gotten it right fulfills the promise he has made to his fans and to himself.
Tinsley Ellis & Coco Montoya
Tuesday, March 5th, 2019, 7:00 PM The Dirty Burbon Saloon, Albuquerque
Since his Alligator Records debut 30 years ago, Southern blues-rock guitar wizard, vocalist and songwriter Tinsley Ellis has become a bona fide worldwide guitar hero. The Chicago Sun-Times says, "It's hard to overstate the raw power of his music." His latest album, Winning Hand, features ten brilliantly performed, fervently sung tracks, ranging from blistering blues to heart-pounding rock to soulful ballads.
Armed with his signature molten licks, melodic riffs and rousing, intense solos, Ellis, as his legions of fans will attest, is among the blues world's best-loved and most well-travelled statesmen. He is revered for his guitar virtuosity, passionate vocals and memorable original songs. He is also known as a guitarist's guitarist, with famous friends including Derek Trucks, Warren Haynes, Oliver Wood, Jonny Lang and members of Widespread Panic calling on him to sit in and jam. "A musician never got famous staying home," he says.
The old Willie Dixon adage, "blues is truth," perfectly describes the searing, contemporary blues-rock of world-renowned guitarist and vocalist Coco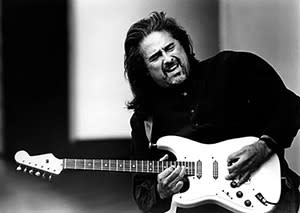 Montoya. Taught by the "Master of the Telecaster," Albert Collins, but with a hard-edged sound and style all his own, Montoya mixes his forceful, melodic guitar playing and passionate vocals with memorable songs, delivering the blues' hardest truths.
He earned his status as a master guitarist and soul-powered vocalist through years of paying his dues as a sideman with Collins (first as a drummer) and then with John Mayall's Bluesbreakers, before launching his solo career in 1993. Five years of constant touring with Collins and ten years with Mayall turned him into a monster player and dynamic performer. Montoya has released eight solo albums—including three for Alligator between 2000 and 2007—and has played at clubs, concert halls and major festivals all over the world. Guitar Player says Montoya plays "stunning, powerhouse blues with a searing tone, emotional soloing, and energetic, unforced vocals."
Il Divo
Wednesday, March 20th, 2019 8:00 PM Kiva Auditorium, Albuquerque
Il Divo has always stood out for its peculiar mix of opera and pop in songs of different genres, and is the most important reference in the world of the crossover groups of classical music. Since its debut in 2004, IL Divo has triumphed on the most important venues around the world, and has sold over 30 million records throughout its career.
First discovered and mentored by Simon Cowell in 2003, the group composed by the Spanish Carlos Marin (baritone), the Swiss Urs Buhler (tenor), the Frenchman Sebastien Izambard (tenor) and the American David Miller (tenor), became a pioneer of a musical genre unknown until that time when in 2004 they released their debut album "IL Divo".
Since then, the international four-member group has become the world leader in its genre, and has achieved a second to none success around the world, performing before personalities like as former US presidents George Bush, Bill Clinton or Barack Obama , or the Queen of England.
With hits like "Regresa a Mi" (Unbreak My Heart), "The Time Of Our Lives" ("The Official Song of the 2006 FIFA World Cup)," "I Believe In You" (Je crois en toi) a duet with Celine Dion, or now in his latest album "Hola" (Hello) version of the worldwide success of the singer Adele, have achieved to sell over 30 million records, 50 No.1, 160 gold and platinum records in more than 33 countries, and six world tours with all the tickets sold out in the most important venues around the world.
Il Divo has published eigth studio albums so far. After his debut album that bore his name (and whose sales resulted their first Platinum album), his later albums – "Ancora" (2005), "The Christmas Album" (2005), "Forever" (2006), "The Promise "(2008) and" Wicked Game "(2011) – have managed to repeat the perfect formula between pop music and the vocal virtuosity of the opera, which has given them such popularity these years. With their recording in 2013 of "A Musical Affair", they celebrated the classics of Broadway and the West End. Later in 2015 they released their album "Amor y Pasion" compiling the best Latin songs, with which they managed to reach number 1 on the Latin Albums Chart in their first week.
In addition to his studio albums IL Divo has published a special album of Christmas songs in 2005 "The classic Christmas album", a compilation album "The Greatest Hits" in 2012 that released 4 new songs, as well as has published 2 more albums live: "An Evening With Il Divo: Live In Barcelona" (2009) and "Live in Japan" (2014), as well as numerous special editions, duets and collaborations with other artists such as Celine Dion, Tony Braxton, Kristin Chenoweth or Michael Ball among others, and numerous DVDs of their live concerts all around the world
IL Divo is now releasing "TIMELESS", its 10th studio album and first with Decca Gold (Universal Music), an album full of songs from the 20′ to the present, which has already achieved in the first week from its release, get into the first place of sales in countries like Japan and the United Kingdom, and that they will be touring all over the world in 2018, hoping to once again delight their unconditional legion of fans.
Midland
Saturday, March 23rd, 2019 8:00 PM Legends Theater Route 66 Resort Casino
Hailing from Dripping Springs, TX lead vocalist Mark Wystrach fronts Midland's rich sound that is rounded out with lead guitarist Jess Carson and bass player Cameron Duddy. Rooted in tradition in both sound and style, the trio initially garnered attention playing clubs in the region.
Their critically-acclaimed freshman album, ON THE ROCKS (Big Machine Records), features 13 tracks with songwriting credits from each member alongside hitmakers Shane McAnally and Josh Osborne. Launching to rave reviews from notable outlets such as the Los Angeles Times and Rolling Stone Country, ON THE ROCKS was declared "the year's best Country album" by Washington Post.  The Dann-Huff produced album earned the No. 1 position on Billboard's Top Country Album Sales chart upon release.
Their debut No. 1 single "Drinkin' Problem," which offers an intentional nod to Country music reminiscent of the 1970s and 80s, earned the band their first GRAMMY® Awards nominations for Best Country Song and Best Country Duo/Group Performance. Midland was also named New Vocal Group of the Year at the 2018 ACM Awards and are nominated for three CMA Awards including Vocal Group of the Year, Single of the Year for "Drinkin' Problem" and New Artist of the Year. Their current single "Burn Out" is Top 20 at Country Radio and the band released a video for the song  which was inspired by the vintage style of Urban Cowboy and filmed at the legendary Billy Bob's Honky Tonk in Fort Worth, TX. This year Country Radio Broadcasters voted the trio as one of the esteemed 2018 CRS New Faces. Midland is currently on the road headlining dates for their ELECTRIC RODEO TOUR. For a full list of tour dates and more, visit MidlandOfficial.com.
The Beach Boys
Sunday, March 24th, 2019 Popejoy Hall, Albuquerque
"Fifty years ago, we started something very big," says Brian Wilson. "So now we're celebrating together in a very big way."
"It's pretty miraculous that we can start out as a bunch of guys who didn't know anything about fame or money, or anything like that," says Mike Love. "All we knew was we liked to sing and make harmonies together. So to have it become part of American musical culture is pretty amazing."
The amazing yet true saga of The Beach Boys is well chronicled, and by any standard it's one of the greatest and most musical stories ever told. Now this singular West Coast story continues with a global celebration that is befitting of the remarkable and enduring legacy of these Rock & Roll Hall of Famers.
From humble roots in Hawthorne, California, The Beach Boys have become an international sensation. Their famous harmonies and classic songs continue to travel the world bringing "Good Vibrations" everywhere.
For five decades, The Beach Boys — America's first pop band to reach the 50-year milestone — has recorded and performed the music that has become the world's favorite soundtrack to summer. Founded in Hawthorne, California in 1961, The Beach Boys were originally comprised of the three teenaged Wilson brothers: Brian, Carl and Dennis, their cousin Mike Love, and school friend Al Jardine. In 1962, neighbor David Marks joined the group for their first wave of hits with Capitol Records, leaving in late 1963, and in 1965, Bruce Johnston joined the band when Brian Wilson retired from touring to focus on writing and producing for the group.
The Beach Boys signed with Capitol Records in July 1962 and released their first album, Surfin' Safari, that same year. The album spent 37 weeks on the Billboard chart, launching the young group known for its shimmering vocal harmonies and relaxed California style into international stardom. The Wilson/Love collaboration resulted in many huge international chart hits, and under Brian Wilson's musical leadership, the band's initial surf-rock focus was soon broadened to include many other themes, helping make The Beach Boys America's preeminent band of the 1960s.
Impressively, The Beach Boys continue to hold Billboard / Nielsen SoundScan's record as the top-selling American band for albums and singles, and they are also the American group with the most Billboard Top 40 chart hits (36). 'Sounds Of Summer: The Very Best Of The Beach Boys' has achieved triple-Platinum sales status and 'The SMiLE Sessions,' released to worldwide critical acclaim in November, has been heralded as 2011's #1 Reissue of the Year by Rolling Stone magazine.
Inducted into the Rock and Roll Hall of Fame in 1988 and recipients of The Recording Academy's Lifetime Achievement GRAMMY Award, The Beach Boys are a beloved American institution that remains iconic around the world.
Mavis Staples
Friday, March 29th, 2019 8:00 PM Isleta Amphitheater, Albuquerque
Mavis Staples began her career singing with the family group in 1950. When she graduated from high school, the Staple Singers started touring, and—with their stunning harmonies and Pops Staples' distinctive, chiming guitar tone—rose from popularity in the gospel world to become a central part of the soundtrack to the protest movement of the 1960s. The Staple Singers "freedom songs," magnificent expressions of strength and empowerment, earned the group a Grammy Lifetime Achievement Award in 2005.
Staples would go on to record two albums produced by Prince (one titled simply The Voice), and to work with Bob Dylan, Ray Charles, and George Jones. In 2017, she was inducted into the Blues Hall of Fame, and in 2018 received a Lifetime Achievement Award from the National Arts Awards.
With the recent passing of her sister Yvonne and her dear friend Aretha Franklin, Mavis Staples is one of our few remaining links to an extraordinary time when the gospel tradition and the fight for social justice were deeply and movingly entwined. As Live in London demonstrates, Staples continues to fight the fight—and to rock the house.
For her new project, Live from London, Staples—who is still on the road almost 200 nights a year— welcomed the spontaneity and vulnerability of recording live. The album captures the spirit and energy, the commitment and intensity, that she brings to the stage every night. "I don't think about it being recorded, I'm just singing for the people and expressing my feeling through the songs," she says. "I don't try to do anything perfect for the record, I just sing from my heart. Pops taught me that years ago—what comes from the heart reaches the heart."
Though the Staple Singers were responsible for such indelible anthems as "I'll Take You There" and "Respect Yourself," Live in London delivers its own powerful sounds and formidable statements without including those classics. "Of course I still perform those songs," says Staples, "but we didn't see any need for them to be on the record. This gives people a chance to hear what we're doing now."
The focus of this collection is material she has recorded since signing with ANTI- Records (which has been home to such other revitalized legends as Merle Haggard, Solomon Burke, and Booker T.) in 2007. In recent years, Staples has had songs written for her by iconoclastic artists like Nick Cave, Neko Case, and Merrill Garbus (Tune-Yards); collaborated with modern rock powerhouses Arcade Fire, Gorillaz, and Hozier; and recorded multiple albums working with Jeff Tweedy from Wilco.
Death Cab for Cutie with My Brightest Diamond
Sunday, March 31st, 2019 7:00 PM Kiva Auditorium, Albuquerque
Death Cab for Cutie rose from being a side project to becoming one of the most exciting groups on the indie rock scene of the 2000's, with their emotive songwriting and cross-genre sound landing somewhere between indie and emo. They have been nominated for eight Grammy Awards, including Best Rock Album for their most recent release, 2015's Kintsugi. Their ninth studio album "Thank You for Today" was produced and mixed by Rich Costey (Fiona Apple, Franz Ferdinand, Muse), who also produced the band's last album the GRAMMY® nominated "KINTSUGI." "Thank You for Today" marks the first Death Cab for Cutie release to see long time bandmates Gibbard, Nick Harmer, and Jason McGerr joined in the studio by new members Dave Depper (Menomena, Fruit Bats, Corin Tucker, Ray Lamontagne) and Zac Rae (My Brightest Diamond, Fiona Apple, Lana Del Rey, Gnarls Barkley). Depper and Rae have both been part of Death Cab's touring band since 2015.
Shara Nova, a classically trained vocalist and self-taught multi-instrumentalist who records dazzling, shapeshifting music as My Brightest Diamond,
has always felt like an outsider. Over the course of four groundbreaking albums, she has resisted the conventions of genre, blending elements of rock, art pop, and chamber music into a sound totally her own. While fiercely independent, she like everyone else, still desires connectedness. This tension is at the core of her new album—A Million And One—where she has once again reinvented herself.
Each gem-like song is distinct, from the anthemic opener "It's Me on the Dance Floor," to the techno-infused "Supernova," which calls to mind the work of pioneering Detroit producer Carl Craig. "You Wanna See My Teeth," is a twisting, searing meditation on the death of Trayvon Martin. The album's ten tracks represent a departure from the lush instrumentation of My Brightest Diamond's previous work and into leaner, more raw territory, with beats and synths. Shara produced the album with the help of The Twilite Tone (Common, Gorillaz, Kanye West) and it was mixed by Andrew Scheps (Adele, Lana Del Rey, Beyoncé). Anchoring each song is the relationship between Shara's vocals and drums from Earl Harvin (Seal, Sam Smith). Reborn free of ornament, Shara's voice has never been more vulnerable—or more powerful.
Jimmy Vaughn
Wednesday, April 3rd, 2019, 7:30 PM The Lensic Theater, Santa Fe
Jimmie Vaughan is far more than just one of the greatest and most respected guitarists in the world of popular music. As Guitar Player magazine notes, "He is a virtual deity—a living legend."
After all, Vaughan provides a vital link between contemporary music and its proud heritage, as well as being a longtime avatar of retro cool. Since releasing his first solo album in 1994, he has set the standard for quality modern roots music.
Throughout his career, Vaughan has earned the esteem of his legendary guitar-playing heroes and superstar peers along with successive generations of young players. His musical ethos and personal style have had an impact on contemporary culture, from spearheading the current blues revival with The Fabulous Thunderbirds to his longtime, innate fashion sense of slicked-back hair and sharp vintage threads (now seen throughout the pages of contemporary fashion journals) to becoming a premier designer of classic custom cars. But for Jimmie Vaughan, none of it is part of a crusade or a career plan. It's just his natural way of living his life and pursuing the interests that have captivated Vaughan since his youth.
Jimmie Vaughan's style as a player, songwriter and bandleader can be thought of as an amalgamation of so many influences. Known for his deceptively simple yet complex attack, his clean, uncluttered style capitalizes on conveying the emotion and message within the music. It's an approach that has earned him the respect of many of the greats of contemporary music, and guest appearances on albums by B.B. King, Eric Clapton, Bob Dylan, Willie Nelson, Carlos Santana and Don Henley.
Michael McDonald
Friday, April 5th, 2019 7:00 PM Isleta Resort, Albuquerque
A prominent part in the soundtrack to our times, Michael McDonald, as an artist and songwriter, has been awarded an impressive five Grammys®. However, by maintaining a low-key profile, the contrast of Michael McDonald as a person and as a musician is astounding. Though comfortable onstage, he has never been a flashy entertainer, nor has he been distracted by passing trends. Instead, McDonald has triumphed through music alone, with a remarkable voice and a body of well-crafted songs. Few have made such an impact with so much substance and so little hoopla.
Known equally for his benevolence, as his musical prowess and successes, Michael McDonald has lent his talents and energies to a long, varied list of charitable causes throughout the first three decades of his career and he has contributed an overwhelming amount to numerous benevolent events and enterprises. Michael's recent appearances have included a tsunami relief concert sponsored by The Wave in Los Angeles; TJ Martell's Stevie Wonder tribute, NARAS/MusiCares' tribute to Brian Wilson in 2005 and again in the 2007 tribute to Don Henley; Morehouse College's tribute to Ray Charles, a fundraiser for Stax Museum and shows for The Little Sisters of the Poor in San Pedro, CA, and the Sisters of Mercy, in Oakland, CA, among others. Michael also participated in the 7UP Grammy Signature Schools Program and painted a Gibson Les Paul guitar for a NARAS/MusiCares auction. McDonald was recently honored at the WHY-Chapin awards dinner with the prestigious ASCAP Harry Chapin Humanitarian Award for both his musical career and his vast charitable endeavors. McDonald continues his fundraising efforts actively working with WHY's – Artists Against Hunger & Poverty program.
Michael's matchless and prolific consistency through more than 25 years of recording and performing was celebrated in August 2005 by Warner Brothers, who released Michael McDonald: The Ultimate Collection, highlighting the wide breadth of his career from his days with The Doobie Brothers to his solo hits, to his version of the Motown favorite Ain't No Mountain High Enough.
Michael recorded a 2005 holiday CD, Through the Many Winters, A Christmas Album, that was recorded specifically for Hallmark Cards and sold exclusively through Hallmark Gold Crown stores. This collection of traditional and original holiday songs was certified gold within two weeks of the album's release.
With a career that has seen innumerable chart successes and sales feats and as an artist who has maintained consistent popularity and earned numerous accolades in both personal and professional arenas, McDonald remains the artist's artist and an enduring presence in popular music.
George Thorougood & the Destroyers
Friday, April 5th, 2019 7:00 PM Route 66 Casino, Albuquerque
For any kid growing up in the '60s, the first sightings of live rock & roll on TV were mind-bendingly seismic. By his early 20s, Thorogood was a solo acoustic player in the Robert Johnson/Elmore James vein.
George Thorogood And The Destroyers' self-titled and now-classic debut on Rounder was certified Gold. Over the course of 16 studio albums – including six Gold and two Platinum discs on Rounder, EMI and Capitol – the band would amass an unmatched catalog of hits that includes "Who Do You Love", "I Drink Alone", "One Bourbon, One Scotch, One Beer", "Move It On Over", "Get A Haircut" and the ultimate badass anthem, "Bad To The Bone." But it was their powerhouse live performances that made GT&D legendary: from unforgettable appearances on SNL and Live Aid, to the opening slot on the Rolling Stones' historic '81 tour, to their own record-breaking 50/50 tour, to this year's 40th anniversary of their first Canadian shows, George and his longtime band – Jeff Simon (drums, percussion), Bill Blough (bass guitar), Jim Suhler (rhythm guitar) and Buddy Leach (saxophone) – remain among the most relentless and relevant classic rock acts on tour today.
With George's first-ever solo album, Party Of One on Rounder Records, the new Thorogood/Destroyers tour promises to raise the bar, rock the house and tear off the roof like never before.
From a birthday party in Wilmington to concert stages around the world, it's been one of the most credible and uncompromising rides in American music. Today, one badder-than-ever guitar-slinger and his band are back to play like they still have something to prove. For George Thorogood And The Destroyers – as well as for millions of fans old & new – the Rock Party starts now.
The Midtown Men
Saturday, April 6th, 2019 7:00 PM Popejoy Hall, Albuquerque
The high-octane musical tour de force that took the Jersey Boys phenomenon to Broadway and beyond, brings to life the greatest hits of the Sixties, rocking performing arts centers and symphony halls across the continent. Tour highlights for these Four Broadway vets and their powerhouse Seven piece band recently included a triumphant return to their "Jersey" roots with a live concert special filmed at the New Jersey Performing Arts Center in partnership with PBS. Catch the 90-minute show, captured in high-definition by Grammy and Emmy Award winning team Pierre & François Lamoureux, on public television stations to broadcast nationwide.Following the development of Jersey Boys and historic three season run on Broadway, THE MIDTOWN MEN are lifting audiences to their feet in venues across the continent, realizing the dream they brought to life as the iconic Four Seasons. THE MIDTOWN MEN is the next chapter for these accomplished entertainers, making them the first vocal group ever formed by the principal cast of a high-profile Broadway show.
Not only have they continued to win over audiences of all ages in nearly 2,000 live shows, their self-titled debut album, THE MIDTOWN MEN: Sixties Hits was met with critical acclaim and garnered 5 star album reviews across iTunes and was followed by their first radio single "All Alone On Christmas" with producer Steven Van Zandt and members of Springsteen's E Street Band.
Urban Cowboys-Mickey Gilly & Johnny Lee
Saturday, April 6th, 2019 7:30 PM Buffalo Thunder Resort, Santa Fe
You won't want to miss the incredible new show featuring "Mickey Gilley" and "Johnny Lee!" These two country music legends will give you an experience to remember as they bring back some of their chart topping songs completed with memories of the 1980 hit movie, Urban Cowboy. Gilley and Lee have earned an outstanding 38 Chart singles with 20 #1 hits including Gilley's Room Full of Roses, Don't the Girls all Get Prettier at Closing Time, and Lee's Cherokee Fiddle and Lookin' for Love. Sharing 10 years of their music careers together, these two are sure to put on an evening of great music, fun memories, and incredible entertainment!
"Mickey Gilley" enjoyed a remarkable history in entertainment…country music, movies, television, and the nightclub business that helped share his talent with an even bigger and broader-based audience. When Hollywood producers decided to film on location for the hit movie, Urban Cowboy, which starred John Travolta, and made a movie star out of Debra Winger, they chose the enormous Gilley's nightclub in Pasadena, Texas as their location. Their decision to use "Mickey Gilley's" version of the Ben E. King hit, Stand By Me, helped introduce him to an audience beyond country; it reached number one on the Billboard's Adult Contemporary Chart. Gilley also made guest appearances in TV shows that were hugely popular in the late 70's and early 80's, including The Fall Guy, Murder She Wrote, and Dukes of Hazzard.
"Johnny Lee" became a household name in the world of music, and not just country music; when he released Lookin' for Love, the single that spent three weeks at the top of the Billboard country chart while, at the same time, popping up in the Top 5 on the Pop chart and the Top 10 on the Adult Contemporary chart; a rare feat in an industry awash with exceptional artists. He's had scores of other hits, including One in a Million, Bet Your Heart on Me, The Yellow Rose (with Lane Brody), and You Could've Heard a Heart Break, all topping the Billboard Country chart.
Kenny Wayne Shepherd Band & the Beth Hart Band
Thursday, April 18th, 2019 7:30 PM Kiva Auditorium, Albuquerque
There are few artists whose names are synonymous with one instrument and how it's played in service to an entire genre.
Utter the phrase "young blues rock guitarist" within earshot of anyone with even a cursory knowledge of the modern musical vanguard and the first name they are most likely to respond with will be Kenny Wayne Shepherd. The Louisiana born axeman and songsmith has sold millions of albums while throwing singles into the Top 10, shining a light on the rich blues of the past and forging ahead with his own modern twist on a classic sound he has embodied since his teens.
In a 20-year recording career that began when he was just 16, Shepherd has established himself as an immensely popular recording artist, a consistently in-demand live act and an influential force in a worldwide resurgence of interest in the blues.
At 16 years old, he signed his first record deal and burst onto the national scene with the release of his 1995 debut album Ledbetter Heights, which produced the radio hits "Deja Voodoo," "Born with a Broken Heart" and "Shame, Shame, Shame." His relentless touring and success on rock radio helped to drive the album to Platinum sales status. His 1998 sophomore effort Trouble Is… also went Platinum, yielding such radio hits as "Blue on Black," "True Lies" and "Somehow, Somewhere, Someway." 1999's Live On spawned the radio hits "In 2 Deep", "Shotgun Blues" and "Last Goodbye."
Shepherd and his band traveled throughout the American South to record with such vintage blues greats as B.B. King, Clarence "Gatemouth" Brown, Hubert Sumlin, Pinetop Perkins and David "Honeyboy" Edwards on their home turf.  In 2013, Shepherd further expanded his musical horizons by teaming with veteran rockers Stephen Stills and Barry Goldberg to form THE RIDES. 2014 saw the release of Goin' Home, Shepherd's sixth # 1 debut on the Billboard Blues charts. Goin' Home features several talented friends who shared Shepherd's enthusiasm for the project's back-to-basics ethos. Those guests include fellow guitar icons Joe Walsh, Warren Haynes, Keb' Mo' and Robert Randolph, longtime friend Ringo Starr, Fabulous Thunderbirds frontman Kim Wilson, the Rebirth Brass Band and co-producer Blade's father, Pastor Brady Blade Sr., who lends a bracing dose of preaching to Shepherd's version of Bo Diddley's' "You Can't Judge a Book by the Cover." In the months since its release, Shepherd and his band have toured the world extensively blazing a fresh trail for the historical American art form in the 21st Century.
Frankie Valli & the Four Seasons
Sunday, April 28th, 2019 7:30 PM Sandia Resort & Casino, Albuquerque
Oh, what a story. Frankie Valli, who came to fame in 1962 as the lead singer of the Four Seasons, is hotter than ever in the 21st century. Thanks to the volcanic success of the Tony-winning musical Jersey Boys, which chronicles the life and times of Frankie and his legendary group, such classic songs as "Big Girls Don't Cry," "Walk Like a Man," "Rag Doll," and "Can't Take My Eyes Off You" are all the rage all over again. As the play enters its third sold-out year on Broadway, and two touring companies of Jersey Boys travel around the U.S., the real Frankie Valli is packing concert halls coast to coast, from the Rose Theater, home of Jazz at Lincoln Center in New York City, to L.A.'s Kodak Theater, home of the Academy Awards.
While the majority of the 71 chart hits of Frankie Valli and the Four Seasons came during the 1960s, the music didn't just disappear. He has toured almost continuously since 1962, and his songs have been omnipresent in such movies as The Deer Hunter, Dirty Dancing, Mrs. Doubtfire, Conspiracy Theory and The Wanderers. As many as 200 artists have done cover versions of Frankie's "Can't Take My Eyes Off You," from Nancy Wilson's jazz treatment to Lauryn Hill's hip-hop makeover.
Frankie Valli became an "overnight" sensation with a No. 1 record. The sound of "Sherry" was unlike anything else on the airwaves. Determined not to be a one-hit wonder two more No 1 hits were released: "Big Girls Don't Cry" and "Walk Like a Man." The fateful year of 1964 brought the British invasion, but that didn't stall the Four Seasons. The group released one smash after another: "Dawn (Go Away)," "Ronnie," "Rag Doll," "Save It For Me," "Big Man in Town" and, in early 1965, "Bye Bye Baby (Baby, Goodbye)."
The group then produced three straight giant hits: "Let's Hang On," "Working My Way Back to You" and "Opus 17 (Don't You Worry 'Bout Me)." "Can't Take My Eyes Off You." Released in 1967, it went to No. 2 in Billboard and No. 1 in Cashbox. With the popularity of the original record and all the cover versions, "Can't Take My Eyes Off You" has become one of the top ten most-played songs in the history of BMI, one of the two major companies that collect royalties for songwriters.
In 1975 Frankie came roaring back with "My Eyes Adored You," which reached No. 1, "Swearin' to God" and a cover of "Our Day Will Come." That burst of success spurred Gaudio to put together a new Four Seasons, led by Frankie of course. With his future wife Judy Parker, Gaudio wrote "Who Loves You" and "December 1963 (Oh, What a Night)," two of the biggest hits in the Seasons' history. The new hot streak culminated in 1978, when Frankie's solo performance of "Grease," featured not once but twice in the movie soundtrack, reached the inevitable No. 1 ranking in Billboard.
From 1962 to 1978, Frankie Valli and the Four Seasons sold more than 100 million records, even before the invention of the compact disc prompted Seasons collectors to buy the hits all over again. For decades after their heyday, Frankie and the Seasons continued to be a top concert draw, and radio constantly played their classics, not to mention the new remixes that kept popping up on the charts. In 1990 Frankie and the other original Seasons were inducted into the Rock and Roll Hall of Fame, only five years after the Hall opened for business.
But who could imagine that the first 45 years would be only the beginning—that Frankie Valli would celebrate 2007 with a new album and a heavy sold-out concert schedule? No other pop star has ever received the kind of new lease on life that Jersey Boys has given Frankie Valli. In addition to the three current productions of Jersey Boys, plans have been laid to take the play to London, Las Vegas and Toronto for open-ended runs. And producers are clamoring to bring the musical to Australia, Singapore, China and even Dubai—yes, the Dubai that's part of the United Arab Emirates. Every major Hollywood studio has asked about making a Jersey Boys movie.
For as far into the future as anyone can see, Jersey Boys will introduce the music of Frankie Valli to new generations. Romancing The '60s is a most welcome and long-awaited addition to that legacy. The man himself shows no signs of slowing down. As his character says at the end of Jersey Boys: "Like that bunny on TV with the battery, I just keep going and going and going." For as long as he wants to sing, people will want to listen.
John Mellancamp
Tuesday, April, 30th, 2019, 8:00 PM Kiva Auditorium, Albuquerque
His professional music career began in earnest in 1976 when MCA Records released his first album, The Chestnut Street Incident. His manager dubbed him Johnny Cougar out of his belief that nobody would buy a record by anybody named Mellencamp. John protested but was overruled and eventually, of course, reclaimed his birth name as his public name.
After releasing a few albums, he broke out in 1979 with his first hit, "I Need A Lover" In 1982 his fifth album American Fool was the year's best-selling album on the strength of two huge hits, "Hurts So Good," and the number 1 single "Jack & Diane," The albums that followed in the 80's, Uh-Huh, Scarecrow, Lonesome Jubilee, and Big Daddy, were released under the name John Cougar Mellencamp. Hit singles during this period included "Crumblin Down," "The Authority Song," "Small Town," "Rain On The Scarecrow," "Lonely Ol Night," ""R.O.C.K. In The U.S.A.," "Paper In Fire," "Check It Out," "Cherry Bomb," "Pop Singer," and "Jackie Brown."
Mellencamp took the music on the road with a band that many considered the best in the business, playing approximately 1,000 shows around the globe during the decade. In 1985, John's concern for the plight of the American farmer, which had been voiced in the Scarecrow album, brought him together with Willie Nelson and Neil Young in launching Farm Aid. It became an annual event and has helped make people aware of the issues farmers face and how they affect on the entire nation.
He received the 2001 Billboard Century award in recognition of all that he had accomplished over the course of his career and was honored with the Woody Guthrie Award in 2004. Previously, he was awarded a Grammy and had been nominated a total of 11 times. In 2007 the ASCAP Foundation honored John Mellencamp with its Champion Award in recognition of his outstanding use of music in service to humanity. John received ASCAP's highest honor, The Founders Award, for his exceptional contributions to music and was inducted into the prestigious Songwriters Hall of Fame on June 14, 2018.
A career landmark occurred on March 10, 2008, when John was inducted into the Rock And Roll Hall Of Fame by Billy Joel at the annual induction ceremony in New York City.
John's full-length album, Sad Clowns & Hillbillies, featuring Carlene Carter, is his 23rd over the course of a remarkable career. The album released on April 28, 2017 followed by an upcoming summer tour in major cities across the country. Sad Clowns & Hillbillies returns Mellencamp to the musical eclecticism that is, itself, a reflection of his wide-ranging musings on life and showcases a poet who has wisely used the years between youth and the present day to become an absolute master of songwriting and interpretation. That passion and experience resonates most beautifully in this showcase of his music. John also wrote the title song for the upcoming film, The Yellow Birds, an American war film directed by Alexandre Moors and based on the novel The Yellow Birds by Kevin Powers. The film stars Tye Sheridan, Jack Huston, Alden Ehrenreich, Jennifer Aniston, and Toni Collette.
On February 1, 2018, John's self-narrated musical odyssey, Plain Spoken: From The Chicago Theatre premiered on Netflix, and was released May 11th on DVD+CD, Blu-Ray+CD, & Digital Formats. The cinematic film presents John, with his full band, performing at the landmark Chicago Theater on October 25, 2016.
John continues to focus on another facet of his artistic expression: painting. His style has progressed over the years as evidenced by several gallery shows and published portfolios, and in recent years he has increased his output by completing over 100 new works. He had his second solo exhibition this past Spring in New York and has a current exhibit at the famed Butler Museum in Youngstown, Ohio from September 20th through January 19, 2019. His highly successful Rock and Roll Hall of Fame exhibit ran for nearly two years and is now at the Woodie Guthrie Museum in Tulsa, Oklahoma from September 1st through January 5, 2019.
John has said many times in interviews that you will never meet anyone luckier than John Mellencamp. He is grateful for the support of those who have enjoyed his work and career over the years. If he has any advice to offer, it is to be tenacious: John's found that far too many people quit too soon in the face of early disappointment. While his own early efforts may have been faltering, he stayed with it–and that tenacity has been rewarded with the successes that continue to the present.
Slayer with Lamb of God, Aman Amarch and Cannibal Corpse
Friday, May 3rd, 2019 7:00 PM Isleta Amphitheater, Albuquerque
Slayer fans, you've all heard – Slayer were on their farewell tour in 2018, but by popular demand, metal's most notorious band have extended the slog into 2019 – meaning you STILL have a chance to see them!! That's right, you could be there at one of the LAST EVER shows of the founding fathers of thrash metal.
Founded by bassist/vocalist Tom Araya and guitarists Kerry King and Jeff Hanneman in 1981, Slayer's high-speed, high-octane music set them alongside Metallica, Anthrax and Megadeth as one of the Big Four bands that brought about the heavy metal genre. Slayer in particular are credited by many with the invention of thrash metal – their fast and furious style was the inspiration not just for other thrash bands, but for the creation of all new genres including black metal and death metal.
According to MTV, Slayer's "downtuned rhythms, infectious guitar licks, graphically violent lyrics and grisly artwork set the standard for dozens of emerging thrash bands," many of whom have directly stated Slayer as an influence – some of these include Bullet For My Valentine, Slipknot, Cannibal Corpse, Gojira, Hatebreed, Lamb Of God, Behemoth and more!!
Artrageous
May 24th, 2019, 7:30 PM Buffalo Thunder Resort, Santa Fe
IMAGINE an artist creating a masterpiece before your eyes in mere moments. With a palette that also mixes captivating vocals, intricate choreography, and exciting audience interaction – Artrageous takes you on a unique visual journey packed with wild inspiration, creativity and fun!
The Artrageous troupe of artists, musicians, singers, and dancers pay tribute to a variety of art forms, pop icons and musical genres culminating in a gallery of fabulous finished paintings. The result? A one of a kind crossover experience!
Artrageous is a troupe of 12 artists, singers, dancers and musicians hailing from the high desert of New Mexico. Their high energy performance is a combination of fine art, live music, singing, dancing, humor, and interaction in a frenzy of movement and color with a message of the arts being an integral and valuable part of human existence. A theater arts community since the 80's, Artrageous brings their passion for the arts to each theater leaving their audiences of all ages smiling and singing and dancing along.
Artrageous has been fortunate to perform for theater goers and celebrities and their artworks are in private and public galleries around the world.
Costumed Artrageous troupe members greet patrons in the theater encouraging them to choose a souvenir finger light ring and participate in fun art activities where they win prizes and create their own original works of art on a troupe member. The troupe passes out large squares of bubble wrap and the audience is instructed to hold on to it and await further instructions. Artrageous actors teach members of the audience dance moves they will use later and pick brave volunteers to join the troupe on stage for special numbers in the show.
Never before have so many live arts been presented on one stage. Artists, using hands, brushes and other objects, create visual art pieces making lines and shapes on giant canvas' while the audience is intrigued to guess what each painting will become. Lines and brush strokes become portraits of famous icons in a matter of moments. All the while, live musicians are performing popular musical styles from pop to country to Artrageous original music with Artrageous' powerful vocalists creating smooth harmonies.
The grand finale integrates live music, vocalists, and a trio of live art works leaving the audience on their feet dancing, singing and clapping along.
Bela Fleck & the Flecktones
Saturday, June 22nd, 2019, 8:00 PM Taos Mesa Brewing Amphitheater, Taos
Groundbreaking banjoist/composer/bandleader Béla Fleck has reconvened the original Béla Fleck & The Flecktones, the extraordinary initial line-up of his incredible combo. Pianist/harmonica player Howard Levy is back in the fold alongside Fleck, bassist Victor Wooten, and percussionist/ Drumitarist Roy "Futureman" Wooten. Far from being a wistful trip back in time, the Grammy Award-winning quartet has been creating some of the most forward thinking music of their long, storied career. While all manners of genres come into play—from classical and jazz to bluegrass and African music to electric blues and Eastern European folk dances—the result is an impossible-to-pigeonhole sound all their own, a meeting of musical minds that remains, as ever, utterly indescribable. Simply put, it is The Flecktones, the music made only when these four individuals come together.
"There's a special thing that happens when the four of us get together and play," notes Levy. "We all have the same attitude of trying to do things that we haven't done before and coincidentally, no one else has either." One thing was certain, however. The "original" Flecktones were resolute that their reunion would not be rooted in nostalgia. The goal from the get-go was to drive the music forward to places where it might've progressed had things gone differently.
REO Speedwagon
Saturday, June 29th, 2019 8:00 PM Legends Theater, Route 66 Resort & Casino, Albuquerque
Formed in 1967, signed in 1971, and fronted by iconic vocalist Kevin Cronin since 1972, REO Speedwagon is a band where the main constant over the decades is a never-ending desire to give their all to their fans, year in and year out.
Formed loosely in the late '60s at college in Champaign, IL, REO (named after the precursor to the light truck) rode to gigs in station wagons, hopping from small gigs to even tinier gigs, just to get their name out. It worked, as fans quickly realized there was much more going on here than your average college party band.
By the early '70s, the band's unrelenting drive, as well as non-stop touring and recording, jump-started the burgeoning rock movement in the Midwest. It carved a path that was eventually followed by STYX, Kansas, Cheap Trick and more. Platinum albums and freeform FM radio staples such as "Ridin' The Storm Out" followed, setting the stage for 1980's explosive Hi Infidelity (received the Recording Industry Association of America®'s 10X Diamond Award for surpassing sales of 10 million units in the U.S.). REO rode the top of the charts with a RIAA-certified 22 million albums sold in the U.S. and 40 million around the globe, with a string of gold and platinum records and international hit singles.
In 1994, when many rock bands of their era had either broken up, or were feeling like their days were numbered, the REO team came up with a co-headline tour concept that breathed new life into the world of touring. The "Can't Stop Rockin'" amphitheater tour featuring Fleetwood Mac, REO, and Pat Benatar was a huge success and blazed the trail for the very popular co-headline tours that are seen nationwide today.
Today, fully established with songs on the radio in every city and town they ever set foot in, REO Speedwagon still has that Midwest work ethic. The band has gone on stage and in the studio to work– dozens of albums, thousands of concerts, and countless radio spins. Their eyes have always been on the future and on the road – not a year has gone by where REO Speedwagon didn't perform live, thrilling fans with hit filled sets.
In the summer of 2018 REO Speedwagon and Chicago joined forces for a co-headlining tour of North America. The two hit-making bands rocked 30 cities along the run.
STYX
Saturday, August 3rd, 2019 8:00 PM Legends Theater, Route 66 Resort & Casino, Albuquerque
Tommy Shaw Acoustic and electric guitars, mandolin, vocals James "JY" Young Electric guitar and vocals Chuck Panozzo Bass guitar Todd Sucherman Drums, percussion, Waterphone Lawrence Gowan Piano, Hammond B3 organ, synthesizers, vocals Ricky Phillips Bass guitar, vocals
The six men comprising STYX have committed to rocking the Paradise together with audiences far and wide by averaging over 100 shows a year every year since (yes) 1999, and each one of them is committed to making the next show better than the last. Founded in Chicago in 1972, STYX has the unique distinction of being the first band in rock history to have four consecutive certified multimillion-selling albums in a row: 1977's The Grand Illusion, 1978's Pieces of Eight, 1979's Cornerstone, and 1981's Paradise Theatre.
STYX draws from over four decades of barnburning chart hits, joyous singalongs, and hard-driving deep cuts. Like a symphony that builds to a satisfying crescendo, a STYX set covers a wide range of stylistic cornerstones. From the progressively sweeping splendor that is "The Grand Illusion" to the hunker-down fortitude of all that is the "Blue Collar Man," from the majestic spiritual love for a special "Lady" to the poignant rumination on the fleeting nature of fame in "Miss America," from an individual yearning for true connection as a "Man in the Wilderness" to a soul-deep quest to achieve what's at the heart of one's personal vision in "Crystal Ball," from the regal reach-for-the-stars bravado of "Come Sail Away" to the grainy all-in gallop of that rugged "Renegade" who had it made, STYX draws on an unlimited cache of ways to immerse one's mind and body in their signature sound.
Kiss: End of the road World Tour
Wednesday, September 11th, 2019 7:30 PM Isleta Amphitheater, Albuquerque
As America's #1 Gold Record Award winning group of all time, and that's in every category, KISS can easily be named one of rock's most influential bands. The Rock N Roll Hall of Famers have released 44 albums and sold more than 100 million albums worldwide. Honored by their peers, KISS received the illustrious ASCAP Founders Award in 2015.
Over 40 years of record-breaking global tours have brought KISS to their fans. Additionally, once a year the "KISS Army" becomes the "KISS Navy" as fans from across the globe board the KISS Kruise (this year will be their 6th voyage).
High-profile appearances have included the Super Bowl, the Winter Olympics, Rockin' The Corps concert, a FOX alliance with KISS appearing in multiple episodes of Family Guy, plus two special guest performances on American Idol finales. KISS has been featured in major advertising and marketing campaigns for John Varvatos, Google Play, Hello Kitty— even appearing in a Dr. Pepper Super Bowl commercial and advertising campaign in support of their Hottest Show On Earth tour.
KISS is dedicated to numerous Veterans Organizations including: The Wounded Warriors Project, The USO, The U.S. Chamber of Commerce "Hire A Hero" program, The Legacy Organization in Australia, Help For Heroes United Kingdom and The Dr. Pepper Snapple Groups Wounded Warriors Support Foundations.
The KISS legacy continues to grow generation after generation, transcending age, race and creed. The unparalleled devotion and loyalty of the KISS Army to the "Hottest Band in the World" is a striking testament to the band's unbreakable bond with its fans.
Florida Georgia Line-Can't Say I Ain't Country Tour
Saturday, September 14th, 2019 7:00 PM Isleta Amphitheater
Keepin' it country, Florida Georgia Line are headed to Isleta Amphitheater on the Can't Say I Ain't Country Tour! The tour supports their hot new album of the same name, which sees the duo stepping away from their signature "bro-country" production and stripping things back to a more classic sound, and will feature Dan and Shay & Morgan Wallen in support!
Upon graduating from Belmont University, where they met in 2008, Tyler Hubbard and Brian Kelley decided to embark on a music career, giving themselves two years to succeed. The guitar and vocal duo formed Florida Georgia Line, originally a covers outfit, and signed with Nickleback producer Joey Moi's label Big Loud Mountain Records in 2011. The following year they released "Cruise", their debut single, which was a huge hit for the pair, breaking two major sales records. The song was downloaded over seven million times, which made it the first ever Diamond-certified country song and, until Sam Hunt's "Body Like a Back Road" claimed the title in 2017, it was the best-selling digital country song of all time, holding its number one position for 24 weeks. The duo is credited with originating the "bro-country" genre. Can't Say I Ain't Country, their fourth studio album, is released in 2019.
Iron Maiden
Thursday,September 19th, 2019, Isleta Amphitheater, Albuquerque
Iron Maiden fans, rejoice!! After a ferociously well-received run in Europe, The Legacy Of The Beast tour is coming to North America – headed to the to Isleta Amphitheater, Albuquerque, on Thursday 19th September 2019!!
Iron Maiden live performances are always something spectacular, but this tour, modelled after the Iron Maiden mobile game "The Legacy Of The Beast," promises to be something truly extraordinary. Iron Maiden fans can hardly wait, after hearing reports of what the new show is all about, to see it with their own eyes!!
"We're excited to return to North America and share the 'Legacy Of The Beast' tour with all our friends there!" Bruce Dickinson said in a press release, and went on to talk about the elaborate technical nature of the show itself. "We've got all kinds of crazy things going on, including a replica Spitfire plane dominating the stage during 'Aces High', tons of pyro, a giant Icarus, muskets, claymores and some truly marvellous flame-throwers which I have a hell of a lot of fun with, as you will see! And, of course, we have Eddie, as you've never seen him before, and absolutely loads of other surprises."
It's a wild thing to say, but we think it just mignt be true – that this is going to be the biggest and best Iron Maiden tour EVER!! Whatever you do, you've got to be in that crowd – so get your tickets ASAP, while you still have the chance!!