Featured event-Tanyaradzwa Tawengwa: A Soprano in Concert
Saturday, April 20th, 2019 3:00 PM First United Presbyterian Church, 1000 Douglas Avenue, Las Vegas
Tanyaradzwa Tawengwa, a United World College ­USA Alumna, opera singer, classical pianist and Princeton University graduate, returns to Las Vegas to perform a solo recital.
As director of Meadow City Academy of Music, Ron Maltais was searching for a classical singer to complete the 2018-20­19 season. Maltais was her vocal coach while she was at the UWC and sensed that Tanya's distinctive voice and acting abilities might garner attention in the professional world. His prediction has proved prescient.
Tawengwa will perform songs in French, German, an Italian operatic aria and several English songs/spirituals, including two songs of her own.
Born in Harare, Zimbabwe. Tawengwa is known as a composer, mbira musician and singer. Her music has been performed at Carnegie Hall, Yale Repertory Theater (in Danai Gurira's Familiar), Soho Rep., TED and TED Women. Tawengwa 's opera "The Dawn of the Rooster" has toured internationally, and her original musical, "Africa My Beautiful,"along with Thuli Dumakude, ran off­ Broadway in New York. Tawengwa is a touring member of the American Spiritual Ensemble and her roles include Queenie from Showboat, Flora from La Traviata, Belinda from Dido and Aeneas, and Lady Billows from Albert Herring.
Tawengwa founded both Mushandirapamwe Trust, a cultural arts organization dedicated to developing vocal talent in Zimbabwe, and Nhanha, Inc., a benefit corporation whose mission is to preserve Zimbabwean culture in the form of books, music and cartoons for children.
Tawengwa has released solo albums and previously recorded an anthem "Break the Chain" for the One Billion Rising campaign, which
galvanized women's marches across the globe and amassed millions of viewers on YouTube. Coming back to Las Vegas gives music lovers in the area an opportunity to experience her amazing talent. Tickets are $20; students can attend free.
DMX 
Wednesday, April 17th, 2019 8:00 PM The Historic El Rey Theater, Albuquerque
Following the deaths of Tupac Shakur and the Notorious B.I.G., DMX took over as the undisputed reigning king of hardcore rap. He was that rare commodity: a commercial powerhouse with artistic and street credibility to spare. His rapid ascent to stardom was actually almost a decade in the making, which gave him a chance to develop the theatrical image that made him one of rap's most distinctive personalities during his heyday. Everything about DMX was unremittingly intense, from his muscular, tattooed physique to his gruff, barking delivery, which made a perfect match for his trademark lyrical obsession with dogs.
He made a name for himself on the freestyle battle scene and was written up in The Source magazine's Unsigned Hype column in 1991. Columbia subsidiary Ruffhouse signed him to a deal the following year and released his debut single, "Born Loser." In 1997, he earned a second major-label shot with Def Jam, and made a galvanizing guest appearance on LL Cool J's "4, 3, 2, 1." Before the end of 1998, DMX completed his second album, Flesh of My Flesh, Blood of My Blood which entered the charts at number one and eventually went triple platinum.  Toward the end of 1999, DMX released his third album, …And Then There Was X, which became his third straight album to debut at number one. It also produced his biggest hit single since "Get at Me Dog," "Party Up (Up in Here)," which became his first Top Ten hit on the R&B charts.
In late 2002, DMX published his memoirs as E.A.R.L.: The Autobiography of DMX and also recorded several tracks with Audioslave.
UNM Honky Tonk Ensemble
Thursday, April 18th, 2019  6:00 Central & Unser Library Albuquerque
The UNM Honky Tonk Ensemble is a group of students under the direction of Kristina Jacobsen who have been learning to perform country music from the 1960s, '70s and '80s, also known as "honky tonk" music. Taught by performing country artists, the class focuses on country singing style, harmony, rhythm and lead instrumentation, song arrangement, and performance techniques for successful performance. The class is designed to be taught as a group, with students learning to perform as a band in the process. They've been studying the works of Kitty Wells, Loretta Lynn, Patsy Cline, Tammy Wynette, George Jones, Johnny Cash, Merle Haggard, Hank Williams, Buck Owens, Johnny Rodriguez and Charley Pride, and will perform a mix of tunes from these artists.
This is a new class at UNM and we are excited to be offering up a grand finale performance opportunity to the students. The group consists of Nathan Lesiak, Eric Schaller, Sierra Mcdowell-Nardine, Aubrie Powell, and facilitator Alexander McMahon.
Desired outcomes for this course include an increased appreciation for the poetics and nuance of country music performance (including stylistic details relating to honky tonk), hands-on knowledge of country music's sonic progression and history, and a more intimate knowledge of country music's thematic content from the perspective of someone who has performed it.
This is the latest in a monthly series of free events in collaboration with the Friends for the Public Library.
Santa Fe Pro Musica presents Holy Week concerts
Thursday and Friday, April 18 & 19th, 2019 7:30 PM and Saturday, April 20th, 2019 6:00 PM  Loretto Chapel, 207 Old Santa Fe Trail, Santa Fe
Pergolesi's "Stabat Mater" portrays the mother of Jesus anguish during the crucifixion set to music in 1736. Pergolesi composed it during his final illness from tuberculosis in a Franciscan monastery. He finished it right before he died.
Santa Fe Pro Musica will perform this sacred work for its series of "Baroque Holy Week". The Pro Musica Baroque Ensemble will present the work with soprano Clara Rottsolk and mezzo-soprano Meg Bragle. Flutist Carol Redman will open the program with Pergolesi's Flute Concerto in G Major. Tickets at sfpromusica.org, ticketssantafe.org.
Kenny Wayne Shepherd Band & the Beth Hart Band
Thursday, April 18th, 2019 7:30 PM Kiva Auditorium, Albuquerque
There are few artists whose names are synonymous with one instrument and how it's played in service to an entire genre.
Utter the phrase "young blues rock guitarist" within earshot of anyone with even a cursory knowledge of the modern musical vanguard and the first name they are most likely to respond with will be Kenny Wayne Shepherd. The Louisiana born axeman and songsmith has sold millions of albums while throwing singles into the Top 10, shining a light on the rich blues of the past and forging ahead with his own modern twist on a classic sound he has embodied since his teens.
In a 20-year recording career that began when he was just 16, Shepherd has established himself as an immensely popular recording artist, a consistently in-demand live act and an influential force in a worldwide resurgence of interest in the blues.
At 16 years old, he signed his first record deal and burst onto the national scene with the release of his 1995 debut album Ledbetter Heights, which produced the radio hits "Deja Voodoo," "Born with a Broken Heart" and "Shame, Shame, Shame." His relentless touring and success on rock radio helped to drive the album to Platinum sales status. His 1998 sophomore effort Trouble Is… also went Platinum, yielding such radio hits as "Blue on Black," "True Lies" and "Somehow, Somewhere, Someway." 1999's Live On spawned the radio hits "In 2 Deep", "Shotgun Blues" and "Last Goodbye."
Shepherd and his band traveled throughout the American South to record with such vintage blues greats as B.B. King, Clarence "Gatemouth" Brown, Hubert Sumlin, Pinetop Perkins and David "Honeyboy" Edwards on their home turf.  In 2013, Shepherd further expanded his musical horizons by teaming with veteran rockers Stephen Stills and Barry Goldberg to form THE RIDES. 2014 saw the release of Goin' Home, Shepherd's sixth # 1 debut on the Billboard Blues charts. Goin' Home features several talented friends who shared Shepherd's enthusiasm for the project's back-to-basics ethos. Those guests include fellow guitar icons Joe Walsh, Warren Haynes, Keb' Mo' and Robert Randolph, longtime friend Ringo Starr, Fabulous Thunderbirds frontman Kim Wilson, the Rebirth Brass Band and co-producer Blade's father, Pastor Brady Blade Sr., who lends a bracing dose of preaching to Shepherd's version of Bo Diddley's' "You Can't Judge a Book by the Cover." In the months since its release, Shepherd and his band have toured the world extensively blazing a fresh trail for the historical American art form in the 21st Century.
Andy Milne's Unison Trio with Clarence Penn & John Hebert
Thursday, April 18th, 2019 7:30 PM Outpost Performance Space, Albuquerque
A fearless, versatile explorer, pianist, and composer Andy Milne has been a distinct and respected voice at the heart of New York's creative jazz scene for over 20 years. His versatility has allowed him to collaborate with dancers, visual artists, poets and musicians spanning jazz, classical, pop, folk, and world music, and he is a master arranger and bandleader. A former student of Oscar Peterson, Milne was at the center of the M-BASE Collective as a core member of saxophonist Steve Coleman's bands, as well as performing with Cassandra Wilson and Greg Osby. He also composed and produced the scores for seven documentary films by director William Shatner and has released nine recordings as a leader or co-leader. The recipient of numerous awards and commissions, he is a sought after educator recently joining the faculty of the Department of Jazz & Contemporary Improvisation as assistant professor of music at the University of Michigan. Just this past March Milne won the 2019 Juno Award for "Best Group Jazz Album" for his new release, The Seasons of Being, with his genre-crossing, critically acclaimed quintet Dapp Theory. Though he has spent the bulk of his professional career in the United States, Milne was born in Hamilton, Canada, was mentored by Canadian pianist Oscar Peterson, and has collaborated with Canadians Bruce Cockburn and William Shatner. He notes that is a huge honor to be acknowledged in the form of a Juno. The Seasons of Being has received worldwide critical acclaim from Downbeat Magazine, The New York Times, Jazziz and more and PopMatters wrote, "Gentler and more beautiful than anything else in Milne's discography, The Season of Being is also a work of stubborn individuality. It sounds like little else." With his Unison Trio, featuring bassist John Hébert and drummer Clarence Penn, Milne reimagines the intimacy of the trio format, performing both original material and jazz classics. John Hébert has established himself as a highly in-demand bassist, working alongside artists such as Andrew Hill, Lee Konitz, John Abercrombie, Kenny Wheeler, Paul Motian, Joe Maneri, Mary Halvorson, Fred Hersch, Maria Schneider, and many others. He was named in Downbeat's 2006-2011 Critics Poll as a "Rising Star Acoustic Bassist." New Orleans born Clarence Penn is one of the most sought after and versatile drummers of his generation. He has toured, performed and recorded with Betty Carter, Ellis and Wynton Marsalis, Michael Brecker, Dizzy Gillespie, Roberta Flack, Dianne Reeves, Cyrus Chestnut, and many others and is a composer, prolific producer, and an educator who leads several ensembles of his own.
Strand of Oaks
Friday, April 19th, 2019 8:00 PM The Bridge at Santa Fe Brewing Co., 37 Fire Place, Santa Fe
Tim Showalter is the mastermind behind the outfit Strand of Oaks, which is touring in support of the album "Eraserland." In fact, it was being pushed by his friends Carl Broemel, Bo Koster, Patrick Hallahan and Tom Blankenship, all members of My Morning Jacket, who played a crucial role in the making of his recent album, "Eraserland."
Showalter makes music under the moniker Strand of Oaks. The songwriter has released seven full-length albums since 2009. Showalter is used to using the highs and lows of his own life as his source material for music.
For the past couple of years, Showalter has made sure that New Mexico is on his tour itineraries. The reason is to give Showalter a chance to look into his family history. At the turn of the 1900s, Showalter had family that lived in Las Vegas, N.M. His grandfather was a rider on the Pony Express, and he wants to learn more about him. Tickets available at the door or at meowwolf.com
Martha Reich & Michael Kott + The Bébé La La Band
Saturday, April 20th, 2019 7:30 PM Outpost Performance Space, Albuquerque
It's an evening of award winning NM singer-songwriters and their unique indie folk music. First on the program is Santa Fe-based singer-songwriter and multi-instrumentalist, Martha Reich, who has performed around the world and has shared stages with Melissa Crabtree, Consuelo Luz, the Reverend Horton Heat and others as well as opening for Kate MacLeod and performing at the Sundance Film Festival. She has released four CDs and an award winning EP entitled Peace Harvest. Her 2018 release, Brave Bird earned her a Gold Medal for Female Vocalist in the 2018 Global Music Awards, as well as the LA Critics Award for Best Folk Artist, and was described as "stunning and heartbreaking" by Americana Highways. Often compared to Joni Mitchell and Joan Baez, Reich is inspired by nature and her unique style features an honesty and vulnerability that evokes "a sound almost woven out of the earth." She is joined tonight by longtime collaborator, cellist Michael Kott, who "presents the cello as a portrayal of in nite compassion…telling stories outside time and place."
Albuquerque's award winning indie Folk Americana Français duo, Bébé La La, featuring singer-songwriter, guitarist, violist Alicia Ultan and vocalist-accordionist, Maryse Lapierre, originally from Quebec, Canada, combines Lapierre's French influences with Ultan's original "art" songs, highlighted by their signature "stunning" harmonies. Formed in 2010, Bébé La La released their debut CD, High Wire, in 2015, for which they received three nominations and two awards at the 2016 New Mexico Music Awards. The original songs, all composed by Ultan, cover a lot of different territory, but they all emerge from personal experiences: the end of a relationship ("High Wire"), an epiphany on the road to Santa Fe ("My House"), portrait of an idealized lover with feet of clay ("12th Man"), solidarity among women ("Sister, Sister": a call for women's solidarity in the face of rape, abuse, and objectification—and one of those songs that's familiar the first time you hear it), a spiritual connection with America's pre-Columbian people ("Ruins")—to touch on a few." Bébé La La has performed at many venues and festivals throughout Albuquerque and surrounding areas, including a sold out concert in Corrales with renowned trumpeter Bobby Shew, a featured artist on their CD. Tonight, filling out their already richly textured music, they are joined by bandmates Mike Fox, bass and Arnaldo Acosta, drums; plus special guest Claudio Tolousse on guitar and guitar-sitar. Also, on the program, Ultan, who played viola on Reich's award winning CDs, will join Reich on a couple of her songs, while Reich and Kott will join the Bébé La La band for a tune or two!
Chatter  presents Eight Fellow Travelers
Sunday, April 21st, 2019, 10:30 AM, Las Puertas Event Center, 1512 First NW, Albuquerque
Chatter Sunday pairs the contemporary with the romantic.The chamber concert will feature eight musicians led by group co-artistic director James Shields on clarinet. Local and visiting musicians will perform: co-director David Felberg, hornists Nathan Ukens and Peter Erb, violinist Emily Cole, violist Laura Manko, cellist Dana Winograd and bassist Sam Brown. The musicians will play "Fellow Traveler," a string quartet by the famed American composer John Adams, and "PoyoPoyo," a solo horn piece by the Japanese composer Dai Fujikura.
The 19th century German composer Louis Spohr bridged the gap between classicism and romanticism, between Mozart and Wagner. The musicians will play his Octet in E major with violin, two violas, a clarinet, two horns, a cello and a bass. The blend sounds like a chamber orchestra, Shields said. Tickets at chatterabq.org/boxoffice.
Love Unfold The Sun – No Compromise! Series – Paradiso 
Sunday, April 21st, 2019 8:00 PM Paradiso Event Center 900 Early Street, Santa Fe
Atmospheric, searing and hypnotic, the Middle Eastern-tinged free-jazz/funk quartet Love Unfold The Sun reconvenes a well known area lineup from the early 200os and brings forth sparkling group interplay within hypnotic, muscular grooves.
Mustafa Stefan Dill (guitar/oud) was born in New Mexico to a Mexican mother and German-Irish father. His cross-cultural childhood experiences include strong memories with Lebanese relatives in Mexico and formative years in the culturally diverse city of Montpellier, France. He earned a Masters degree in composition from the New England Conservatory in Boston, studying with Joe Maneri.
He has performed in solo concerts throughout Europe since 1992 in both improvised music and guitar circles at such venues and festivals as FMP's Total Music Meeting, Wirral Guitar Festival, Paderborn Guitar Festival, Zuid Nederlands Jazz Festival, Festival HispanoAmericano de la Guitarra, Erlbach, Nickelsdorf, and more. He has worked with Cecil Taylor, Gus Janssen, J.A. Deane, former students John Dikeman and Ava Mendoza, Brahim Fribgane, Jack Wright, John Jasnoch and others.
His initial solo music – an intense and unique convergence of traditional flamenco elements and modern free improvisation – won critical praise with recordings such as Warning Clothed in Bright Robes of Dawn (1994) and Sangre Del Rio (1997), establishing a hallmark approach of combining modern and traditional improvising vocabularies from the deep roots of the various musical traditions he grew up in.
That approach continues to extend and evolve across a wide array of groups and volume levels, including Sama Duo, the prog/world/funk trio Pray For Brain and Love Unfold The Sun.
Dan Pearlman (cornet) studied trumpet and composition at the Oberlin Conservatory in the mid 1960's. After spending a number of years in New York and Washington D.C., Dan moved to New Mexico in 1983. He has played with many different bands and musicians throughout New Mexico in the years since then, including various ensembles with the members of Love Unfold the Sun. He and Dave Wayne perform frequently with their jazz quintet, OrnEtc. Dan plays a custom made instrument called the Cornette, built by Dave Monette in Portland, Oregon, which has a very warm and distinctive sound.
Ross Hamlin (bass) is a multi-instrumentalist and composer from Minneapolis who's called Santa Fe home since 2004. In addition to playing bass with LUTS, he also leads Dovetail Orchestra (a silent film/live music accompaniment project), the newly-formed Rhombus Ensemble, Stella Trois and Mushi Project.
Dave Wayne (drums) is a self-taught drummer and composer who hails from the Philadelphia area. Before landing in Santa Fe, NM in the early 1990s, he lived in South Florida, South Carolina, New Orleans, Virginia, England, and Reno, NV, playing drums in various bands in each location. The past few years have seen Dave accompany a number of innovative and accomplished New Mexico-based jazz and rock artists.
He's also performed with touring musicians such as Brian Haas, Thollem McDonas, Dan Clucas, Jeff Platz, Andrew Lamb, Rob Brown, Jack Wright, Alan Lechusza, Joshua Smith, Michael Vlatkovich and Clyde Reed. In 2009, he composed a clutch of original pieces and formed a band – The Things That Are Heard – to play them.
Dave continues to compose and play jazz, funk, and jazz-rock with OrnEtc., Shake Alert, Shatner Powerslide, and Love Unfold The Sun. Dave's playing has also been documented on a fistful of albums, both privately issued and on labels such as pfMENTUM, Plutonium, Snowdonia, and Zerx. He's especially proud of the last 2 albums: "These Times" by OrnEtc. (2016, self-released), and "Hotend: Do Tell Plays the Music of Julius Hemphill" (2015, Amirani Records).
Frankie Valli & the Four Seasons
Sunday, April 28th, 2019 7:30 PM Sandia Resort & Casino, Albuquerque
Oh, what a story. Frankie Valli, who came to fame in 1962 as the lead singer of the Four Seasons, is hotter than ever in the 21st century. Thanks to the volcanic success of the Tony-winning musical Jersey Boys, which chronicles the life and times of Frankie and his legendary group, such classic songs as "Big Girls Don't Cry," "Walk Like a Man," "Rag Doll," and "Can't Take My Eyes Off You" are all the rage all over again. As the play enters its third sold-out year on Broadway, and two touring companies of Jersey Boys travel around the U.S., the real Frankie Valli is packing concert halls coast to coast, from the Rose Theater, home of Jazz at Lincoln Center in New York City, to L.A.'s Kodak Theater, home of the Academy Awards.
While the majority of the 71 chart hits of Frankie Valli and the Four Seasons came during the 1960s, the music didn't just disappear. He has toured almost continuously since 1962, and his songs have been omnipresent in such movies as The Deer Hunter, Dirty Dancing, Mrs. Doubtfire, Conspiracy Theory and The Wanderers. As many as 200 artists have done cover versions of Frankie's "Can't Take My Eyes Off You," from Nancy Wilson's jazz treatment to Lauryn Hill's hip-hop makeover.
Frankie Valli became an "overnight" sensation with a No. 1 record. The sound of "Sherry" was unlike anything else on the airwaves. Determined not to be a one-hit wonder two more No 1 hits were released: "Big Girls Don't Cry" and "Walk Like a Man." The fateful year of 1964 brought the British invasion, but that didn't stall the Four Seasons. The group released one smash after another: "Dawn (Go Away)," "Ronnie," "Rag Doll," "Save It For Me," "Big Man in Town" and, in early 1965, "Bye Bye Baby (Baby, Goodbye)."
The group then produced three straight giant hits: "Let's Hang On," "Working My Way Back to You" and "Opus 17 (Don't You Worry 'Bout Me)." "Can't Take My Eyes Off You." Released in 1967, it went to No. 2 in Billboard and No. 1 in Cashbox. With the popularity of the original record and all the cover versions, "Can't Take My Eyes Off You" has become one of the top ten most-played songs in the history of BMI, one of the two major companies that collect royalties for songwriters.
In 1975 Frankie came roaring back with "My Eyes Adored You," which reached No. 1, "Swearin' to God" and a cover of "Our Day Will Come." That burst of success spurred Gaudio to put together a new Four Seasons, led by Frankie of course. With his future wife Judy Parker, Gaudio wrote "Who Loves You" and "December 1963 (Oh, What a Night)," two of the biggest hits in the Seasons' history. The new hot streak culminated in 1978, when Frankie's solo performance of "Grease," featured not once but twice in the movie soundtrack, reached the inevitable No. 1 ranking in Billboard.
From 1962 to 1978, Frankie Valli and the Four Seasons sold more than 100 million records, even before the invention of the compact disc prompted Seasons collectors to buy the hits all over again. For decades after their heyday, Frankie and the Seasons continued to be a top concert draw, and radio constantly played their classics, not to mention the new remixes that kept popping up on the charts. In 1990 Frankie and the other original Seasons were inducted into the Rock and Roll Hall of Fame, only five years after the Hall opened for business.
But who could imagine that the first 45 years would be only the beginning—that Frankie Valli would celebrate 2007 with a new album and a heavy sold-out concert schedule? No other pop star has ever received the kind of new lease on life that Jersey Boys has given Frankie Valli. In addition to the three current productions of Jersey Boys, plans have been laid to take the play to London, Las Vegas and Toronto for open-ended runs. And producers are clamoring to bring the musical to Australia, Singapore, China and even Dubai—yes, the Dubai that's part of the United Arab Emirates. Every major Hollywood studio has asked about making a Jersey Boys movie.
For as far into the future as anyone can see, Jersey Boys will introduce the music of Frankie Valli to new generations. Romancing The '60s is a most welcome and long-awaited addition to that legacy. The man himself shows no signs of slowing down. As his character says at the end of Jersey Boys: "Like that bunny on TV with the battery, I just keep going and going and going." For as long as he wants to sing, people will want to listen.
John Mellancamp
Tuesday, April, 30th, 2019, 8:00 PM Kiva Auditorium, Albuquerque
His professional music career began in earnest in 1976 when MCA Records released his first album, The Chestnut Street Incident. His manager dubbed him Johnny Cougar out of his belief that nobody would buy a record by anybody named Mellencamp. John protested but was overruled and eventually, of course, reclaimed his birth name as his public name.
After releasing a few albums, he broke out in 1979 with his first hit, "I Need A Lover" In 1982 his fifth album American Fool was the year's best-selling album on the strength of two huge hits, "Hurts So Good," and the number 1 single "Jack & Diane," The albums that followed in the 80's, Uh-Huh, Scarecrow, Lonesome Jubilee, and Big Daddy, were released under the name John Cougar Mellencamp. Hit singles during this period included "Crumblin Down," "The Authority Song," "Small Town," "Rain On The Scarecrow," "Lonely Ol Night," ""R.O.C.K. In The U.S.A.," "Paper In Fire," "Check It Out," "Cherry Bomb," "Pop Singer," and "Jackie Brown."
Mellencamp took the music on the road with a band that many considered the best in the business, playing approximately 1,000 shows around the globe during the decade. In 1985, John's concern for the plight of the American farmer, which had been voiced in the Scarecrow album, brought him together with Willie Nelson and Neil Young in launching Farm Aid. It became an annual event and has helped make people aware of the issues farmers face and how they affect on the entire nation.
He received the 2001 Billboard Century award in recognition of all that he had accomplished over the course of his career and was honored with the Woody Guthrie Award in 2004. Previously, he was awarded a Grammy and had been nominated a total of 11 times. In 2007 the ASCAP Foundation honored John Mellencamp with its Champion Award in recognition of his outstanding use of music in service to humanity. John received ASCAP's highest honor, The Founders Award, for his exceptional contributions to music and was inducted into the prestigious Songwriters Hall of Fame on June 14, 2018.
A career landmark occurred on March 10, 2008, when John was inducted into the Rock And Roll Hall Of Fame by Billy Joel at the annual induction ceremony in New York City.
John's full-length album, Sad Clowns & Hillbillies, featuring Carlene Carter, is his 23rd over the course of a remarkable career. The album released on April 28, 2017 followed by an upcoming summer tour in major cities across the country. Sad Clowns & Hillbillies returns Mellencamp to the musical eclecticism that is, itself, a reflection of his wide-ranging musings on life and showcases a poet who has wisely used the years between youth and the present day to become an absolute master of songwriting and interpretation. That passion and experience resonates most beautifully in this showcase of his music. John also wrote the title song for the upcoming film, The Yellow Birds, an American war film directed by Alexandre Moors and based on the novel The Yellow Birds by Kevin Powers. The film stars Tye Sheridan, Jack Huston, Alden Ehrenreich, Jennifer Aniston, and Toni Collette.
On February 1, 2018, John's self-narrated musical odyssey, Plain Spoken: From The Chicago Theatre premiered on Netflix, and was released May 11th on DVD+CD, Blu-Ray+CD, & Digital Formats. The cinematic film presents John, with his full band, performing at the landmark Chicago Theater on October 25, 2016.
John continues to focus on another facet of his artistic expression: painting. His style has progressed over the years as evidenced by several gallery shows and published portfolios, and in recent years he has increased his output by completing over 100 new works. He had his second solo exhibition this past Spring in New York and has a current exhibit at the famed Butler Museum in Youngstown, Ohio from September 20th through January 19, 2019. His highly successful Rock and Roll Hall of Fame exhibit ran for nearly two years and is now at the Woodie Guthrie Museum in Tulsa, Oklahoma from September 1st through January 5, 2019.
John has said many times in interviews that you will never meet anyone luckier than John Mellencamp. He is grateful for the support of those who have enjoyed his work and career over the years. If he has any advice to offer, it is to be tenacious: John's found that far too many people quit too soon in the face of early disappointment. While his own early efforts may have been faltering, he stayed with it–and that tenacity has been rewarded with the successes that continue to the present.
Slayer with Lamb of God, Aman Amarch and Cannibal Corpse
Friday, May 3rd, 2019 7:00 PM Isleta Amphitheater, Albuquerque
Slayer fans, you've all heard – Slayer were on their farewell tour in 2018, but by popular demand, metal's most notorious band have extended the slog into 2019 – meaning you STILL have a chance to see them!! That's right, you could be there at one of the LAST EVER shows of the founding fathers of thrash metal.
Founded by bassist/vocalist Tom Araya and guitarists Kerry King and Jeff Hanneman in 1981, Slayer's high-speed, high-octane music set them alongside Metallica, Anthrax and Megadeth as one of the Big Four bands that brought about the heavy metal genre. Slayer in particular are credited by many with the invention of thrash metal – their fast and furious style was the inspiration not just for other thrash bands, but for the creation of all new genres including black metal and death metal.
According to MTV, Slayer's "downtuned rhythms, infectious guitar licks, graphically violent lyrics and grisly artwork set the standard for dozens of emerging thrash bands," many of whom have directly stated Slayer as an influence – some of these include Bullet For My Valentine, Slipknot, Cannibal Corpse, Gojira, Hatebreed, Lamb Of God, Behemoth and more!!
Tower of Power, War & Al Hurricane Jr.
Saturday, May 4th, 2019 7:30 PM Sandia Resort & Casino
What is Hip? Oakland, California music legends Tower of Power – the most dynamic and distinctive band of survivors in Soul Music – is roaring into its unprecedented 50th anniversary with a tour and a dynamic new disc of all new material, a labor of love titled Soul Side of Town.
Along with veteran members Castillo, Kupka, Garibaldi and Prestia, T.O.P. consists of guitarist Jerry Cortez, Hammond B3 organist/keyboardist Roger Smith, 1st tenor saxophonist Tom Politzer, and trumpeters Adolfo Acosta and Sal Cracchiolo. Soul Side of Town is also blessed with not one but two lead singers: outgoing Ray Greene (now in Santana) and incoming Marcus Scott (boldly introduced on several selections, including "Hanging with My Baby"). The 10-piece Tower of Power band is prepared to throw down next year with a celebratory tour that will include sweet spots around the globe.
Since its formation in Oakland, California in 1968, Tower of Power has forged a reputation as a crack band of high achieving musicians fluent in all realms of Soul, Rock and Pop music., T.O.P. has 24 previous releases in its burgeoning catalog. Along with T.O.P.'s classic recordings, the 5-piece Tower of Power Horns  became much in demand for studio sessions and live gigs. Among the hundreds of artists they have blessed with their presence are Rufus featuring Chaka Khan, Graham Central Station, Elton John, Little Feat, Billy Preston, John Lee Hooker, Coke Escovedo, Jose Feliciano, Al Kooper, Sammy Hagar, Rod Stewart, Peter Frampton, Jermaine Jackson, Harvey Mason, Lenny White, The Brothers Johnson, The Meters, Lee Oskar, Dionne Warwick, Melissa Manchester, Bobby Caldwell, Heart, Rick James, Santana, Smokey Robinson, Huey Lewis & The News, Toto, Paul Shaffer, Bonnie Raitt, Aaron Neville, Spyro Gyra, Terence Trent D'Arby, Luther Vandross, Candy Dulfer, Aerosmith, Phish, John Hiatt, Neil Diamond, P.Diddy, Bill Wyman, Eiko Shuri…and TV's The Simpsons (Sing The Blues).
Most importantly, when almost all other R&B bands abandoned their horn sections as the sound of Soul music morphed into more stripped-down techno and synthesizer strains in the `80s, Tower of Power near single-handedly carried the torch for full-on 10-piece bands, often even including a conguero/percussionist. Faithful fans flocked to their concerts and purchased their new albums that kept the real soul vibe alive for decades. Indeed, the horn section is so pivotal to Tower of Power that unlike most band stage setups that have horns in the back, T.O.P.'s renowned and respected horn section is right up-front with the lead singer.
The year was 1969, a
nd the name WAR at a time when peace was the slogan in an anti-Vietnam America was an anomaly. Original Band Members included; Lonnie Jordan/singer/keyboardist, Howard Scott/guitars/ vocal, Lee Oskar/harmonica, B.B. Dickerson/bass vocals, Harold Brown/drums/ vocals, the late Thomas "Papa Dee" Allen/congas/timbales, and Charles Miller /saxophonist/flutist.
WAR, the original street band, was brought together by veteran record producer Jerry Goldstein and rock legend Eric Burdon. WAR from the beginning was a concept & musical laboratory. As Burdon's back band, it was the vehicle for Goldstein (as producer/songwriter) and Burdon (as lead singer) to experiment with the blending of many musical styles and influences.
WAR would wind-up being honored with 17 gold, platinum or multi-platinum awards which include the triple platinum The World Is A Ghetto, double platinum Why Can't We Be Friends? and Greatest Hits, platinum Deliver The Word, WAR Live, All Day Music, Best Of WAR and…more and Platinum Jazz, and gold Eric Burdon Declares WAR, Galaxy, and The Music Band.
The band's popularity has grown steadily ever since, as a result of the commitment to being road WARriors combined with great increases television appearances, record sales, use of their music in film, television and commercials, samples and covers by other recording artists. A big shot in the arm to WAR's presence on the touring scene was the release of 1994's Peace Sign, an album well received by critics and fans. WAR now tours over 150 dates a year to audiences ranging from tens of thousands to intimate clubs.
WAR's global popularity is a tribute to the timelessness of its music and message. Perhaps, nothing epitomizes this truth greater than the fact that WAR has twice been honored by its hometown of Los Angeles, over twenty years apart, for its music making positive contributions to the betterment of the community. "The world is still a ghetto", says Lonnie Jordan, echoing the title of the early album and song. "There will always be a reason to play our songs. When you come back to reality, you pull down WAR, because WAR is reality. We have a lot of second-generation fans and they're seeing the same things their parents saw. They're hearing the same messages. We're like Levi's," says Jordan, "and there's nothing nostalgic about Levi's. In fact, they're not really good and funky until they've been worn awhile."
The evolution of WAR began in 1969…and WAR has been evolving ever since.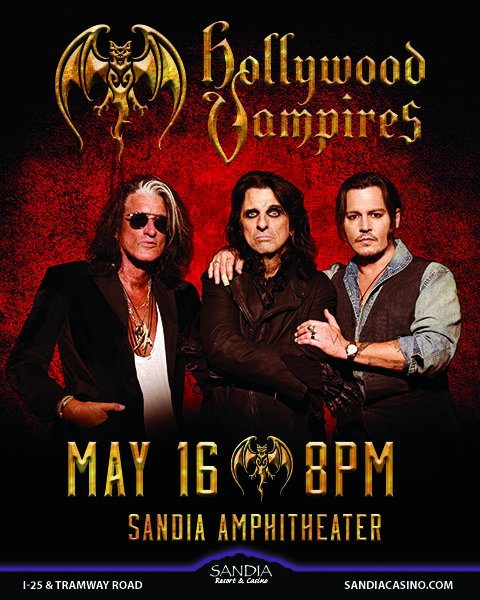 Hollywood Vampires  f/ Alice Cooper, Johnny Depp & Joe Perry
Thursday, May 16th, 2019 7:30 PM Sandia Resort & Casino, Albuquerque
Here's a group of strange bedfellows…in more ways than one. The Hollywood Vampires— featuring Alice Cooper, Joe Perry, and Johnny Depp—  previously performed at Rock in Rio and the 2016 Grammy Awards in addition to U.S. and EU/UK tours last year.
In 1969, on the Sunset Strip at the legendary club, the Rainbow Bar & Grill, the Hollywood Vampires were born in the upstairs bar. It was a gathering place for the rock stars living in or passing through L.A. "To join the club, one simply had to out drink all of the members," says Alice Cooper, a founding member of the original Vampires.
Cooper and good friend Johnny Depp got together and decided the spirit of The Hollywood Vampires should live again —minus the drinking. Cooper and Depp were joined by Joe Perry, who is an old friend of both, and the recording began: a tribute to the original Hollywood Vampires. An environment was born for great artists to hang, laugh and play together.
As Yahoo Music said, "The word 'supergroup' gets thrown around a lot these days, but truly, it doesn't get much super-er than Hollywood Vampires…"
Completing The Hollywood Vampires live lineup will be mainstay guitarist Tommy Henriksen (Alice Cooper), along with rock star musician friends Glen Sobel (Alice Cooper) on drums, Chris Wyse (The Cult) on bass, and Buck Johnson (Aerosmith) on keyboard and vocals.
Gary Clark Jr.
Saturday, May 18th, 2019 7:30 PM Sandai Resort & Casino, Albuquerque
Gary Clark Jr. is a mind-blowing guitarist, a dazzling songwriter and engagingly soulful singer.
With his debut album Blak And Blu he has just become the first artist ever recognized by the Recording Academy with Grammy Award nominations in both the rock and R&B categories for the same album in the same year, winning the latter.
But that barely scratches the surface. The album's a rocket ride from the Mississippi Delta of a century ago to multiple points still out beyond the horizon. Rock and R&B sure, but blues, soul, pop, psychedelia, punk and hip-hop are also in Clark's expansive musical embrace and insatiable hunger for inspiration, which he's internalized into music all his own. And his two acoustic blues performances on the soundtrack album for the acclaimed movie 12 Years a Slave show the distinct talent and personality he brings to his music.
Rolling Stone dubbed Clark "The King of the Summer Festivals" as he captivated audiences from Coachella to Glastonbury, Lollapalooza to the New Orleans Jazz & Heritage Festival, from Metallica's Orion Festival to Jay-Z's Made in America, and of course his hometown Austin City Limits Festival, where he his band set a daytime attendance record. He's dominated late night and daytime TV with multiple appearances on Leno, Letterman, Kimmel, Conan, Fallon, Arsenio Hall, Queen Latifah, Today, CBS This Morning and so on. Guitar Player magazine made him the first emerging artist to grace its cover in more than 15 years. Rolling Stone proclaimed him no less than "The Chosen One."
Artrageous
May 24th, 2019, 7:30 PM Buffalo Thunder Resort, Santa Fe
IMAGINE an artist creating a masterpiece before your eyes in mere moments. With a palette that also mixes captivating vocals, intricate choreography, and exciting audience interaction – Artrageous takes you on a unique visual journey packed with wild inspiration, creativity and fun!
The Artrageous troupe of artists, musicians, singers, and dancers pay tribute to a variety of art forms, pop icons and musical genres culminating in a gallery of fabulous finished paintings. The result? A one of a kind crossover experience!
Artrageous is a troupe of 12 artists, singers, dancers and musicians hailing from the high desert of New Mexico. Their high energy performance is a combination of fine art, live music, singing, dancing, humor, and interaction in a frenzy of movement and color with a message of the arts being an integral and valuable part of human existence. A theater arts community since the 80's, Artrageous brings their passion for the arts to each theater leaving their audiences of all ages smiling and singing and dancing along.
Artrageous has been fortunate to perform for theater goers and celebrities and their artworks are in private and public galleries around the world.
Costumed Artrageous troupe members greet patrons in the theater encouraging them to choose a souvenir finger light ring and participate in fun art activities where they win prizes and create their own original works of art on a troupe member. The troupe passes out large squares of bubble wrap and the audience is instructed to hold on to it and await further instructions. Artrageous actors teach members of the audience dance moves they will use later and pick brave volunteers to join the troupe on stage for special numbers in the show.
Never before have so many live arts been presented on one stage. Artists, using hands, brushes and other objects, create visual art pieces making lines and shapes on giant canvas' while the audience is intrigued to guess what each painting will become. Lines and brush strokes become portraits of famous icons in a matter of moments. All the while, live musicians are performing popular musical styles from pop to country to Artrageous original music with Artrageous' powerful vocalists creating smooth harmonies.
The grand finale integrates live music, vocalists, and a trio of live art works leaving the audience on their feet dancing, singing and clapping along.
Little Big Town-Summer Fever
Friday, June 14th, 2019 7:30 PM Sandia Resort & Casino, Albuquerque
Little Big Town—consisting of members Karen Fairchild, Kimberly Schlapman, Phillip Sweet, and Jimi Westbrook–entered the music scene over 18 years ago with hits like "Boondocks," "Bring It On Home," "Good As Gone" and "Little White Church." Albums Tornado and Pain Killer delivered massive success with #1 singles "Pontoon," "Tornado," "Day Drinking," and the history-making, best-selling country single of 2015, "Girl Crush." Little Big Town recently received their third career Grammy Award for Best Country Duo/Group Performance for their multi-week #1, platinum-selling hit, "Better Man" off their chart-topping album The Breaker. Their latest album debuted #1 on the Billboard Country Albums chart and Top 5 on the Billboard 200 All Genre chart. In the past 7 years they have won over 20 awards, including GRAMMY, CMA, ACM, People's Choice awards, and also an Emmy.
Bela Fleck & the Flecktones
Saturday, June 22nd, 2019, 8:00 PM Taos Mesa Brewing Amphitheater, Taos
Groundbreaking banjoist/composer/bandleader Béla Fleck has reconvened the original Béla Fleck & The Flecktones, the extraordinary initial line-up of his incredible combo. Pianist/harmonica player Howard Levy is back in the fold alongside Fleck, bassist Victor Wooten, and percussionist/ Drumitarist Roy "Futureman" Wooten. Far from being a wistful trip back in time, the Grammy Award-winning quartet has been creating some of the most forward thinking music of their long, storied career. While all manners of genres come into play—from classical and jazz to bluegrass and African music to electric blues and Eastern European folk dances—the result is an impossible-to-pigeonhole sound all their own, a meeting of musical minds that remains, as ever, utterly indescribable. Simply put, it is The Flecktones, the music made only when these four individuals come together.
"There's a special thing that happens when the four of us get together and play," notes Levy. "We all have the same attitude of trying to do things that we haven't done before and coincidentally, no one else has either." One thing was certain, however. The "original" Flecktones were resolute that their reunion would not be rooted in nostalgia. The goal from the get-go was to drive the music forward to places where it might've progressed had things gone differently.
REO Speedwagon
Saturday, June 29th, 2019 8:00 PM Legends Theater, Route 66 Resort & Casino, Albuquerque
Formed in 1967, signed in 1971, and fronted by iconic vocalist Kevin Cronin since 1972, REO Speedwagon is a band where the main constant over the decades is a never-ending desire to give their all to their fans, year in and year out.
Formed loosely in the late '60s at college in Champaign, IL, REO (named after the precursor to the light truck) rode to gigs in station wagons, hopping from small gigs to even tinier gigs, just to get their name out. It worked, as fans quickly realized there was much more going on here than your average college party band.
By the early '70s, the band's unrelenting drive, as well as non-stop touring and recording, jump-started the burgeoning rock movement in the Midwest. It carved a path that was eventually followed by STYX, Kansas, Cheap Trick and more. Platinum albums and freeform FM radio staples such as "Ridin' The Storm Out" followed, setting the stage for 1980's explosive Hi Infidelity (received the Recording Industry Association of America®'s 10X Diamond Award for surpassing sales of 10 million units in the U.S.). REO rode the top of the charts with a RIAA-certified 22 million albums sold in the U.S. and 40 million around the globe, with a string of gold and platinum records and international hit singles.
In 1994, when many rock bands of their era had either broken up, or were feeling like their days were numbered, the REO team came up with a co-headline tour concept that breathed new life into the world of touring. The "Can't Stop Rockin'" amphitheater tour featuring Fleetwood Mac, REO, and Pat Benatar was a huge success and blazed the trail for the very popular co-headline tours that are seen nationwide today.
Today, fully established with songs on the radio in every city and town they ever set foot in, REO Speedwagon still has that Midwest work ethic. The band has gone on stage and in the studio to work– dozens of albums, thousands of concerts, and countless radio spins. Their eyes have always been on the future and on the road – not a year has gone by where REO Speedwagon didn't perform live, thrilling fans with hit filled sets.
In the summer of 2018 REO Speedwagon and Chicago joined forces for a co-headlining tour of North America. The two hit-making bands rocked 30 cities along the run.
STYX
Saturday, August 3rd, 2019 8:00 PM Legends Theater, Route 66 Resort & Casino, Albuquerque
Tommy Shaw Acoustic and electric guitars, mandolin, vocals James "JY" Young Electric guitar and vocals Chuck Panozzo Bass guitar Todd Sucherman Drums, percussion, Waterphone Lawrence Gowan Piano, Hammond B3 organ, synthesizers, vocals Ricky Phillips Bass guitar, vocals
The six men comprising STYX have committed to rocking the Paradise together with audiences far and wide by averaging over 100 shows a year every year since (yes) 1999, and each one of them is committed to making the next show better than the last. Founded in Chicago in 1972, STYX has the unique distinction of being the first band in rock history to have four consecutive certified multimillion-selling albums in a row: 1977's The Grand Illusion, 1978's Pieces of Eight, 1979's Cornerstone, and 1981's Paradise Theatre.
STYX draws from over four decades of barnburning chart hits, joyous singalongs, and hard-driving deep cuts. Like a symphony that builds to a satisfying crescendo, a STYX set covers a wide range of stylistic cornerstones. From the progressively sweeping splendor that is "The Grand Illusion" to the hunker-down fortitude of all that is the "Blue Collar Man," from the majestic spiritual love for a special "Lady" to the poignant rumination on the fleeting nature of fame in "Miss America," from an individual yearning for true connection as a "Man in the Wilderness" to a soul-deep quest to achieve what's at the heart of one's personal vision in "Crystal Ball," from the regal reach-for-the-stars bravado of "Come Sail Away" to the grainy all-in gallop of that rugged "Renegade" who had it made, STYX draws on an unlimited cache of ways to immerse one's mind and body in their signature sound.
Steve Miller Band with Marty Stuart
Sunday, August 11th, 2019 7:30 PM Sandia Resort & Casino, Albuquerque
Steve Miller has been an enlivening presence on the American music scene for more than half a century. To begin with, he was a mainstay of the San Francisco music scene that upended American culture in the late '60s. Then, in the '70s, Miller crafted a brand of pure pop that was smart, polished, exciting and irresistible – and that dominated radio in a way that few artists have ever managed. Hit followed hit in what seemed like an endless flow: "The Joker," "Take the Money and Run," "Rock'n Me," "Fly Like an Eagle," "Jet Airliner" and "Jungle Love," among them. To this day, those songs are instantly recognizable when they stream on the radio – and impossible not to sing along with. Their hooks are the very definition of indelible.
Running through Miller's distinctive catalog is a combination of virtuosity and song craft. And that's no accident. His parents were jazz aficionados, not to mention close friends of Les Paul and Mary Ford, so, as a budding guitarist, Miller absorbed valuable lessons from that musical tradition. When the family moved to Texas, Miller deepened his education in the blues with family friend T-Bone Walker. Miller then moved to Chicago, where he played with Muddy Waters, Howlin' Wolf, Buddy Guy, Junior Wells, James Cotton and Paul Butterfield. That range of sources informs his music to this day.
In recent years, Miller has fully immersed himself in the blues. He continues to find creative outlets for the full panoply of his musical passions. On his successful tours with the Steve Miller Band, he complements the commercial peaks of his extensive catalogue with lesser-known songs that expand his fans' awareness of the range of his work.
In the course of his long, full career, Miller has sold tens of millions of records and his music has been streamed well over 2 billion times. With each listen the beauty and immediacy of his work, whether at its most playful or most serious, is palpable.
Marty Stuart got his start in Johnny Cash's back-up band in 1979. He soon enjoyed solo success as well as hits performing with other country 
musicians, including Travis Tritt and Willie Nelson. He has received multiple Grammy Awards for his work.
Around this time, Stuart married Cash's daughter Cindy, but he parted ways with his father-in-law in 1985 in order to focus on his own career. Exploring the sounds of rockabilly, he found some success with the 1986 album Marty Stuart and scored his first hit with the song "Arlene." Stuart also worked on his stage persona, choosing to wear fancy western-style suits on stage and to tease his hair. In his personal life, he began to make changes, too. He and his wife Cindy divorced in 1988.
Returning with 1989's Hillbilly Rock, Stuart reached the top 10 of the country music charts with the album's title track. He again won over country music fans with 1991's Tempted, which featured "Burn Me Down" and "Little Things." Partnering with Travis Tritt, Stuart won his first Grammy Award for Best Country Vocal Collaboration for "The Whiskey Ain't Workin'" in 1992. The pair toured together and scored another big hit with their "This One Is Going to Hurt (For a Long, Long Time)" that same year.
In 1993, Stuart won another Grammy Award—this time for Best Country Instrumental Performance. He joined forces with Chet Atkins, Vince Gill, and several other country stars for the song "Red Wing." His next solo album Love and Luck (1994) proved to be a commercial disappointment, but he remained a popular country star. Stuart hosted the first of many Marty Party television specials that year.
Busy as ever, Stuart recorded duets with Steve Earle, Willie Nelson, B. B. King, and Travis Tritt. He also worked behind the scenes, serving as producer for songs by George Ducas, Pam Tillis, and Jerry and Tammy Sullivan. Stuart worked on film soundtracks for a diverse range of movies from the Steven Seagal action flick Fire Down Below (1997) to the Western drama All The Pretty Horses (2000). For All The Pretty Horses, he received a Golden Globe nomination.
In 1999 Stuart released The Pilgrim, a concept album that told the story of a man, brokenhearted and suicidal, who sets off on a journey. Country stars such as Emmylou Harris, Earl Scruggs and Pam Tillis contributed to the project. While it earned some positive reviews, it failed to catch on with music buyers.
In 2000, Stuart formed his own backup band called the Fabulous Superlatives. He recorded several albums with them, including 2003's Country Music and 2006's Live at the Ryman. The group has also toured with the likes of Merle Haggard and the Old Crow Medicine Show.
Korn with Alice in Chains
Tuesday, August 27th, 2019 6:30 PM Isleta Amphitheater, Albuquerque
Since forming in 1993, the iconic hard rock band KORN have sold nearly 40 million albums, toured the world dozens of times, and set records in the process that will likely never be surpassed. Originally from Bakersfield, CA, vocalist Jonathan Davis, guitarists James "Munky" Shaffer and Brian "Head" Welch, and Reginald "Fieldy" Arvizu on bass ushered in the new wave of metal music in the '90s with their self-titled debut in 1994 and 1996's Life is Peachy, but have ridden that wave to even greater success and higher artistic water marks. The band have battled personal demons and addictions but have found their way through to the other side. And now, highlighted by the force of drummer Ray Luzier, a return to a dual-guitar dynamic and some of Davis's most inspired moments of self-reflection and expression, the new album The Serenity of Suffering finds KORN harnessing all the anger, power, and trademark balance of darkness and light that made their name all those years ago.
Alice in Chains both epitomized the solemn, heavy Seattle sound of the 1990s and stood apart from the grunge hordes. What separated Alice in Chains from their alt-rock brethren was how their roots lay in heavy metal, not punk. Guitarist Jerry Cantrell and vocalist Layne Staley both played in metal bands prior to the formation of Alice in Chains in 1987 and they released the band's debut, Facelift, in 1990, well before Nirvana's Nevermind pushed the underground into the mainstream. Despite their connections to metal, Alice in Chains thrived in the glory days of grunge. After the group scored rock radio and MTV hits with "Man in the Box" and "Would?" in the early days of grunge, Alice in Chains became one of the first alt-rock bands of the '90s to delve into acoustic-based music, scoring hits with the comparatively softer "No Excuses" and "I Stay Away."
Arriving at the peak of 1992's grunge explosion, the dark and gloomy Dirt made Alice in Chains' career. By December, the album earned a platinum certification — it would go platinum once again in 1993 and 1995, with a fourth and final certification arriving in 2000 — and it stayed on the charts thanks to "Angry Chair" and the Top Ten mainstream rock hits "Rooster" and "Down in a Hole."
The revived Alice in Chains recorded a comeback album in 2008 with co-producer Nick Raskulinecz, which appeared in September 2009 as Black Gives Way to Blue. Debuting at five on the Billboard charts, Black Gives Way to Blue wound up going gold while racking up two Grammy nominations, reestablishing Alice in Chains as a force in mainstream and modern rock. The group toured into 2010 and then in 2011 set to work on another album with Raskulinecz. Entitled The Devil Put Dinosaurs Here, the album debuted at two upon its release in May 2013. Alice in Chains toured The Devil Put Dinosaurs Here into 2014, then spent the next two years on the road. In 2017, the group started work on another new album with Raskulinecz. Recorded primarily in Seattle, the resulting Rainier Fog appeared in August 2018.
Kiss: End of the road World Tour
Wednesday, September 11th, 2019 7:30 PM Isleta Amphitheater, Albuquerque
As America's #1 Gold Record Award winning group of all time, and that's in every category, KISS can easily be named one of rock's most influential bands. The Rock N Roll Hall of Famers have released 44 albums and sold more than 100 million albums worldwide. Honored by their peers, KISS received the illustrious ASCAP Founders Award in 2015.
Over 40 years of record-breaking global tours have brought KISS to their fans. Additionally, once a year the "KISS Army" becomes the "KISS Navy" as fans from across the globe board the KISS Kruise (this year will be their 6th voyage).
High-profile appearances have included the Super Bowl, the Winter Olympics, Rockin' The Corps concert, a FOX alliance with KISS appearing in multiple episodes of Family Guy, plus two special guest performances on American Idol finales. KISS has been featured in major advertising and marketing campaigns for John Varvatos, Google Play, Hello Kitty— even appearing in a Dr. Pepper Super Bowl commercial and advertising campaign in support of their Hottest Show On Earth tour.
KISS is dedicated to numerous Veterans Organizations including: The Wounded Warriors Project, The USO, The U.S. Chamber of Commerce "Hire A Hero" program, The Legacy Organization in Australia, Help For Heroes United Kingdom and The Dr. Pepper Snapple Groups Wounded Warriors Support Foundations.
The KISS legacy continues to grow generation after generation, transcending age, race and creed. The unparalleled devotion and loyalty of the KISS Army to the "Hottest Band in the World" is a striking testament to the band's unbreakable bond with its fans.
Florida Georgia Line-Can't Say I Ain't Country Tour
Saturday, September 14th, 2019 7:00 PM Isleta Amphitheater
Keepin' it country, Florida Georgia Line are headed to Isleta Amphitheater on the Can't Say I Ain't Country Tour! The tour supports their hot new album of the same name, which sees the duo stepping away from their signature "bro-country" production and stripping things back to a more classic sound, and will feature Dan and Shay & Morgan Wallen in support!
Upon graduating from Belmont University, where they met in 2008, Tyler Hubbard and Brian Kelley decided to embark on a music career, giving themselves two years to succeed. The guitar and vocal duo formed Florida Georgia Line, originally a covers outfit, and signed with Nickleback producer Joey Moi's label Big Loud Mountain Records in 2011. The following year they released "Cruise", their debut single, which was a huge hit for the pair, breaking two major sales records. The song was downloaded over seven million times, which made it the first ever Diamond-certified country song and, until Sam Hunt's "Body Like a Back Road" claimed the title in 2017, it was the best-selling digital country song of all time, holding its number one position for 24 weeks. The duo is credited with originating the "bro-country" genre. Can't Say I Ain't Country, their fourth studio album, is released in 2019.
Iron Maiden
Thursday,September 19th, 2019, Isleta Amphitheater, Albuquerque
Iron Maiden fans, rejoice!! After a ferociously well-received run in Europe, The Legacy Of The Beast tour is coming to North America – headed to the to Isleta Amphitheater, Albuquerque, on Thursday 19th September 2019!!
Iron Maiden live performances are always something spectacular, but this tour, modelled after the Iron Maiden mobile game "The Legacy Of The Beast," promises to be something truly extraordinary. Iron Maiden fans can hardly wait, after hearing reports of what the new show is all about, to see it with their own eyes!!
"We're excited to return to North America and share the 'Legacy Of The Beast' tour with all our friends there!" Bruce Dickinson said in a press release, and went on to talk about the elaborate technical nature of the show itself. "We've got all kinds of crazy things going on, including a replica Spitfire plane dominating the stage during 'Aces High', tons of pyro, a giant Icarus, muskets, claymores and some truly marvellous flame-throwers which I have a hell of a lot of fun with, as you will see! And, of course, we have Eddie, as you've never seen him before, and absolutely loads of other surprises."
It's a wild thing to say, but we think it just mignt be true – that this is going to be the biggest and best Iron Maiden tour EVER!! Whatever you do, you've got to be in that crowd – so get your tickets ASAP, while you still have the chance!!
Peter Frampton-The Final Farewell Tour
Tuesday, September 24th, 2019 7:30 PM Sandia Resort, Albuquerque
Peter Frampton remains one of the most celebrated artists in rock history. At age 16, he was lead singer and guitarist for British band The Herd. At 18, he co-founded one of the first supergroups, seminal rock act Humble Pie. His session work includes collaborations with such legendary artists as George Harrison, Harry Nilsson, David Bowie, Jerry Lee Lewis, Ringo Starr, John Entwistle, Mike McCready and Matt Cameron (Pearl Jam), among many others.
Frampton has appeared as himself in television shows "The Simpsons" and "Family Guy." He also served as technical advisor on Cameron Crowe's 2000 film Almost Famous as well as appearing in it and writing songs for the soundtrack. In 2007 he won the Grammy Award for "Best Pop Instrumental Album" for Fingerprints and in 2014 was inducted into the Musicians Hall of Fame.
Frampton has toured with the likes of David Bowie, Stevie Nicks, Greg Allman, Ringo Starr, Lynyrd Skynyrd, Cheap Trick, Steve Miller Band, Bill Wyman's Rhythm Kings, and many others. Additionally, he took Peter Frampton's Guitar Circus on the road for two years with special guests B.B. King, Buddy Guy, Vince Gill, Larry Carlton, Robert Randolph, Don Felder (formerly of The Eagles), Dean DeLeo (Stone Temple Pilots), Kenny Wayne Shepherd, Sonny Landreth, Robert Cray and Roger McGuinn (the BYRDS).
He recently celebrated the 42nd anniversary of his fifth solo album, Frampton Comes Alive!, which remains one of the top-selling live records of all time, with over 17 million copies sold worldwide.